Turkana drought prompts locals to share food with livestock
COUNTIES
The stench of animal carcasses sweeps across the dry semi-arid plains. A whirlwind, which according to Turkana beliefs symbolises a continued dry spell, cuts across the valley of death, a sign that better days are nowhere near.
By Joan Letting and Lucas Ngasike | 5 years ago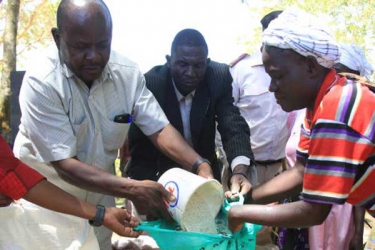 State donates relief food to hungry residents
Four hundred people in Mumias East have benefited from government relief food. The beneficiaries, mostly widows, the elderly, people living with disabilities, and orphans, received 300 bags of maize, 52 bags of beans, 100 bags of rice, and cooking oil.
Alex Wakhisi | 5 years ago
Hundreds too weak as famine ravages region
Yier Bokoch, 28, crawls out of his tiny hut in Nan'golei village in the border trading centre of Illeret but he is too weak to stand up.
Ali Abdi | 5 years ago
Help us deal with drought, Nkaissery tells private sector
The Government has asked for help from the private sector to deal with drought and handle man-made and natural disasters.

Cyrus Ombati and Lonah Kibet | 5 years ago

;