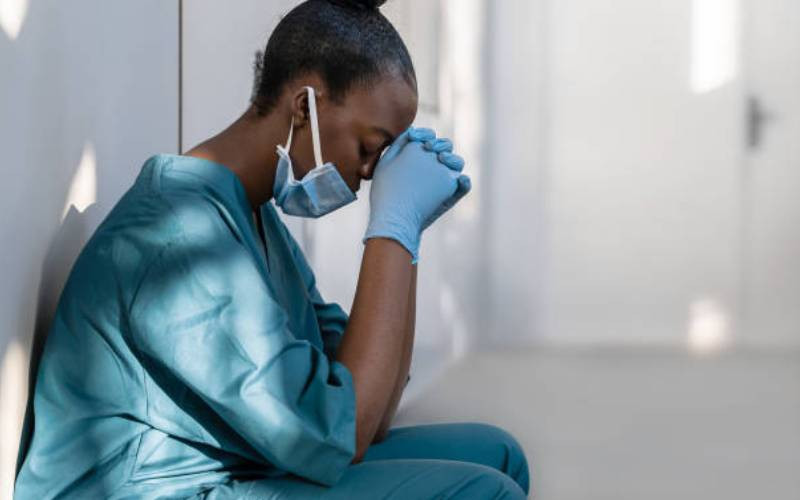 As Kenya struggles to manage mental illnesses, a recent study has revealed that, at least one out of four healthcare providers, exhibit signs of depression.
The study by Aga Khan University (AKU) also reveals that two in every five healthcare workers show symptoms of post-traumatic stress disorder.
Nearly 4,000 community health volunteers, nurses, and midwives participated in the study conducted between January last year, and June this year.
Among triggers of mental health illnesses among nurses and midwives include heavy workload, lack of resources and poor working environment.
On the other hand, the lack of salaries for Community Health volunteers (CHVs) was a trigger to mental challenges, an issue yet to be addressed in most counties.
Currently, some counties have different initiatives for managing CHVs, with some paying them monthly stipends of about Sh2,000.
But Dr Eunice Ndirangu Mugo, Dean, School of Nursing and Midwifery, East Africa, AKU, said there is need for healthcare professionals to focus on self-care and peer support in combatting mental health challenges.
"For the frontline health workers to provide self and peer support, they must be able to identify their own psychological needs as well as that of their peers," said Dr Mugo.
The study findings indicate the need to establish structures including policies that promote the well-being of health workers who are crucial in achieving Universal Health Coverage (UHC).
They also indicate the powerful role mobile health technologies could play a role in combating mental health challenges.
Prof Amina Abubakar, Director of the Institute for Human Development, AKU said most policy documents on mental health "are mainly focused on the patient, with limited focus on the health workers from whom we expect high-quality health care" meaning there is a need for policies that address mental health needs of health workers too.
During the study, experts administered a mobile-based SMS intervention designed to provide direct psychosocial support to health workers, with preliminary results showing that mobile health interventions could be feasible to alleviate mental health challenges faced by health workers.
The study funded by the Johnson & Johnson Foundation was aimed at highlighting the state of mental health and resilience of frontline health workers in Kenya
There is, however, a silver lining in the management and treatment of patients with mental illnesses, after the signing of Mental Health Bill, 2020 into law, by President Uhuru Kenyatta.
The government also developed Mental Health and Psychosocial Support guidelines for health workers at the height of the Covid-19 pandemic.
Related Topics