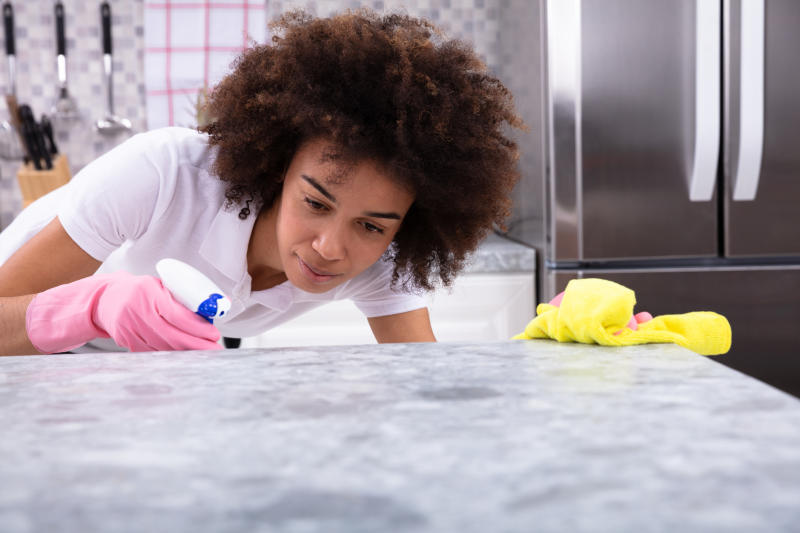 You have probably encountered people who like arranging items like books, shoes and clothes in a particular way. The extra-tidy ones iron their clothes for hours on end, while others keep checking the door many times just to be sure it is locked.
To the naked eye, it may seem like these people are just perfectionists or petty nit-pickers who like making a fuss out of everything. But in reality, they actually suffer from a mental condition known as Obsessive Compulsive Disorder (OCD).
OCD is classified as a mental disorder that involves a series of unwanted thoughts leading to repetitive behaviours made worse by overthinking.
Dennis Aseto, a news anchor at KTN believes he is obsessed with the way he arranges things around the house.
"If I have arranged my books facing East, let them face East. Sometimes when I read a book and I want to stop, I have to stop at an even number. So in case, I am tired when on page 11, I will motivate myself to read to page 12," says Aseto, adding that when he is done doing his laundry, he arranges his clothes according to matching colours.
Aseto, who is also a news anchor at Spice FM and Vybez Radio says his clothes have to be arranged according to colour.
"I arrange my clothes separately; for example, white T-shirts together, and trousers folded in a way that the zipper faces one side and the back pocket faces the other and they must be colour-coordinated," he explains.
Aseto says he has never thought of seeking professional help as he does not think he has a disorder.
However, Khalifa Khalid, a psychologist at Chiromo Hospital Group says people with obsessive tendencies should get checked for OCD.
Khalid says initially, OCD was considered an anxiety disorder before it was classified as a mental disorder and should not be mistaken for neatness or being a perfectionist.
In obsession, "one thinks about specific things, for example, the obsession of thinking you have germs," while in compulsion, "one wants to get rid of the germs by washing the hands constantly, an urge one cannot control," says Khalid.
The psychologist says the Covid-19 pandemic worsened the washing of hands and sanitising for people with OCD.
"Covid-19 made most people irritable, always checking if there are germs and the act of irritability is what is referred to as compulsion because their mind is preoccupied that the place has germs," he says.
"OCD means your mind is constantly preoccupied most part of the day; you can spend five to six hours cleaning the house and arranging the place over and over for a period of time," he says.
Khalid notes that patients have to meet certain criteria after checking symptoms before coming up with a final diagnosis. Often, the assessment does not give an accurate diagnosis and more information is sought from the patient's family.
He is quick to note that OCD is not just about maintaining cleanliness, but there are people who have obsessive thoughts.
"Someone just keeps saying, 'I am not a nice person, I am not a nice person.' These obsessive thoughts can lead them to isolate themselves or even hurt themselves, and therapy should be considered as part of treatment," says Khalid.
While there is no specific medication for OCD, anxiolytics - drugs used for anxiety disorders - are often prescribed besides taking the patient through a series of activities to reduce anxiety.
During therapy, a therapist puts the patient in a situation designed to create anxiety or set off compulsions and Khalid explains that, "If the patient cannot stay in a place where there are torn seats, then the therapist will take the patient slowly by slowly where there are torn seats until they can sustain the anxiety."
While there is no specific documented data on the number of people with OCD, estimates show that every one in 100 adults may be suffering from the condition.
"Being a perfectionist does not mean you have OCD," Khalid says, noting that people who are overly concerned with cleanliness may not necessarily have OCD.
For instance, Carren Omae, a news producer and reporter at Radio Maisha says her cleanliness and tidiness is often mistaken for OCD and people find it hard to cope around her.
"For me, things have to be a certain way. If I have placed something in my house in a certain way, then it has to remain that way; if it is moved it will disturb me," offers Omae.
Adding that, "the colour of my utensils have to be an even number. For example, if my cups are blue, they have to be an even number, say four or six. In case I get a different colour, I will have to find for it a 'sibling'."
However, Omae has never sought help as she believes it is something she can handle, saying that, "Other people are more concerned about my neatness than I am."
Related Topics