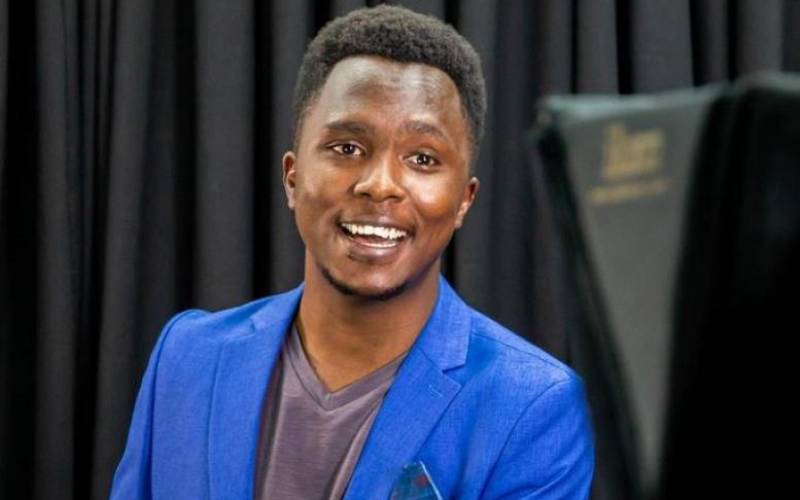 Kimani Mbugua reflects on his struggle with his mental illness. You can see him thinking back, there is a hint of pain in his eyes, but there is hope too.
"I love reading, especially on philosophy. I am writing a book myself, with a huge chunk of it being about philosophy," he says. It is a Wednesday afternoon when Kimani welcomes the Sunday Magazine team to his Nairobi home.
He picked us up at a nearby bus stop and showed us to the quiet residential estate where he resides with his family.
He is 26 years old. Quite young, but it is clear he has been through experiences way beyond his youthful years.
His struggle with psychosis and mental illness is one that tore him down. In its destructive path, it robbed him of his promising media career and watered down his budding stardom.
However, it also sparked major growth in the form of a religious and emotional awakening along with the intense self-awareness he now has. Kimani is a popular personality in Kenya's media circles.
He rose quickly through the ranks in the industry, becoming a news anchor at a young age - even reading the news for two TV stations at the same time at one point. He was popular, loved by fans and impressive to audiences.
Big radio show
The former journalist recalls how his career started. "I went to Moi University, which had the fully equipped Moi University Radio and that is where I joined the station. I knew I wanted to be on radio, and TV and that I wanted to be around studio equipment doing what I loved."
He adds: "I would call my university life a big radio show because that is where I spent most of my time anyway."
Kimani would later get selected for a graduate programme by Nation Media Group after auditioning for the role along with other university student hopefuls across the country.
"I was 19. I remember walking into Nation and realising my life had changed. That is how I started in radio. I worked there for almost three years and then I went to Royal media - I got to work for Citizen, Inooro and Hot 96," Kimani says.
"At some point, I was working for two TV stations at the same time."
The university where Kimani nurtured his talent as a broadcaster was also the place where he recalls experiencing some of his first difficult mental health moments.
His first year, he battled severe depression and suicidal thoughts.
"A lot of my problems had to do with being broke," he says.
Having joined university before 18 years, Kimani was too young to access the Higher Education Loans Board (HELB) funds.
"Our family was going through a rough time - from finances to dad's arrest. Now, he is my best friend. We spend a lot of time together."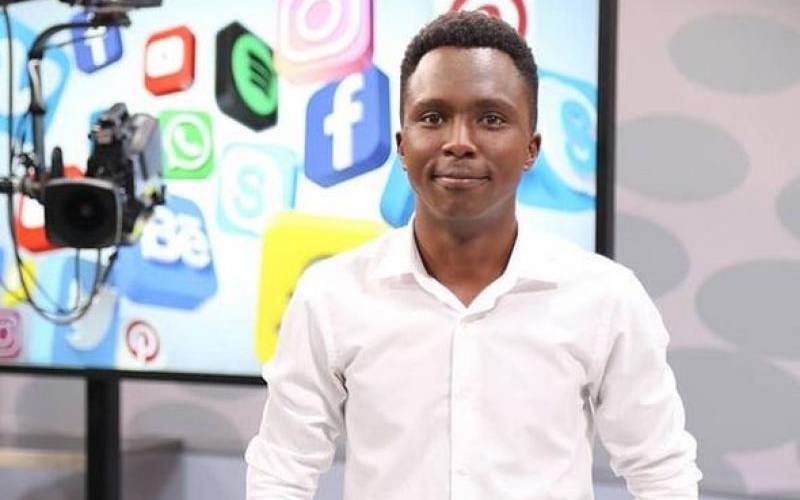 Kimani credits an elder cousin with saving his life.
"I was lonely and depressed and decided one day, this is it. I would write my eulogy on Facebook and go throw myself off a cliff. My cousin saved my life. He made a random visit to my place one day to see how I was doing and realised I was in a bad place. From then on we spent more time together. He made me realise I was not alone. I would go to his place, and we would cook and talk."
It was a major relief when he finally received some HELB funds in the second year.
"Being thrown in the limelight at only 19, was a blessing and curse. I experienced a lot of things I was not ready for. Being that young and earning a lot of money - you get into the fast life," he says.
He says one afternoon after work, he was bored and decided to do some weed.
"I thought - let me try and smoke weed and see if I get a good high. This was in 2020, and it was the first step for me going off the rails as I continued to smoke it more and more."
"I did not even realise I needed help; it was the people who were around me that did. Things that make sense to other people do not make sense to you, and things that do not make sense to other people start making sense to you."
Kimani described his psychosis as a "slow, gradual process of losing touch." "You begin to say things that other people do not understand."
He remembers trips to several mental health facilities before his institutionalisation at the Mathari National Teaching and Referral Hospital
"First, I was taken to Avenue Hospital in Parklands, then I went to a rehab centre called Bustani. Then Chiromo Lane Medical Centre, a rehab/mental health centre. Eventually, I had to go to Mathari. My parents had done everything they could - they had taken me to the Kenyatta National Hospital and the doctor recommended I go to Mathari."
"I did not even know where we were, what we were doing there or anything that was happening. It did not occur to me that we were in Mathari - I was not aware of my environment. I thought, this looks like a hospital, but who is sick?"
Kimani recalls the scary moments when he was told where he was and gently guided to change into the striped uniform for mental patients at the centre.
"All my dad said to me was, 'do not worry, you will be fine'. I realised something had gone seriously wrong with me. It is like your mind starts scrolling back to everything you have been doing and you start making sense of it. I think that is the first step to getting better. That moment when you can recognise you are in a mental hospital and there is something wrong."
After nine days, Kimani was discharged from Mathari with signs of full recovery. But a relapse to marijuana last year saw him return to the hospital for a lengthier 45 days stay.
"The second time, it was different. I was grounded and aware of the things that were happening," he says.
Source of hope
Kimani praises his faith as a source of hope and meaning in his life. He says that becoming Christian and Catholic helps him connect with God and self.
"Something like that stays with you. It can be scary and anxiety-provoking," Kimani says of his experience with mental illness.
"I look back and think that was very difficult and scary. Now, as a Catholic, I appreciate praying the rosary - it has helped me a lot. It is meditative and helps me bring my mind to focus. The closeness to God is also important."
Kimani still attends regular check-ups at Mathari. He says mental health patients must maintain a relationship with their doctor.
"If anything weird is happening, they can tell you what to do. I was there just yesterday for a check-up."
Now, he is treated with anxiety medication sometimes.
"Once you have experienced mental illness, it is a journey. You need to constantly be aware. It is not like a bacterial infection you can just treat then it goes away," he says, adding that one needs to be aware of their thought process and alert over trigger factors like stress, which can lead to depression.
Kimani says that he has no plans to return to the media industry. He says he has fallen out of love with it and is keen to work on the family business with his father.
Related Topics