Home
/
Food
Easy recipe: Rib-eye steak with cherry tomatoes, potato wedges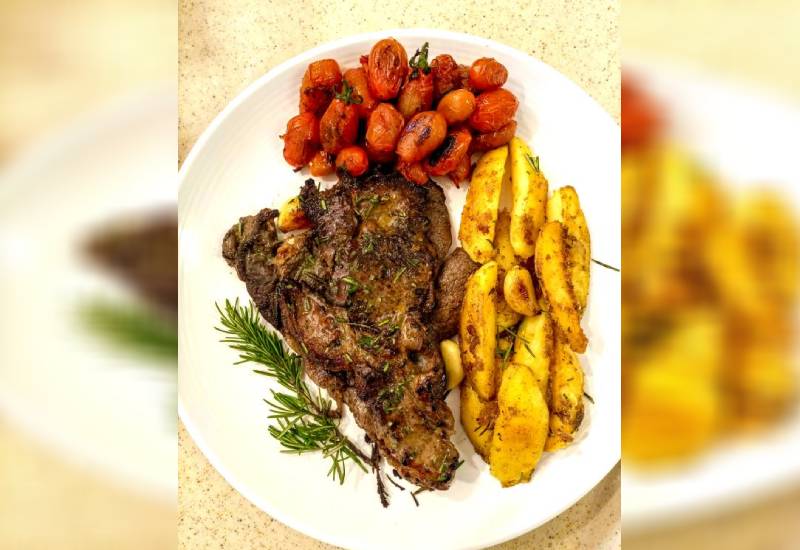 If you're pan-searing a steak and you want one that cooks well with this method, choose the rib-eye steak. You can find this pre-packed in supermarket butcheries or have your local butcher cut it for you.
What you will need:
1kg rib-eye steak, sliced
1 teaspoon black pepper
4 whole garlic cloves
Salt to taste
2 sticks rosemary
1 slice of pineapple extract (optional)
3 tablespoons oil for pan searing
1 kg potatoes cut into wedges (blanched)
1 beef cube
1 packet cherry tomatoes
100g butter melted
What to do:
Marinate the steak with the black pepper, salt, whole garlic cloves and extract from the slice of pineapple.
What you want to do is squeeze the pineapple slice and get only the juice extract on the steak. This is a perfect tenderiser, let it stay in the marinade for about 15 minutes or so.
In a pan over medium heat, add the oil, pan sear the steak about two minutes each side or until brown. Continue the same on the rest of the steak slices.
Don't forget the garlic cloves and cherry tomatoes, ensure you pan sear them as well.
Place the steak, cloves and cherry tomatoes on a baking tray or casserole. Finish off in the oven at 180°C for about 10 minutes just to ensure the steak has cooked towards the inside.
Using a kitchen brush, glaze the steak with melted butter and some chopped rosemary. Enjoy your juicy steak garnished with the roasted garlic cloves and tomatoes and a side of potato wedges.
To make the potato wedges you will need to place the blanched potatoes in a bowl add in 1 beef cube and sprinkle some rosemary then toss them up until all flavours are combined, in a nonstick pan over medium heat add in 2 tablespoons of oil and pan sear the potatoes until golden brown and crusted. Serve with the steak.
Related Topics