Home
/
Food
Easy recipe: Spicy chicken rice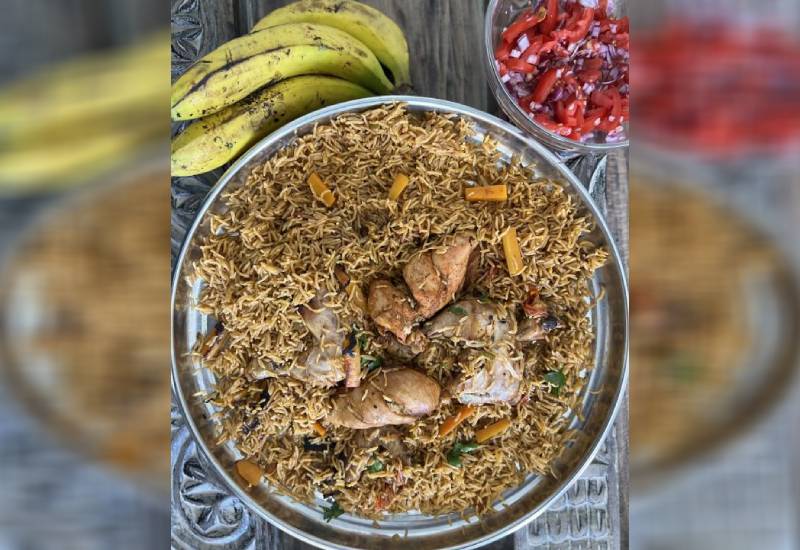 With the kids at home and all that boredom you are probably wondering what to cook today, how about this spicy chicken rice?
What you will need:
1 whole chicken, cut into 1/4s (skin removed)
1 teaspoon paprika
Salt to taste
1 teaspoon black pepper
1 teaspoon garlic ginger mince
1/2 cup vinegar
70g tomato paste
For the rice
3 tablespoons vegetable oil
2 onions, cubed
1 capsicum, diced
3 carrots, cut into lozenges or cubed
1 teaspoon whole cumin
1 teaspoon black pepper
1 teaspoon turmeric
1 teaspoon cinnamon powder
1 teaspoon garlic-ginger mince
2 tomatoes, roughly cut
1 hot charcoal and 1 tablespoon oil (for smoking)
2 cups rice
4 cups of water (mixed with the chicken marinade)
Salt to taste
What to do
Marinate the chicken with paprika, salt, black pepper and garlic-ginger. Add the vinegar and tomato paste. Mix thoroughly and let it stay in the marinade for about an hour. Set aside.
In a pot over medium heat add the oil. Throw in the onions and sauté until soft. Add the sweet pepper and carrots. Mix well. Add the whole cumin, black pepper, turmeric and cinnamon powder. Mix well.
Now add the garlic-ginger mince and tomatoes. Cook until the tomatoes are soft. Add the marinated chicken (retain the marinade). Give it a good stir until well combined with the rest of the flavours.
Smoke it using a small glass bowl with a little oil and hot charcoal. Cover with a tight lid immediately after placing the hot charcoal in the bowl with oil.
Ensure all the smoke is trapped inside the pot. Let it smoke for about 10 minutes on low heat, then remove the lid.
You can now add the rice. Dilute the remaining marinade from the chicken with the water and then pour the mixture into the pot. Bring it to a boil, until the liquid is almost evaporated.
Cover with a tight lid and reduce the heat to super low. Let the rice steam for about 15 minutes, or until it is fluffy.
Serve on a platter for the whole family to feast on, with kachumbari and banana on the side. Enjoy!
Related Topics