Home
/
Bridal
It all started with exchanging photos online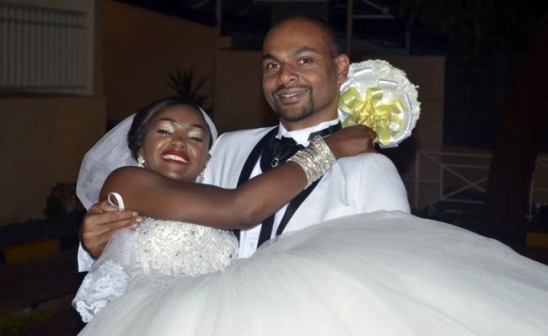 BRIDE: Grace Mikinya
GROOM: Angel A Lobo
DATE: April 16, 2016
GUESTS: 250
VENUE: PrideInn Centre, Westlands
BUDGET: Sh950,000
FIRST DATE
GRACE: We first met online (on Badoo), he used to leave thousands of messages because I was offline most times. With time we exchanged telephone numbers but he at some point me befriended me on Face book.
What began as a daily telephone call and exchanging of pictures on social media led to our first date on October 26, 2010 at a Chinese restaurant in Hurlingham, Nairobi. And like they say, the rest is history.
LOBO: On our first date, the moment I laid my eyes on her, I instantly knew that I had found my soul mate. I did not have a ring with me that day but I proposed to her verbally, something she took for granted considering it was our first meeting.
THE PROPOSAL
GRACE: Although we lived together for close to five years I did not expect the big proposal. But to my surprise, he made an engagement ring for me and came with it to our bedroom minutes before we slept and popped the big question. I was shocked and excited at the same time. For a moment I thought I was dreaming.
LOBO: I proposed to her on our first date but I got her the ring a month prior to our wedding.
THE DRAMA
GRACE: The fact that we were from different races him Indian and I African, getting accustomed to our different traditions, backgrounds and beliefs was not easy.
But above all was breaking the big news to both our families who had different expectations of who we should get married to.
For a while, we went through a very difficult time of our lives to the point of considering parting ways only to realise that the love we shared was worth fighting for.
With time, we put our heads together on how to handle the task ahead by sacrificing a few things for the sake of our relationship.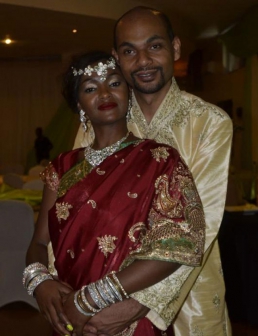 Years later, having been blessed with a baby girl, it dawned on our families that we were meant to be together. Lobo went ahead to pay my dowry last year and told me "honey, we need God's blessings too" and he chose our wedding date and here we are.
LOBO: I knew she was the woman for me but at some point I felt confused because I was torn between pleasing my family or fighting for our love.
Despite this, with time, I was able to make a decision to follow my heart in choosing to be with the love of my life. I am glad that we are now happily married.
WITH HINDSIGHT
We learnt that in every relationship what matters is the two of you and in life you should always stick to what you truly love and live for. Do not be afraid to stand by what you love. Through prayers and trust in God, everything is possible.
HONEYMOON
GRACE: We went to Serena Kilanguni which is in the middle of a jungle, that was the best holiday we ever had. Waking up to the sight of wild animals was awesome.
ADVICE
Save for your wedding and let whatever you get from people be a bonus. It gives you an easy time planning and also makes it easy for you to have whatever you want for your wedding on your budget. Also, learn to support, pray, encourage and respect each other. There should be no secrets between you and most importantly, a woman should be submissive to her husband while the latter should love her back. Remember the key to a successful marriage is when you let God take the lead.
WORDS: CAROLINE NYANGA
PHOTOS: COURTESY
Related Topics