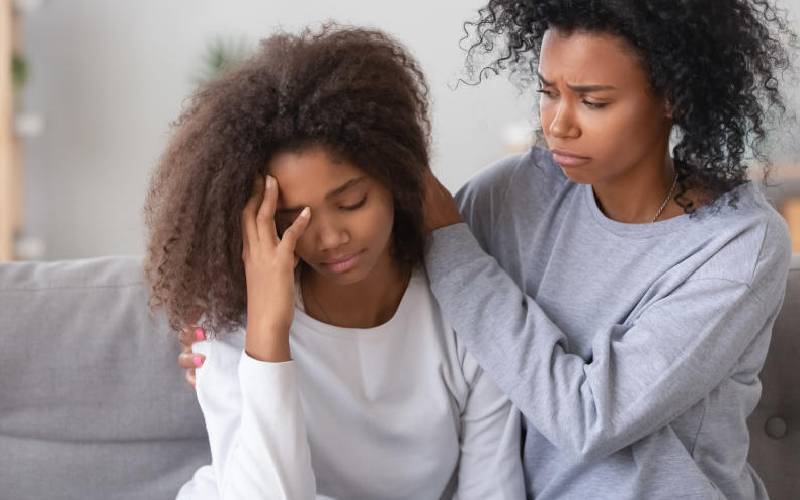 One out of two adolescents battled mental health conditions due to the effects of the Covid-19 pandemic.
A report on the impact of the disease on adolescents in Kenya that was released yesterday revealed that more than half of adolescents experienced some form of depression and stress-related diseases during the pandemic. A majority of the cases were reported in urban areas.
The report was commissioned by Presidential Policy and Strategic Unit to document experiences of adolescents during the pandemic. Still on traumas, adolescent girls and boys reported that they had increased cases of emotional, physical, and sexual violence over the past year.
Sexual violence was almost exclusively experienced by adolescent girls, with two per cent of girls reporting sexual violence cases within a month.
Physical violence mostly affected boys, with 52 per cent of them saying they were victims, and 39 per cent of girls being victims of physical violence. The report indicates that close to three-quarters of the respondents said they experienced an increase in violence compared to the pre-Covid era.
"These increases in tension and violence were attributed to loss of employment and income, stresses arising from restricted movement forcing families to spend time cooped up in smaller spaces, and in some cases, unintended pregnancies," said the report.
The report captured voices of several adolescents who spoke of the uncertainties they faced since schools closed due to the pandemic.
"Nobody was talking about how young people were struggling to make sense of what was happening," said Phoebe Oyoo, a counsellor who has been working with teenagers in informal settlements.
"My mother losing her job meant we could not afford proper meals. One evening, my boyfriend called me to ask if I had eaten. I went over to his house and then things went south. That is how I found myself in this situation," said one of the pregnant teenagers, narrating how the stresses at home spilled over and affected their lives.
Other issues that caused stress to the adolescents are worrying about school fees, the thought of repeating classes, getting infected with Covid-19, and whether they will complete school. It affected their mental health in different ways and was expressed as stress, anxiety, depression, worry, shame, embarrassment, isolation, desperation, frustration, sadness, low self-esteem and stigma.
Oyoo said young people who are struggling with mental health conditions that are untreated carry them into adulthood and they transfer them to their children, creating a cycle of dysfunctional families.
"Some of the young people around us are carrying mental burdens that they should not have to deal with at their age," said Oyoo.
The report found that most teenagers consider school to be a safe haven that provides the environment, interactions and experiences that make them happy and confident.
School means being with their peers, away from painful experiences at home for some, a place to learn and a place that assures them that they are on a journey towards achieving their dreams.
"Return to school helped reduce depressive symptoms among adolescents from about half to a third of adolescents," said the report.
Domestic violence within families was frequently mentioned as a cause of stress and anxiety.
The key trigger for violence between parents was economic challenges leading to inability to provide basic needs such as food and clothing for household members.
Related Topics