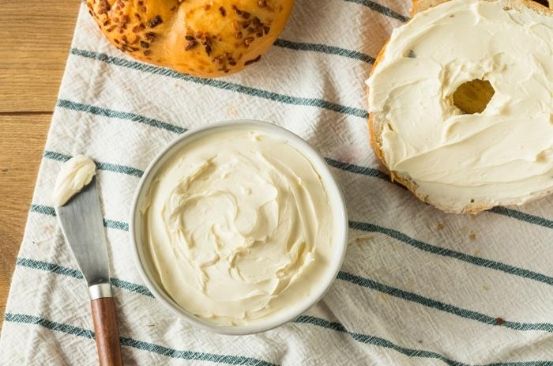 One of my favourite desserts is cheese cake, especially no-bake cheese cake. On my lazy craving days, a visit to the coffee shop in my neighbourhood gets me my cheesecake fix. On days I'm not the only one craving some, I rustle one up something for the whole family. The key ingredient in cheesecake is cream cheese.
Cream cheese is creamy and soft with a smooth consistency. Its mild taste makes it a good spread for bread, crackers, some pastries and a dip for crisps, bread sticks, carrot and celery sticks. Cream cheese is made from milk and cream and has a lot of health benefits. It is a good source of Vitamin A, and is high in fat with a small amount of protein and carbs. It is also a source of antioxidants that defend the body from unstable molecules (free radicals). Zeaxanthin and luiten, found in cream cheese, are carotenoids, which are important for eye health.
People who are lactose intolerant can tolerate small amounts of up to to 12 grams of lactose per meal. Cream cheese is a safe milk product to consume for them as it contains less than two grams of lactose per ounce. Cream cheese is available in major supermarkets with a price range of Sh550 and above for a 250g container.