Menstruation is part of almost every girl's experience once she hits puberty. However, in Nairobi's informal settlements of Mukuru and Mathari, myths and misconceptions continue to negatively affect the self-esteem of many girls during their monthly cycle.
In slums, menstruation is a silent taboo topic, as it is viewed as a 'curse'.
As Kenya joins the globe to celebrate the World Menstrual Hygiene Day, The Sunday Standard met a group of young men breaking the silence and restoring dignity among girls, by sensitising local communities on menstrual hygiene.
Patrick Mutua is among a team of volunteers on a mission to ensure every girl in the slum has access to menstrual products to avoid 'period shame'.
In slums like Mathari and Mukuru, accessing menstrual products like sanitary towels is a luxury because the majority of families suffer financial constraints.
The pain of witnessing girls miss school and some forced to give sexual favours in exchange for sanitary towels inspired the 24-year-old man to sensitise locals about menstrual hygiene.
"Majority of girls in the slums suffer psychosocial trauma and stress during their menstrual cycle because of myriad frustrations associated with poverty, which makes it difficult for them to access sanitary towels during menses," says Mutua, also a community health volunteer (CHV).
Menstruation in the slum also comes with stigma. For instance, girls and women are not allowed to visit places of worship during their menstrual cycle, as they are considered 'dirty'.
Similarly, some slum communities do not allow women to work on vegetable gardens, as it is believed whenever they cross a farm during their menstrual cycle, the plants will dry up.
Holding of babies for a menstruating woman is also prohibited as it is believed that the babies are likely to develop skin rashes.
"Menstruation is also viewed as a woman-only affair, which disadvantages them as they do not have financial power to purchase menstrual products".
"We can only embrace girl child during her menses if we understand menstruation. It is worrying that despite being a biological experience, it comes with myths, taboos and misconceptions which stigmatises our girls more," says Mutua.
"I believe that if men have knowledge on menstruation, they can fast track change and put smiles on the faces of our girls," he adds.
As a CHV, Mutua walks door to door, educating men on menstrual hygiene and the need to have a budget for menstrual products for their teenage daughters.
Also, he visits various schools in the slums, distributing re-usable sanitary pads, and educating both boys and girls on menstrual hygiene.
Sexual abuse
"It saddens to witness girls staying at home during school days simply because they do not have sanitary towels. A number of them are rebuked by their peers, an issue which also affects their education," says Mutua.
Christone Gichoma, also a male menstrual hygiene champion is determined to create free space among vulnerable girls who cannot access menstrual products.
"Most girls feel lonely during menstruation because nobody talks to them about the cycle, and when they do, a number are subjected to sexual abuse," says 22-year-old Gichoma.
He says some girls use rags during menstruation, which is not recommended as it causes them to develop infections and rashes.
"I encourage girls that menstruation is part of life, just like rain, which you cannot stop. They should therefore seek help, when need be, to help them live a happy life," says Mutua.
He says unfortunately, due to financial constraints, a number of girls are also not able to afford panties, an issue that pushes them to engage in illicit sex with adults in exchange for panties.
Beatrice, an 18-year-old girl from Mukuru Kwa Reuben slum recalls missing school severally during her menstrual cycle, for fear of being stigmatised.
The mother of an 18-month-old baby says despite taping rags and tissue paper to keep herself dry, she would still soil her uniform, attracting ridicule from her peers. Not only that, the rags also left her with rashes on her private parts.
"I had very heavy flow while in school, which the rags could not hold. I also developed a lot of infections for using rags, and I had itchy skin," says Beatrice.
To keep up with her studies, Beatrice pleaded with her boyfriend to buy her sanitary towels, but her boyfriend demanded for sex in return. For lack of options, Beatrice gave in to the demands, ending up pregnant. She was in Form Three.
"I comfortably had sex with my boyfriend because he bought me sanitary towels. But on our second date, I conceived," she narrates.
However, her boyfriend has not taken up responsibility for the child, forcing Beatrice to work menial jobs to afford basic needs for the baby.
Beatrice sells cakes in Eastleigh Estate, earning about Sh150 every day, money which is not enough to cater for her needs and that of her baby.
Sadly, she has resorted to substance abuse to escape the mental and financial pressure which comes with raising a baby.
"I am stressed up most of the time, and for solace, I at times take bhang," says Beatrice.
Misinformation
To restore dignity among girls and young women like Beatrice who are living with shame in informal settlements, non-profit organisation Huru International in partnership with the United Nations Children's Fund (Unicef) has been distributing re-usable sanitary towels.
The re-usable sanitary towels, which have a life-span of two years, have been a life changer for girls.
Wanjiru Kepha, Country Director of Huru International Kenya, says at least 11,000 girls in Mukuru and Mathari slums have received the sanitary pads. Distribution is done by a team of 50 trained CHVs during school visits.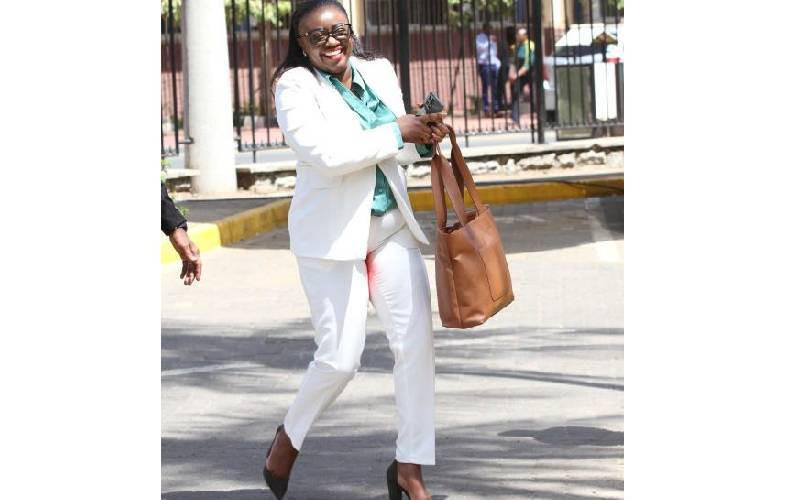 "It is worrying that despite menstruation being a natural occurrence in females, it comes with various myths and misconceptions, an issue which affects esteem of our girls and women," says Ms Kepha.
Girls who are found to have menstrual health problems are further linked up to health professionals for review and care. Additionally, the CHVs help to demystify myths and misconceptions on menstruation.
"Knowledge on menstrual health is key among girls, because it restores their self-esteem," she adds, noting that misinformation due to poor education also worsens the situation.
"A lot of girls rely on their mothers for information. But majority have relatively low information, and end up propagating myths and misinformation about menstrual health. They therefore pass myths to their children," says Kepha.
She insists that more efforts are required to break the silence on menstruation, and already, involving men and boys has helped close the knowledge gap.
Ms Kepha says unlike before, men are now willing to budget for menstrual products for their teenage girls and to support them.
"Men play a key role in addressing myths and taboos which surround menstrual health. We are hopeful that gradually, we shall no longer have period shame," she notes.
According to Unicef, about 1.8 billion people across the world menstruate each month. Unicef notes that adolescent girls are also faced with stigma, social exclusion and harassment during menstruation.
"Gender inequality, discriminatory social norms, cultural taboos, poverty and lack of basic services like toilets and sanitary products can all cause menstrual health and hygiene needs to go unmet," reads part of a Unicef report on menstrual hygiene.
Unicef and Huru International have also reached out to 166,000 people with information on handwashing with soap during menstruation, noting that soap helps girls to wash the re-usable sanitary towels effectively.
Related Topics