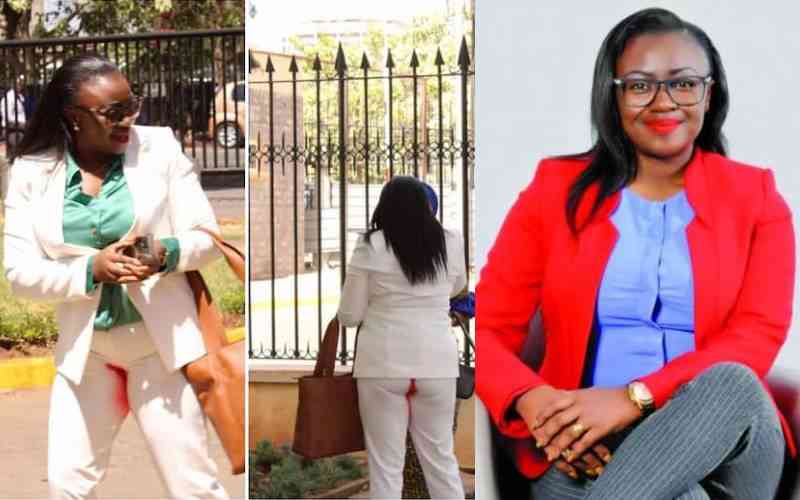 On Valentine's Day as couples were painting the town red, Nominated Senator Gloria Orwoba took a different direction.
Ms Orwoba walked into parliament in 'period-stained' trousers. She was criticised for being 'indecently dressed' and other women representatives and lawmakers voiced their complete revulsion for the woman.
The issue of her dress code was raised by Tabitha Mutinda, a nominated Senator seeking clarification from the Speaker Amason Kingi about what constitutes an appropriate dress code in the house, saying that Orwoba's dress code was inappropriate and indecent.
"As a woman and as a Senator, I find it very uncomfortable and inappropriate, for our colleague Senator Gloria to step in and you don't understand if she's on the normal woman cycle or it is faking it, and it is so indecent," she said.
Ms Orwoba, however, said she did not break any dress code and was in fact in a suit and a collared shirt only less of a tie.
"I have stained my clothes and at the end of the day I just want to know while we are discussing this issue that is not in the order paper, is it because Senators are not women who have periods," she posed.
"We talk about period stigma all the time but experiencing it in parliament was a different thing." Said Ms Orwoba.
She went ahead to describe the issue as part of the period stigma that she said had led to some girls dying by suicide, adding that it is the women who are trying to make it a crime.
Nominated Senator Gloria Orwoba is behind a motion pushing for an increase in government funding for free sanitary pads and the provision of female hygiene products in all public schools.
This act has since erupted in an online debate with sections applauding Ms Orwoba's move while others insist there are better ways of expressing such matters.
Why is this important?
Menstrual health, among other reasons, is a top factor hindering many women and girls from realising their dreams and potential due to period shaming and stigma.
Sanitary towels are expensive and inaccessible in some regions of the country.
This situation is especially worse in marginalised areas where poverty reigns and lack of proper sanitation is the order of the day.
According to research by the Menstrual Hygiene Day, a global advocacy platform that promotes menstrual health, 65 per cent of women and girls in Kenya are unable to afford sanitary pads.
Only 50% of girls say that they openly discuss menstruation at home. Just 32% of rural schools have a private place for girls to change their menstrual products.
And only 12% of girls in Kenya would be comfortable receiving information from their mothers.
Another research by the Ministry of Education, further showed that on average girls lose four school days every month which translates to two weeks of learning each term.
Related Topics