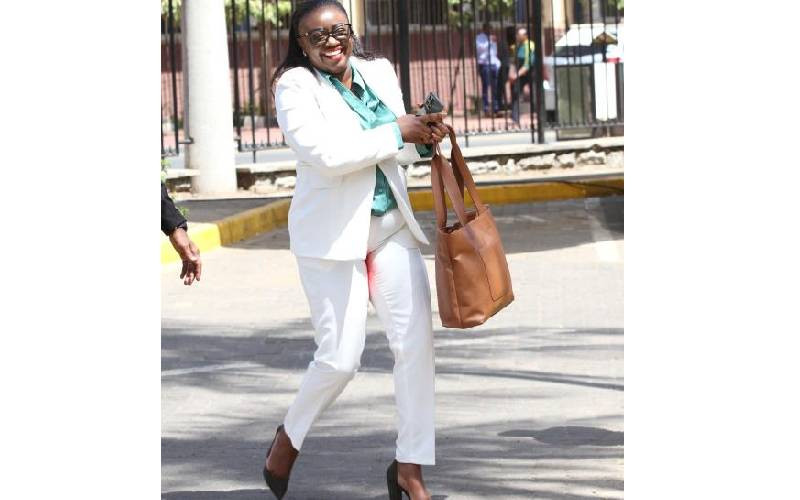 If this was prize-giving season, I would have reserved my month's bouquet for Senator Gloria Orwoba.
On Valentine's Day, she dared to enter the hallowed precincts of the Senate with stained white trousers, indicating that her periods had leaked.
Like the collective shock when Oliver Twist dared ask for more, those not familiar with such non-traditional ways of protesting missed her point and were instantly disgusted, calling out "shame" to the Senator for her actions.
How could she bring such unmitigated dishonour to the august House, many thundered. Her fellow senators, led by, of all people, a fellow lady legislator, slammed her indecent dressing leading the Speaker to throw her out of chambers.
She, however, put up a spirited fight, leaving no doubt that her intention was to raise the profile of the draft Bill she has sponsored, which calls for provision of free sanitary pads to women.
What those criticising her missed is that by her brave act, she brought into public discourse a matter that has remained in the shadows, a symbol of shame to many adolescent girls.
I can bet that in many villages where girls have endured the "shame" of similar stains from this natural process, she acquired many admirers. What many Kenyans do not know is that the fight for access to sanitary pads for girls has been long and arduous. It has at times required the likes of Senator Orwoba to get anywhere.
Due to its indefatigable club of champions, where the Senator is now a card-carrying member, Kenya is a global leader in ensuring free and accessible sanitary pads for schoolgirls.
When I first interacted with the issue about 15 years ago, I was shocked to learn that at that time, in my own village alma mater, a school existing in a community I consider relatively well endowed, half of the girls were missing school every month due to lack of sanitary pads.
When I did my research, I discovered that in Kenya, 65 per cent of school girls could not afford pads.
Consequently, each girl was missing four days of school every month translating to six weeks every academic year.
It's a wonder that many girls, who still had to do housework once they got home, get anywhere in their studies. When the reality of the tragedy hit me, I joined the campaign for free pads for girls and commenced a programme that provided pads to several schools every year.
Many NGOs including Mfariji Africa and AWOCHE were already undertaking vibrant campaigns on the issue.
In 2004, Kenya had been the first country in the world to eliminate taxes on tampons after an innovative fight led by women legislators, featuring such luminaries as Supreme Court Judge Njoki Ndungu and Embu Governor Cecily Mbarire, who had just joined the House as nominated MPs.
Thereafter in 2011, Kenya eliminated import duty on pads. But the greatest achievement was the amendment of the Basic Education Act in 2016 that now required government to compulsorily provide "free sufficient and quality sanitary pads" to every girl in a public school together with an environmentally sound mechanism for disposal.
Since then, the Education Ministry has allocated millions of shillings for the programme.
But the stigma on periods continues, clearly evidenced by the shock reaction to Senator Orwoba's activism.
Research by FSG, a non-profit NGO, shows that more than 60 per cent of girls find out about menstruation when they get their first periods. Thereafter every month is a girls' nightmare wondering if she will be the butt of boys' jokes for her "misfortunes".
What the good Senator has done is to call out this attitude that marginalises girls for natural acts for which there should be no shame. It is therefore not the Senator's actions that were obnoxious, shocking and embarrassing.
What should be detestable and repugnant is that despite such positive strides in Kenya, the reality is that many girls and women continue to pay a heavy price for this most natural of events.
To the good Senator, people may disagree with your tactics, but you forced a country to face the hypocrisy of its attitudes to basic women issues. May your tribe increase!
The writer is an advocate of the High Court of Kenya
Related Topics