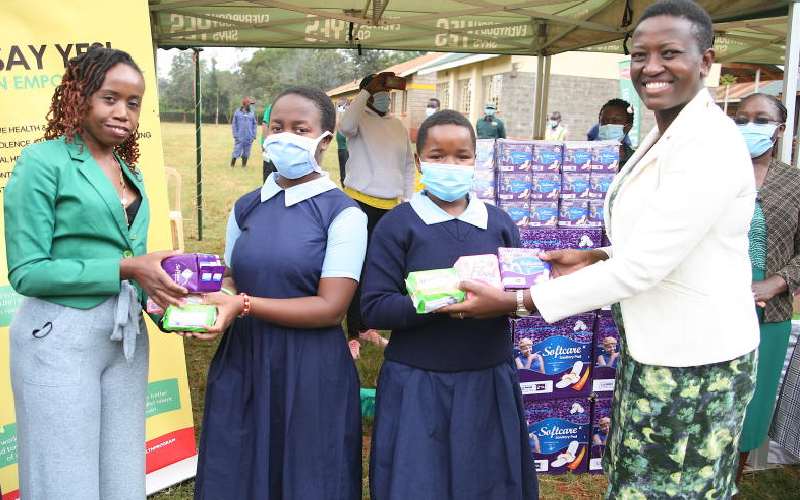 Over the years girls have missed school over lack of sanitary pads, and even some who can't afford, have exchanged sex for pads.
Every 28th May of the year is set aside to is set to create awareness around Menstrual Hygiene and with it, help in fighting period poverty-the lack of access to sanitary products due to financial constraints besides addressing all the taboos around menstruation. Some cultures and religions believing that a woman is dirty during her menstruation leading to period shaming.
Then there are the cases of school drop-outs: one out of two girls in Kenya drops out of school due to a lack of period products, according to Water Aid International and most also miss school four days in a month, says Kenya's Ministry of Education, which come to 165 days over four years of high school.
It is against this backdrop that Always Keeping Girls in School was birthed in Kenya and today, it continues to be a force for female good.
With this year's theme being 'Action and Investment in Menstrual Hygiene and Health," Always donated one million pads through a partnership with Bethel Investment Network as part of its efforts to end period poverty and curb absenteeism in schools.
"As a brand, we believe in education for all and that is why we are wholly committed to helping young girls stay in school and reach their maximum potential by facilitating access to education for girls after the onset of puberty," said Ivy Kimani, Brand Director, Always East Africa.
The Always School Programme was launched in 1993 and has reached millions of young girls across Kenya. Under the tag Always Keeping Girls in School (AKGIS) with a mandate to increase access to safe and reliable pads, through donations, the programme has evolved to include wide-scale pad donations.
The outcome has been tremendous in addressing period stigma and taboos in the country, creating safe spaces where adolescent girls can share without shame their physical changes.
"We are delighted to partner with Always in the donation and distribution of sanitary pads to girls who are in so much need of menstrual protection all across the country. This gesture comes at a time when schools have opened therefore ensuring we have utmost access to these girls," Mary Ndung'u, Founder of Bethel Network.
The Covid-19 pandemic has also not been kind on girls due to financial constraints, hence so many girls have experienced period poverty and Always Kenya renewed its commitment to 'keeping girls in school' by providing sanitary towels so that girls can get healthy sanitary towels without being taken advantage of.
Related Topics