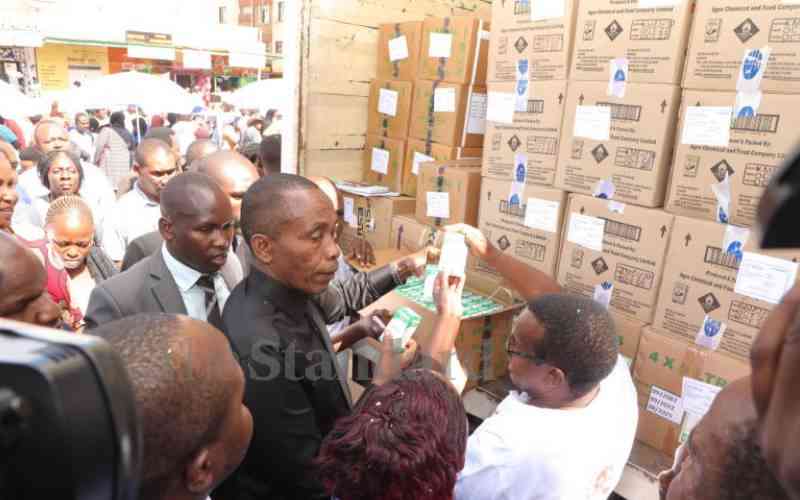 The Kiambu county government is installing CCTV cameras in all public facilities to cure rampant theft of drugs and to enhance efficiency.
This is part of reforms Governor Kimani Wamatangi's administration has embarked on to redeem the health sector.
Other areas Wamatangi is keen to fix are poor infrastructure, faulty equipment, unnecessary delays, drug shortage and congestion.
Things came to a head late last year when suppliers declined to deliver equipment and drugs over unpaid pending bills.
Specialists at the Thika Level Five Hospital have been referring patients to facilities for CT scans, x-rays and MRI.
Cleaners at the same hospital (Thika Level Five Hospital) recently downed tools over seven-month unpaid salaries. Some of the workers resorted to sleeping at the hospital after their houses were locked.
To restore the public's confidence in public health facilities, the county government is planning to, among others, launch a Sh100 million universal health coverage (UHC), expand and rehabilitate dilapidated hospitals, supply drugs and equipment and re-organise hospital boards.
Wamatangi has also launched an onslaught on healthcare workers who divert drugs meant for public hospitals.
"All our facilities must have good infrastructure, the necessary equipment, drugs and specialists as well as proper monitoring system for effective management. We cannot have people wait for hours only to be denied services," Wamatangi said.
To enhance efficiency, the county government is installing CCTV cameras in all public facilities.
The first phase of the installation is taking place in Thika, Kiambu, Gatundu, Kihara, Ruiru, Lari, Igegania, Githunguri, Tigoni, Wangige, Karatu, Karuri, Lusigett, Kigumo, Githurai Langata, Gachororo, Nyathuna, Ngoliba and Kiandutu hospitals.
"The security cameras will be installed on entrances and exits, elevators, stairwells, pharmacies, stores, waiting and front service areas and corridors," he said.
The reforms have met resistance from suppliers and health workers.
Wamatangi has however insisted that reforms must happen.
According to the governor, a week after a Sh10 million laboratory machine was installed at Kihara hospital, a worker sneaked in at night and meddled with the cables. The machine is no longer worker.
"The move was to ensure that tests are not conducted in the hospital so that they can continue referring patients to a nearby private facility. This is what we are fighting and I am determined irrespective of the noises," he said.
At Thika Level Five Hospital supplies dispatched for dialysis to serve struggling patients were rejected by the facility management arguing that they cannot be used.
Health Executive Dr Elias Maina said a hospital supply store, which is 95 per cent complete, will be installed.
He said a management system that will be linked to all facilities in the county will be put in place to monitor service delivery.
Health facilities will be restocked at the click of a button, he said.
Related Topics