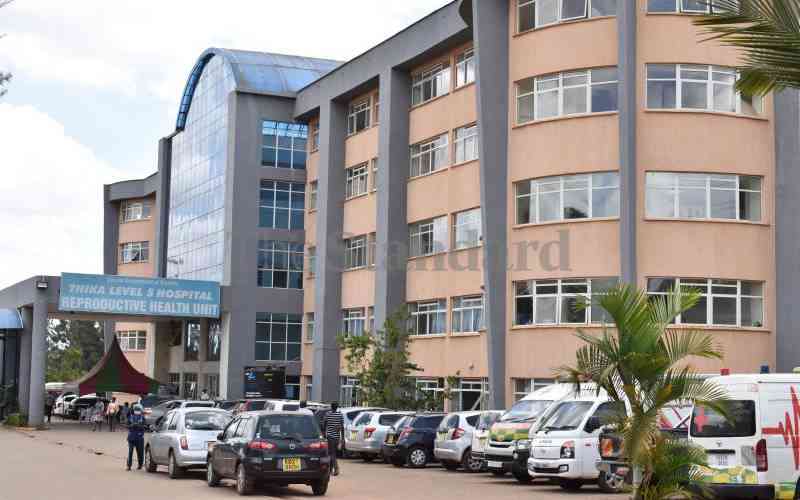 Since its establishment in 1941 as a cottage hospital to cater for the health needs of native Africans and Asians living around the urban centre, Thika Level 5 Hospital has served millions of patients in Kiambu and other surrounding counties including Nairobi, Kirinuaga, Machakos and Murang'a.
However, the hundreds of patients seeking medical services at the facility are now up in arms with the hospital management over its sorry state of affairs despite being the county's largest and most visited facility.
Trouble began late last year when the hospital fell short of medical essentials. This was after suppliers declined to deliver them due to unpaid pending bills.
As a result, some departments including computerised tomography (CT) scans, X-ray, MRI among others no longer provide services.
Tucked between the hospital administration block and casualty is the X-ray service section whose doors have since been shut.
Enquiring why it is not operational, The Standard was informed that there are no films and thermal papers used by the radiography room.
Patients seeking X-ray services are now referred to high-cost private hospitals. The private hospitals within the busy town are reported to be owned by wealthy consultants who also work at Thika Level 5 hospital.
Following the malfunctioning of the public facility services, the consultants refer patients to their health centres where they overcharge them, especially those in need of MRI and CT scan services.
"I came here early in the morning to seek some medication at the dental department, after a few checkups, the doctor told me that I need to be under X-ray examination to establish the problem with my root canal. He told me that I can only have the procedure done outside," Tracy Okumu, told The Standard writers on a fact-finding tour. A medical officer informed us that an x-ray at the hospital ranges between Sh500 and Sh1,000 while private facilities charge about Sh1,500.
Rosalia Mumbi who met first-hand experience with the sorry state of the facility narrated her heart-wrenching encounter when she took her ailing father there. "When I brought my father here yesterday, I was told that the hospital had run out of catheters and was forced to order them from Nairobi. It's now 6.30 pm. I will be forced to go home with him which is costly for me and my family," Mumbi said while shedding tears.
According to patients, the situation at Thika Level 5 is being abated by rogue medics who refer those seeking treatment to their private clinics.
"When the CT scan was installed here in 2018, we felt relieved since private clinics in Thika town were charging between Sh7,000 and Sh10,000 whereas here, with Sh5,000, you will get a scan or sometimes the hospital waives the charge," said a patient who had brought a relative there.
Radiology infrastructure
The CT, which is supposed to serve between 15 and 20 patients per day, was the first of the many latest equipment installed under Managed Equipment Service (MES) project. The MES programme was rolled out in 2015, covering radiology infrastructure modernisation in 94 county health facilities and four national referral hospitals.
A spot check at the male ward at Thika Level 5, established that patients with broken limbs lie in pain after being held at the facility for months waiting for bone plates to fix their broken limbs.
"Despite paying for the plates a month ago, the facility has been hesitant to explain to us how soon they will be delivered. There claims the supplier stopped delivering due to Sh9 million unpaid bills," said a patient with a broken leg.
Some legs have started bending while accident patients remain in plasters and bandages. The rot at the facility came to the fore recently when cleaners downed tools over seven-month unpaid salaries.
Patients with kidney complications are bearing the brunt of the pathetic situation since the hospital is unable to avail dialyzers, AV tubing sets, fistula needles, filters and disinfectants for dialysis.
Angered by Kiambu Governor Kimani Wamatangi's inaction to address the situation, Thika Town MP Alice Ng'ang'a gave the county boss a five-day ultimatum, to intervene, failure the lawmaker threatened to mobilise residents against him.
Efforts to reach Wamatangi for a response on the state of the Thika Level 5 Hospital were futile. He neither picked up our calls, nor did he respond to a text messages.
Dr Elias Mbuthia, who was nominated as County Executive Committee member for Health Services is yet to settle down for work following a stand-off that has now headed to court. Mbuthia was among five CECs rejected by the County Assembly on the grounds that they failed to demonstrate their requisite knowledge and skills for the dockets.
Related Topics