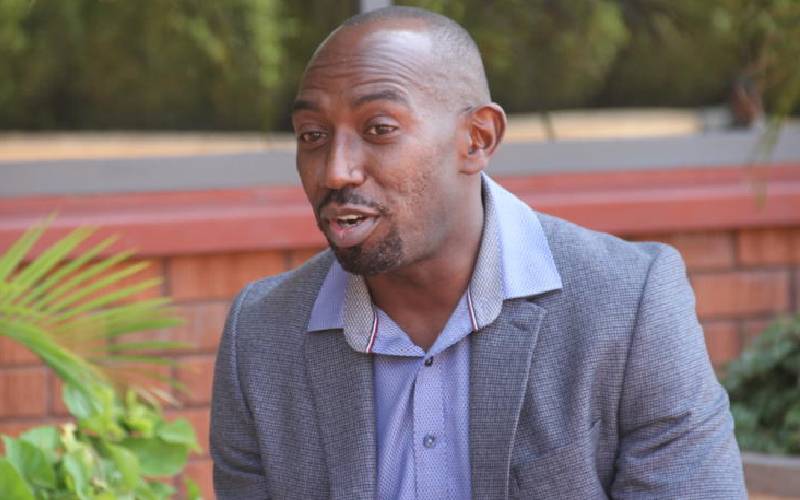 He is one of only two neurosurgeons specialising in neurovascular surgery in Kenya.
Never mind by the time Dr Edwin Mogere completed his undergraduate studies at the University of Nairobi, School of Medicine, in 2003, there were no opportunities for training as a neurosurgeon in Kenya.
Lucky for him, he got a fellowship, which started a year later at the College of East Africa before the University of Nairobi started the master's degree programme three years later.
Dr Mogere began as a general surgeon for four years, then got an opportunity for sponsorship from the University of Cape Town in South Africa, where he trained as a neurosurgeon and specialised in neurovascular surgery, which deals with treating damaged or malformed blood vessels of the brain and spine.
Vascular neurosurgeons are the high-tech specialists of the surgical profession and use top-of-the line tools in their complex and life-saving subspecialty.
Other neurosurgical subspecialties include endoscopic cranial surgery, neuro-oncology, paediatric neurosurgery and spinal neurosurgery.
Dr Mogere treats stroke, brain tumors, and skull-based surgery, which are considered difficult and sensitive.
"It took 15 years of my life to be exact, to be given the permission to begin opening heads," he says.
Being a neurosurgeon often involves engaging people either on their worst day, or during one of the worst days of their lives, as a condition like brain tumour requires surgery to save a life.
"A normal day to a neurosurgeon involves guiding patients on critical decisions they have to make, guiding them through the little information they have on their condition, and then having them hand over their life to you in a very short period of time," explains Dr Mogere.
That, however, is not the most challenging part. That comes if the patient does not make it after surgery and he has to deliver the bad news to the family.
Not making it happens when the case is severe, especially vascular disorders of the brain. Dr Mogere says neurosurgeons are always guided by the principle that "if you can't fix things, at least don't make them worse by inflicting financial difficulties on a family."
One of the challenges is when a patient has had an irreversible injury on the brainstem commonly called brain death.
This means the person will not regain consciousness or be able to breathe without support and such a person is legally confirmed dead.
Doctors, adds Dr Mogere, have to help the family understand that bit to curb the spending of more money on a patient who has had a brain death.
The stages of confirming a brain stem injury include doing tests after 24 hours to ensure all the drugs that had been administered have cleared from the person's system.
Later, another test is carried out by two different teams of doctors who are not directly involved with the patient before confirming a brainstem death.
That is the point that Dr Mogere says families find hard to accept, with some insisting on another surgery, or to continue having their kin stay longer under life support machines.
"We try as much as we can, by slowly and at each step unplugging some of the machines then the family can see that their kin cannot survive without the machines because, after a brainstem death, the heart will soon follow," he says.
Dr Mogere says such criteria of establishing brain death can be carried out at any hospital: a doctor shines a torch into both eyes for reaction to light and the sensitive eye is usually stroked with a tissue or a piece of cotton wool for more reaction.
Ice cold water is also inserted into each ear, which would usually cause the eyes to move.
Dr Mogere says neurosurgery is a highly competitive field in terms of demands and tools used, "and the patients are very complex and when you manage them, treat them and they do well, then it becomes very rewarding psychologically, physically and of course, it pays well."
Growing up, he had many career aspirations and at some point even played professional rugby like his elder brother Maxwell Mogere, who is an engineer.
"I played rugby in high school, at the university, and even for some clubs after graduating," says Dr Mogere who now balances work, family and his favourite sport.
It can be demanding as sometimes he pushes through 72 hours or 100 hours without sleep, seeing patients after patients.
There are times he sits down for a meal and before taking a bite, "I am informed we have a 'red case,' maybe a person has been shot and needs urgent surgery. I have to rush them to the theatre, and when I get to the house to catch a shower, I'm called back for another emergency."
At that point, he has to call in one of his colleagues to step in for him to rest and spare time for his family – wife and two sons – with whom he takes road trips in between outdoor camping, fitness, reading and going to the coast.
Dr Mogere singles out his late father as the one person who inspired him, always believed he was cut out to be a surgeon since childhood.
To him, his father had 'ox-like strength,' as he not only educated his family, but also the extended one as well. His father instilled excellence in him from a young age.
Related Topics