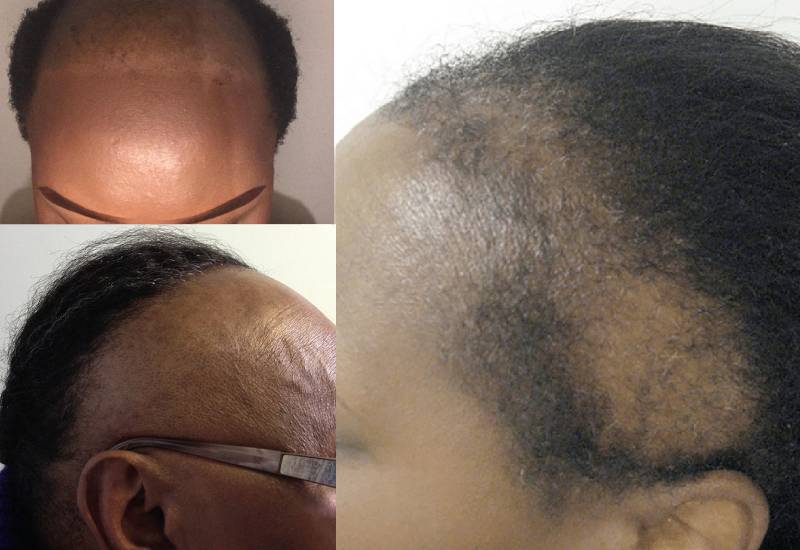 Hair is a woman's crowning beauty, but with time the hairline starts thinning. In men, hair loss results in baldness, which more men are experiencing earlier than was the case before.
Festus Ogunda, a scientist, has thinning hair, starting with a small patch of baldness in the middle of his head.
"I loved my afro while on campus," says Ogunda, "but in the past three years I have been losing hair. My barber brought to my attention that I was having a receding hairline."
Some friends began calling him names which did not sit well with him.
"I felt a bit uncomfortable, but I am a scientist and I have travelled to the UK where I heard of Plasma Rich Platelets treatment. I have been checking clinics until I found the Sleep and Diagnostics Clinic," says Ogunda. According to his own research, he discovered that the procedure involved drawing his blood, but would not take long.
"I did the procedure during my lunch break and went back to work like nothing happened," he says of the first session of Plasma Rich Platelets (PRP) which was not painful besides the slight pain when blood is drawn and platelets injected.
Doctors will review his case after four weeks to see if he will need a second session and "if it works the first time it means I will spend less money," says Ogunda whose family knows he's undergoing treatment for his genetic baldness.
Plasma Rich Platelets (PRP) is a therapy where blood is taken from the patient and put on a centrifuge to separate platelets from the blood. The platelets are then injected into the scalp to stimulate hair growth, a procedure which can also be used by balding women instead of constant braiding or cornrows.
One PRP session costs Sh25,000 to Sh30,000 with at least three to four sessions needed in a year for complete hair regrowth.
We checked on Ogunda four weeks after his first therapy and the hair was growing back.
"I don't know how permanent it is. In African culture men value baldness but I believe we were given hair to stay with it not to lose it especially hair out of stress or alopecia, says Ogunda.
"There is a solution especially if you are young. Not everybody loves baldness and if you can reverse it why not?"
And speaking of alopecia reminds, it brings to mind Hollywood actor Will Smith who slapped comedian Chris Rock during the 94th Oscars Awards last week.
Smith was miffed by a hair joke Rock made on Smith's wife, Jada Pinkett oblivious that her bald head was due to alopecia areata – a condition that causes sudden hair loss in patches.
Dr Sophie Gitonga an ENT surgeon and facial aesthetic consultant at the Sleep Diagnostic and Treatment Centre explains that Androgenetic pattern baldness affects 80 per cent of males and 50 per cent of women with age.
Besides genetics, hair loss can be caused by infection, scarring, chemotherapy, and radiotherapy.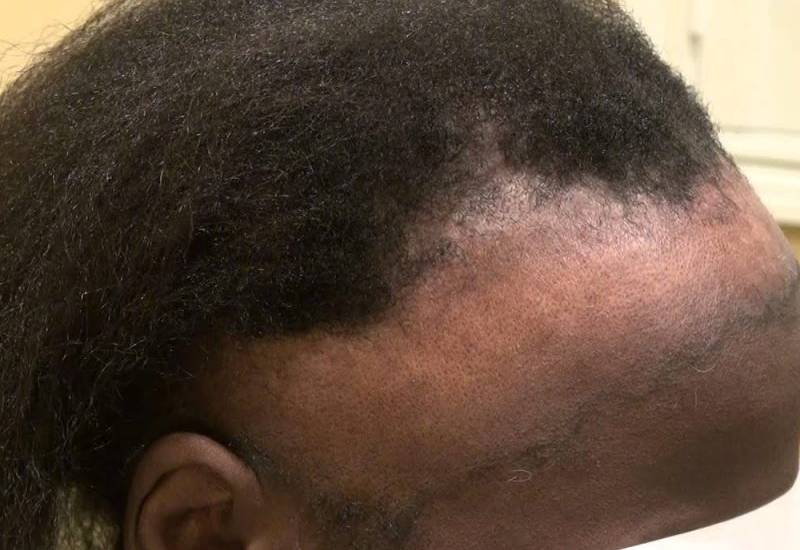 But those undergoing total baldness might not benefit from the hair treatment as the donorcytes needed are usually at the back of the head and doctors also check whether one has enough hair follicles for the transplant.
"We grade the client from grade one to six to see if one is a good candidate for hair transplant," says Dr Gitonga
Platelets are used because they have growth and activation factors that help in forming blood clots.
"The growth factors will attach themselves to the hair receptors and stimulate hair growth," she explains. "They will also increase the dermate of the hair follicles and one will start having new hair growing back."
Dr Gitonga says the time to seek PRP treatment is when one notices balding from the middle of your head or "for celebrities and people in the limelight who can do PRP as a preventive measure."
PRP is safe as the patient uses their own blood and the risks are merely pain when blood is drawn and bruising at injection site.
"Before we inject you the platelets we have to confirm you don't have a bleeding disorder," clarifies Dr Gitonga. "We also confirm your platelet count is within normal range and you don't have an acute infection or infection in your scalp."
The results come after at least three to four treatments four weeks apart, but hair growth can be before the second treatment.
"After the first week of treatment the scalp starts getting itchy where the platelets were injected. This is one of the signs of regrowth," says Dr Gitonga.
"After the second treatment then you will see some improvement."
Platelets were first used in sports medicine for regeneration of cells to treat wounds, joint aches, sports injuries, before their use in hair growth. It is now also used for diabetic ulcers, post-surgery treatment and Psoriasis.
One also needs maintenance therapy once or twice a year besides a diet high in protein, zinc and carotene.
Dr Gitonga advises women to avoid any hairstyles that might cause traction alopecia. Traction alopecia is hair loss that's caused by repeatedly pulling on your hair.
Alopecia areata occurs after the immune system attacks the hair follicles, resulting in hair loss – which might also occur in other parts of the body.
The condition occurs in both men and women. But hair loss is likely to be more significant in men, even though females are more likely to develop it than males. The hair loss can occur on the scalp, eyebrows and lashes. Children too can develop alopecia areata.
This disorder has cells attacking the hair and causing them to shed in patches. It mostly occurs in people with a family history of auto-immune conditions, like diabetes.
There is currently no cure for alopecia areata, although there are some forms of treatment including use of corticosteroids, which are powerful anti-inflammatory drugs that can suppress the immune system.
They are mostly administered through injections, topical ointment application or orally.
Although some drugs may help with the re-growth of hair, they cannot prevent the formation of new bald patches.
Globally, 80 per cent of alopecia sufferers report failure after hair transplant. Alopecia areata can't be prevented because its cause is unknown.
Related Topics