Gardy Chacha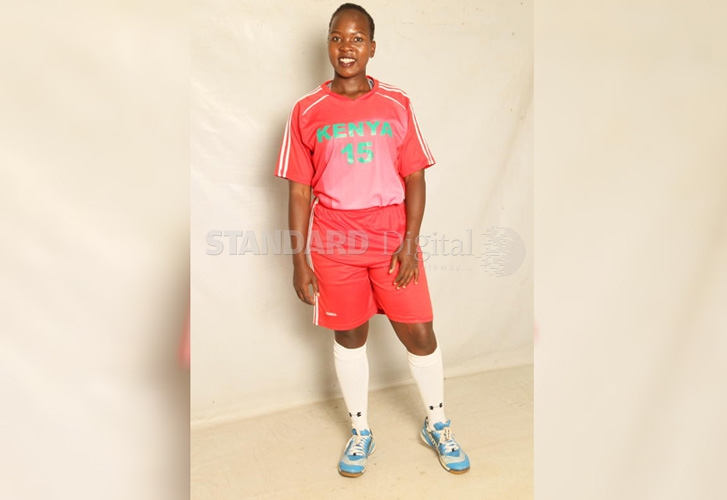 Gladys Chilo began playing handball in 2006. She had just joined Form One at Mukumu Girls High School when her school mother – an older student mandated with matriculating and guiding a new student – enticed her into the game.
ALSO READ: Why kettlebells are a must-have fitness tool
"Come: I want to introduce you to the game I play," her guide had told her as she led her by the hand to the field. It would be a new experience for her. In her primary school days, she hadn't given sports much chance. This was her first dalliance with sports.
To her surprise, she enjoyed that first game. And went back again and again. Before she knew it, she was playing for the high school handball team.
By the time she was clearing Form Four in 2009, Gladys had been enlisted in the Under-20 national handball team.
"I remember playing in Rwanda with the Under-20 national team in 2010," she says.
It was not until 2011 that she was called up to be on the national team. She learnt about the call-up in the newspaper.
"I was pleasantly surprised," she says. "I believe it was the skills I had displayed in Rwanda while playing for the Under-20 team that I earned the spot."
Professional game
ALSO READ: What to eat when dealing with a migraine, stress, heartburn
Handball is a game played on a 40-by-20 (in metres) field with goalposts measuring 3-by-2.
A professional game has seven players aside. Unlike sports like football, the players are not segmented into strikers, midfielders or defenders. All players defend and attack equally.
A score is made when a player throws the ball past the goalkeeper into the net.
"The game is quick-paced and requires some stamina," she says.
To be on top of her game, Gladys says, she prepares physically by attending two hours of gym workout a couple of days in a week.
A handball player ought to have three main qualities: speed, upward mobility, and arm strength.
"In handball, a player jumps a lot – especially when making a strike," she says. "So one needs to work on their vertical flight abilities."
ALSO READ: Six benefits of drinking water on an empty stomach
Typically, when a player scores, it is usually through the sheer strength of the arm as one lets off the ball in a straight trajectory. This, she says, calls for strength training.
"You build strength in your hands by lifting medium weights – not the heavy ones used by bodybuilders," she says.
And to work on her speed she runs on the treadmill.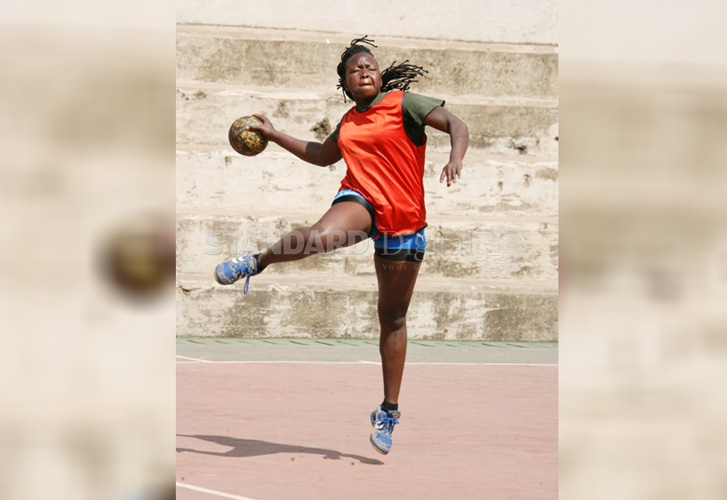 Job
Handball, Gladys says, has greatly influenced the trajectory of her life.
To start with, it has given her a job. In 2012, Gladys was signed up as a player for the Nairobi Water handball queens club – which is sponsored by the Nairobi Water Company.
"As part of my role-playing for the club, I was employed as a finance assistant by the company," she says.
The club is one of twelve, nationwide, that participate in the local handball league. She is the current club captain.
Playing handball has also pulled her out of her cocoon. "I was an introvert and the game has forced me to mingle and interact with other people," she says. Today, she interacts a lot more than she did before joining the sport.
And, obviously, she is more physically fit today than at any other time.
Typical day
Gladys' typical day starts at 8am when she reports for work. For players like her, work lasts until 2pm when they head to Kaloleni grounds for practice – which lasts until 6pm.
In Kenya, if you are successful in sports it is easy to be viewed stereotypically as having flanked in academics.
Not Gladys though. She has a bachelor's degree in Health Records and Information management from Kenyatta University and is currently studying for a Master's in Public Health at the University of Nairobi.
Her mother who played hockey in high school approves of her current sporting career. Her father, however, wants her to study for a PhD and pursue academic careers instead.
Someday, she says, she might end up working as a researcher. But even then, she reiterates, handball will be a hobby.
She just can't imagine her life without handball. "I have played handball for 13 years now. I am pretty much a handball girl," she says.
Netball is her guilty pleasure; something not everyone in her circles knows. A few times, she says, she has found herself on a netball pitch. "The difference is that I only play netball for entertainment."