Home
/
Achieving Woman
'I wish I'd started earlier'- Wanjeri Nderu speaks on activism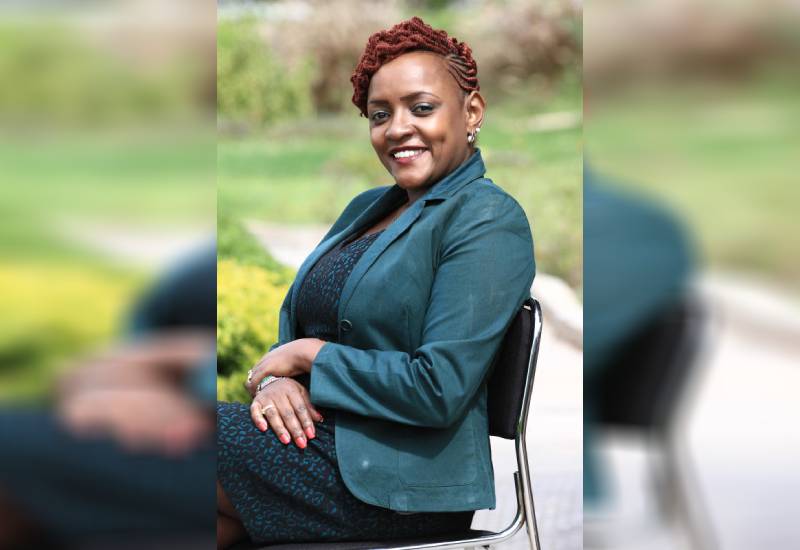 Wanjeri Nderu can really get a person going. Whether she is talking to you alone or to a park full of protesters, she can whip up emotions just by her manner of speaking and her passion.
That's exactly what happened when we, myself and two other people, had a conversation with her. We became unhappy about certain issues, some of which we had never given much thought.
She can talk about anything with sustained energy; so by the time we are done, our conversation has run the gamut from how to milk a cow, how we are still colonised, her unusual yet enviable upbringing to the unenviable things she has been through because of her chosen career: activism.
Or more accurately, she is a human rights defender. She has been arrested about 13 times; most of the time just to harass and scare her seeing as she is usually not charged or arraigned.
"I have left this country three times for my safety," says Nderu. "One time, they had imprisoned four Kenyans illegally in South Sudan. I did a campaign for one year, eight months. I would sit down in a pub and South Sudanese men would sit down around me. They used to follow me."
It can get dangerous, yet this is something she chose and in fact, quit a well-paying job a decade ago to focus on.
And now she wishes she had started doing it earlier, in her 20s. She is turning 42 in October.
"I have been doing this for about 10 years now. I wish I had taken that bold step earlier. I have always wanted to do what I am doing but I just didn't do it when I was much younger, with much more energy. I don't know how much longer I will continue to do this but I don't see myself stopping. I wish I had started earlier than just thinking about the paycheck, the lifestyle."
Passion for justice
Nderu first told her father that she wanted to work with refugees when she was 12. Her parents now understand, but back then they were bewildered. That pull, however, likely runs in her veins, as her grandfather was a Mau Mau veteran.
"My grandfather was a Mau Mau and had been detained for seven years. After detention, he worked as a cook for a white family."
It was from him that she learned everything "the true history of colonialism and our liberation as a country".
"And it is not liberation," she says. "It was just a switch from white colonialists to black colonialists. We are a nation that has not been fully liberated. Our illusion of freedom is because we have people of our skin colour in office but their interests are not ours.
"I get a bit emotional when I remember my grandfather because he would tell me and teach me things and I get angry when I remember all the lies we were taught in history about who fought for what, who was our freedom fighter, who wasn't – and it's ridiculous."
Her parents watered that seed of self-expression and assertiveness in the way that they ran their household.
"I also come from a home where our parents were open about discussing issues. Every few months, we would have family parliament. My mum was the secretary. We used to go like, 'Okay mum, that's not fair, dad, that's not fair'. So we grew up with that sense of being able to express ourselves
"Our parents allowed us to tell them when they hurt us and vice versa. For us, they even remembered things you did even before you were born, you know!" she says with a chuckle.
"We are a close-knit family. The family parliament at Nderu's house continues to date. We are so close, to a point that there is nothing that happens in my life that I will not tell my dad or my mum. Our parents are our best friends."
Parenting
She and her husband, Musembi, who she jokingly says tolerates her 'madness' try to do the same with their three children aged 17, 13 and 9 – two girls and a boy.
"It is difficult today to raise children that way. I try to do that with my children, but it is such a thin line between being a parent and a friend because if you go on the friendship side a lot you lose your authority as your parent and when you are a parent on the extreme side your children don't have a relationship with you. Creating that balance is not easy."
Nderu has embraced the same positivity she grew up seeing in her parents.
"I have such beautiful memories of my parents showing us what parenting is. Showing love in our presence. Because I think that is one thing that parents also miss out on.
"Not expressing love to one another in front of your children gives the children a certain feel, that loving one another has its space."
"I hug my husband and tell him I love him in front of the children. It is important for parents to show their children affection, so that this whole thing of making it look like parents are a secret thing that happens over there, doesn't get in their heads, because it really messes up our children later on in life. I know there are families where there are seats you could not sit on because it was daddy's seat. We didn't have that and I'm so grateful for my upbringing."
Brand of feminism
Having what she says are wonderful men around her, she just can't subscribe to the phrase that people expect her to because she is a feminist, which is that 'Men are trash.'
"It's been difficult for me to deal with this issue of 'A feminist is somebody who hates men.' We keep saying 'men are trash.' Men are not trash! How are men trash?" she poses the question and then pauses for it to sink in.
"We need to say PEOPLE are trash. Because some of the things men do, women do too. I can give you several examples of men who have been in situations where women are the oppressor. I have cases where women are cheating in their marriages. They even bring the men that they are cheating with into their homes. Some men have attempted suicide to get out of such situations. Women are also abusers."
When she got into activism, she had intended to do it for just one year, and it was to draw attention to the plight of boys who were being abused yet nothing was being done about it.
"Feminism to me is equality of the sexes and equity," she says. "Are we being fair to the females, are we being fair to the males? Are we giving males and females the same opportunities?
"Are we putting everybody in the same space and saying, 'We're not giving you these opportunities because of your gender. We are giving you these opportunities because you are a human being.' So I consider myself a feminist because I fight for men and women."
Not that all this ever stops people online from hurling unprintable insults at her. There are also those who accuse her and fellow activists of doing what they do because they are paid by donors.
"The narrative that activists are paid to do what they do is a fallacy created especially by people within government. Many activists that I see out there, including myself, have to go into their pockets to have things done. We rely on our friends also, our families – my family is my greatest supporter.
"What happens is that the government needs people to believe that these people are not doing this because it is true or factual, it is because they are being paid to do it. It is a lie. I can walk you into spaces where activists are going into the trenches and they are not being paid."
None of this fazes her though, and if you ask her, they could use more people in these causes.
"We need more Kenyans to speak out. Not just behind the keyboard. We need you to actively, in your communities, talk about some of these issues. We need more Kenyans to come out and express their frustrations. That keyboard warrior thing gives you a feeling of having done your part but it's not enough."
Related Topics