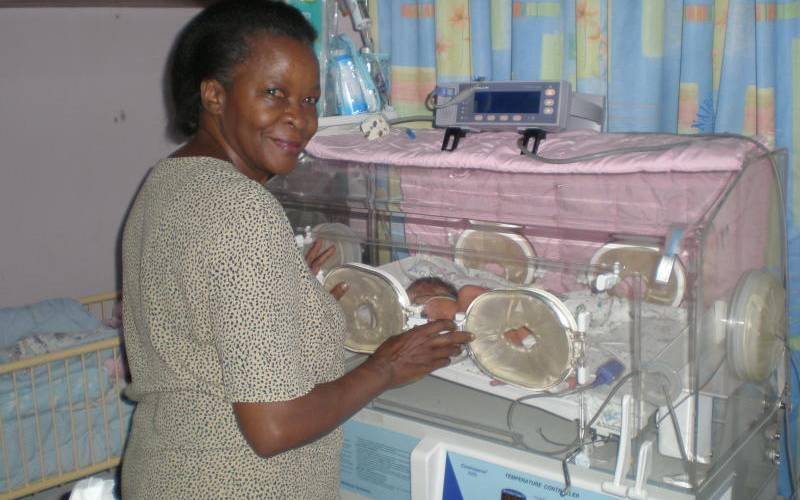 May 30th, 2022, is a day that the paediatric fraternity will never forget.
The day started with excitement after reading the story in The Standard newspaper's Health and Science pull-out titled; 'Prof Rachel Musoke: She pioneered Kangaroo Mother Care in Kenya'.
That same morning, before the exciting story sunk into our hearts, we received the shocking news that Prof had passed on that morning. We were all in shock.
"But Prof attended our meeting last week.." was the response from most of her colleagues after receiving the news. A rose had been plucked from our lives- forever.
Prof Musoke was born in 1944. In 1964, at age 20, she joined the University of East Africa Makerere College, where five years later, she qualified as a doctor in 1969. She pursued further training and earned her master's degree in paediatrics at Makerere in 1974.
She then proceeded to the UK for further studies, where she qualified as a neonatologist in 1977. She joined the Department of Paediatrics, University of Nairobi (UoN) in 1977, as a lecturer and remained at UoN until her retirement in December 2020, having taught for 43 years.
Until her death, she was a member of the World Alliance Breastfeeding Action (WABA), the Academy of Breastfeeding Medicine and the Kenya Paediatric Association. She had 124 publications cited in Researchgate.
Prof Musoke was a teacher par excellence, mentor, friend and colleague in the department and the Mother of Neonatology (newborn medicine) in Kenya.
Her name was synonymous with Kenyatta Hospital Newborn Unit, her second home for several decades. She encouraged the students and doctors to think outside the box and would literally ensure the newborns got the best care, a perfectionist and committed to quality care for the newborns.
Prof was very humble, many times she would sit in classes being taught by nurses or doctors that she taught in pre-service. As a strong advocate for the newborns and preterm babies, who she fondly called 'the little ones' she would accompany the postgraduates to churches and hospitals to teach health workers and other times, mothers about best breastfeeding practices.
Prof was the lead person in the development of various lactation management curricula for pre-and post-basic training as well as the Kenya Ministry of Health guidelines for the care of the 'little ones' and the sick newborns at different levels of health care; dispensary and health centres, county hospitals and the National Referral Hospitals.
At KNH, the guideline for referral hospitals is commonly known as 'Prof Musoke Guidelines'.
For many years, newborns were virtually 'invisible' within the healthcare system in Kenya. Thanks to Prof Musoke and the Neonatologists like Prof Wasunna and Prof Were almost all county hospitals in Kenya have functional newborn units.
In 1990, Prof Musoke published a ground-breaking paper immortalized by the UNICEF video on feeding the low birth weight (LBW) infants, demonstrating that LBW infants could be fed exclusively their mothers' milk and gain the expected weight. These findings enabled upscaling the use of expressed breastmilk for all categories of at-risk infants and legislation to protect breastfeeding.
Prof other interest was responding to the HIV/AIDS epidemic in children. She developed training guidelines on 'Infant feeding in the context of HIV' and offered her expertise in the treatment of the HIV-infected children in Nyumbani Children's Home and Lea Toto Community Programme from 1996 to 2021.
Prof was not only a doctor but was a vibrant member of the musical society in Nairobi. She had a beautiful soprano voice and often invited us to the Nairobi Music society recitals, and their Christmas Carols at the All Saints Cathedral were particularly exhilarating.
As we mourn Prof Musoke, we ask ourselves; "shall we be able to continue with the work she pioneered?" It is our responsibility as policymakers and practitioners to use the foundation she laid and prevent newborns' death. We thank her family, and the nation of Uganda for sharing her with us.
May God rest her soul in eternal peace.
Prof Irimu and Prof Nduati teach at the Department of Paediatrics and Child Health, University of Nairobi
Related Topics