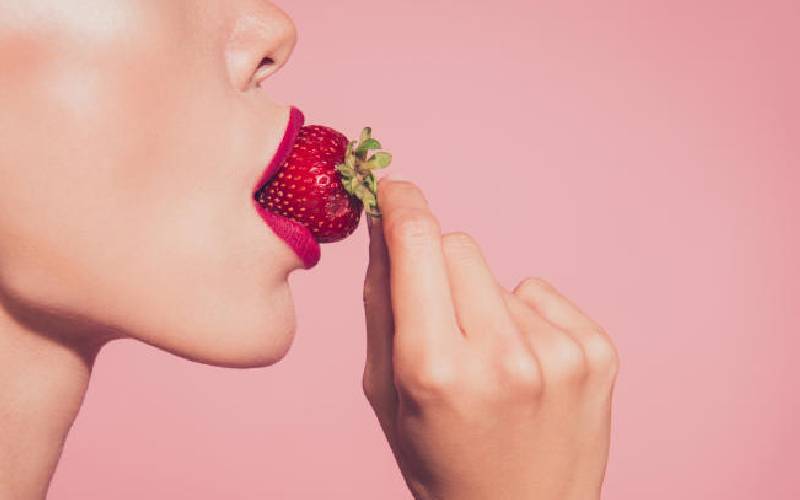 Oral sex might not lead to unplanned pregnancies, but it can cause myriad infections. And just like penile condoms, which prevent unplanned pregnancies and infections, there are mouth condoms too, made from thin and made of latex.
Also called Dental Dams, they help curb Sexually Transmitted Infections from engaging in oral sex. They cost between Sh100-Sh200 but are hard to find.
Mildred* a PR practitioner in Nairobi, recalls suffering from a sore throat after oral sex with her then new wild flame in 2014.
"It was so bad. Tonsillitis; a pain that was not subsiding and then I noticed when I took time from oral sex everything goes back to normal," she said, adding that the partner also spotted a big boil on his lip after an alleged out-of-town work trip.
"A boil or rush caused by a normal flu can easily be identified but one caused by something else is different. That frightened me," recalled Mildred who suspected her partner was cheating.
"I just self-medicated. I never went for STI or HIV tests."
Other people interviewed including a 37-year-old accountant in Nairobi reported being hospitalised "for the worst sore throat of my life" after oral sex.
Dr Gakuo Karuga, an Ear, Nose and Throat (ENT) specialist, explained that oral sex can cause viral and bacterial infections like gonorrhea, syphilis or other non-sexual infections like E-coli.
"The Human Papilloma Virus (HPV) can be transmitted through oral sex, this virus, a major cause of cervical cancer can also cause esophagus or upper digestive cancer," said Dr Karuga, who advocates HPV vaccine for boys, although it's meant for girls from age 10.
Through oral sex, HPV can also cause papillomas (warts) that can be found in the throat, mouth, palate and vocal cords.
Dr Wahome Karanja, another ENT specialist, concurs that HPV is transmitted from the genital region to the oral cavity which includes the lips, inside cheek lining, the front two thirds of the tongue, the upper and lower gums, floor of mouth and under the tongue.
"The HPV virus that causes cervical cancer has many sub-types that can easily be transmitted through oral sex, and eventually cause throat or pharyngeal cancer," said Dr Wahome.
Patients are prescribed with antivirals and sometimes a blood test is done if signs and symptoms are stukk showing after seven to 10 days.
According to the Centers for Disease Control and Prevention (CDC), 40 out of the 100 plus types of HPV can spread through direct sexual contact to genital areas, as well as the mouth and throat.
HPV reacts differently, some clear it within one to two years, while it persists in others. However, it takes years for cancer to develop after being infected with HPV.
Junior F. Mukudi, a health system specialist and health care advocate, warns that though oral sex is pleasurable, couples need to go for checkup for "signs, for example change of vaginal discharge or an unusual smell."
Related Topics