Mireri Junior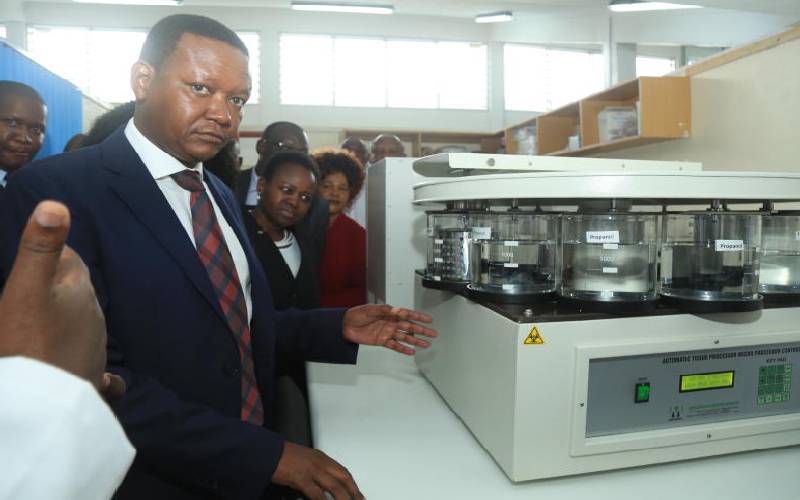 Machakos Governor Alfred Mutua has appealed to President Uhuru Kenyatta to form a special team comprising of top medical professors, doctors and researchers to develop a vaccine or find a cure for coronavirus.
Governor Mutua said countries such as Ethiopia have started funding research works and Kenya must also plan for its future by investing in research.
"President Uhuru please set money aside for coronavirus cure research. It is possible. Ethiopia is already beating us in this," Mutua tweeted on Sunday.
Mutua said the special team once formed should be funded by the government in their work as they try to find the cure.
"Let the government factor in the budget research money to fund the special team in their works as they try to find vaccines and cures for various diseases."
He said the money coming from the pay cuts by various leaders including President Uhuru should be used to research for coronavirus cure.
He said it is high time the government invested in research, saying it is the only way a country can be able to deal with pandemics such as coronavirus.
Mutua said the ongoing efforts by the government such as social distancing, washing of hands and manufacturing protective masks will only reduce the spread of coronavirus but not cure it.
He said the disease will not disappear on its own and that serious research for the cure must begin in earnest if the country wants to find a permanent solution to the pandemic.
"It won't go on its own we will keep on isolating ourselves, washing our hands, keeping the social distance, buying ventilators and new ICU facilities but this will not finish the virus," said Mutua.
Mutua called on scientists, researchers and medical experts to come together and find a cure for the disease.
He said the country has able medical experts that if funded will develop a vaccine or cure for the virus.
"I believe our experts if funded, will find a cure for the disease and the government should not waste time, let the team be formed immediately."
Kenya's positive cases stand at 126 with four deaths and four recoveries from the deadly virus as at Saturday, April 4, 2020.