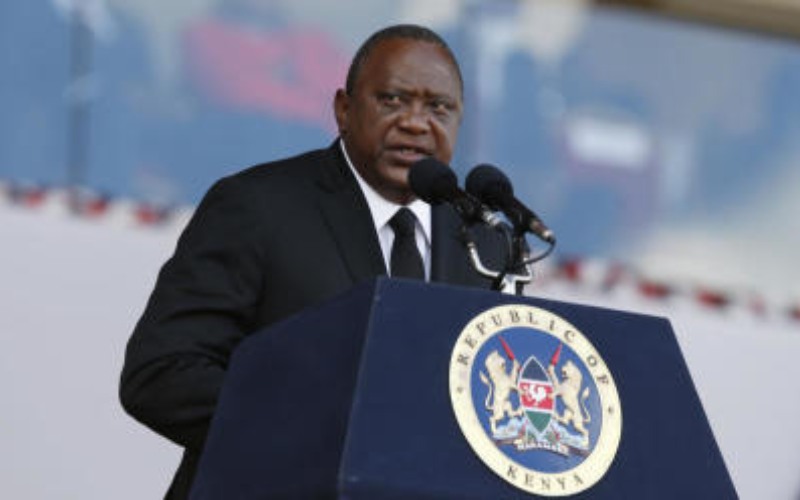 President Uhuru Kenyatta has responded to his political rivals who have constantly criticised his efforts during his leadership.
This comes amid sustained attacks by politicians allied to his deputy William Ruto with whom he fell out barely a year after his re-election in 2017.
"Instead of offering advice on how to improve on my shortcomings as a leader, you are in markets insulting me. Help me reduce the problem, as opposed to pointing an accusing finger," he said angrily.
In a sarcastic response, the Deputy President through his verified Twitter account has responded to the president's sentiments saying 'he is just a phone call away'.
"Sorry my boss. I feel your pain. Those you assigned my responsibilities and 'project' mzee have let you down miserably. They bangled [sic] our big 4, killed our party and wasted your second term. They are useless. Boss, am available. Just a phone call away. Sadly, last cabinet was 2 years ago. That number Two," he tweeted.
During his speech at Nyayo Stadium, while overseeing his final Labour Day celebrations as president, the president urged those opposed to his style of leadership to approach him and guide him on how to do it better.
The Head of State who leaves office on August 9 has defended his decision to work closely with his main political competitor in the last two elections, Raila Odinga. He said Odinga agreed to help him implement his legacy despite past political differences.
"Let us talk the truth. Where are you when I need you?" he posed a rhetorical question and then proceeded to say, "I thank the old man [Raila Odinga] because, despite the political differences we had before, he came through and agreed to work together. He helped me work in peace,"
In the last few months, Kenyans have been decrying the high cost of living, which was exacerbated by the recent national fuel shortage crisis.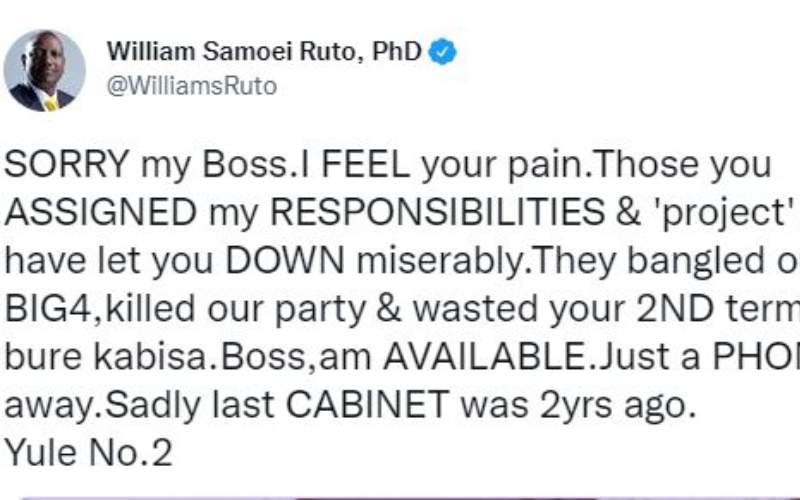 The opposing political formation took a swipe at the situation and blamed president Uhuru's regime for the situation.
However, the president has distanced himself from the allegations today, saying the fuel crisis was caused by business malpractices by some players. He added that the tough economic times were the effects of the Russia-Ukraine war and the Covid-19 pandemic which has affected the global economy.
"Was I present where Covid-19 started? Did I bring Covid-19? Was I in Ukraine? Or should I go to Ukraine? Empty promises and insults will take you nowhere," the president said.
He went on, "Insults do not build the country. Whether you like it or not, it is the hard work of an individual,".
During a light moment, while making his last Labour Day speech as the Head of State, Uhuru commended the government for implementing no pay or job cuts at the onset of the pandemic.
"No civil servant was fired or got a pay cut like in some countries we have read of. That is the truth, whether you like it or not," he reiterated.
The outgoing Head of State then sent the workers present at the stadium to laughter when he turned to his aide-de-camp and asked, "Did you get a pay cut? (Wewe ulikatwa mshahara?)"
The military officer whose work is to escort the president salutes then says 'No'.
Related Topics