Home
/
Health
Two women speak out on their struggle with cancer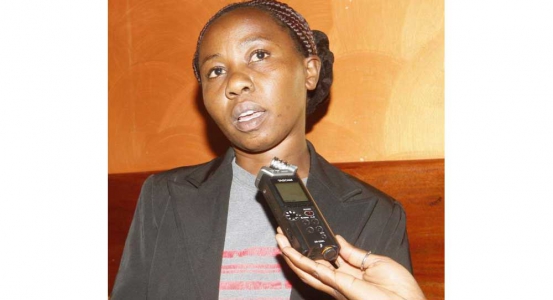 Patients tell their stories as world commemorates October as breast cancer awareness month
According to doctors, a major misconception about the condition is that patients brought the disease on themselves and that it is contagious.
In a society where a woman is defined by her body, the realisation that one has breast cancer can be devastating.
Even worse is how the world changes their view of cancer patients.
"As people held their noses away from me, I couldn't cry. I have come too far to break down today. Even then, tears would flow down my cheeks," she said bravely, trying to conceal the pain written all over her face.
"Some people still see me as a dead woman walking. When I went home last year, I was received with astonished stares. They must have expected to see a bald, frail-looking person whose clock was ticking," she said.
In July last year, Veronica Akello was diagnosed with breast cancer, a disease she had never imagined would reach her healthy lifestyle. Every day, she waited to be informed that the lump in her left breast was just a swelling.
Reactions
However as time passed, she learnt to accept and started getting treatment.
"Immediately I began treatment, the wound in my breast worsened. It was smelly and painful. This was the worst time of my life," she said.
"Whenever I got into a matatu, people held their noses with their fingers," added Veronica.
She added, "The first time I wanted to alight at the next stop and walk all the way. Deep inside, I wished I could tell them that it had nothing to do with hygiene."
The 49-year-old woman said the pain she felt in her heart from such reactions were far deeper than the physical wound.
"A lack of understanding when it comes to certain diseases can leave sufferers feeling isolated and hopeless," she said.
The mother of five said she had a lump on her left breast and would feel pain occasionally. She was discovered to have cancer at stage two.
"Disclosing to my family was my hardest task. They were so shocked and thought it a death sentence," she explained.
"My husband was the worst affected. He turned to alcohol for solace and would only speak about my situation when drunk," she added.
Alternative cure
Veronica said despite being approached regularly to take traditional medication that are said to cure cancer, she resisted and religiously adhered to her medication.
And 35-year-old Hannah Wanja, a breast cancer patient, said she had to stop working at a flower farm after her left breast was removed.
"My family and friends have, however, been very supportive, which has helped my journey to recovery. It is an odd paradox that a society that can now speak openly and unabashedly about topics that were once unspeakable, still remains largely silent on cancer," she said.
As the world marks the breast cancer awareness month, Texas Cancer Centre has themed October 'Care to Limbo 2017'.
Catherine Nyongesa is helping some of the patients getting ready for therapy.
"In Africa a major misconception about breast cancer is the belief that patients brought the disease on themselves and that it is contagious," said Dr Nyongesa.
She said some patients believe they have been bewitched and seek traditional methods of treatments, which advances the cancer.
"Causes of breast cancer, the leading cancer in women in Africa, is largely unknown. In fact, less than a third of the cases are attributed to lifestyle. However, it can be treated fully if discovered early," she asserted.
Related Topics