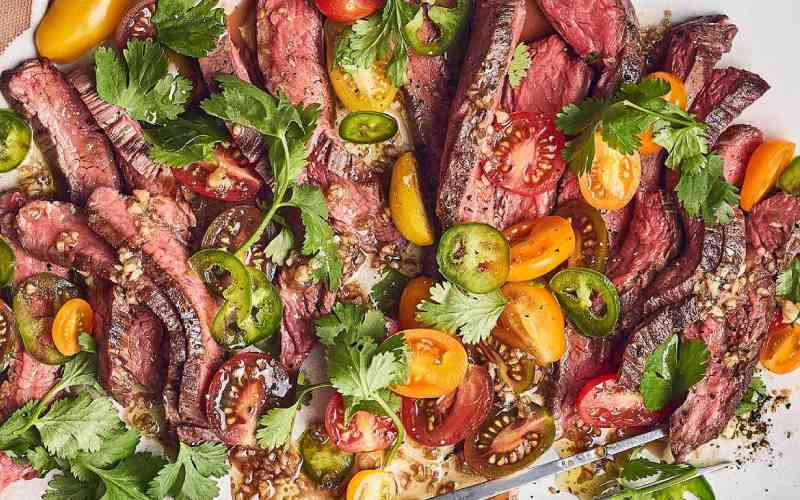 A steak salad is a hearty and delicious dish that combines steak with fresh vegetables and a flavourful dressing. It is easy to prepare at home and can be served for either lunch or dinner.
It is an all-in-one plate recipe and is loaded with healthy ingredients fit for all.
Ingredients:
½ kg of steak.
4 cups of mixed salad greens (lettuce, spinach, arugula, kale or watercress).
(one can choose whichever salad greens combination that pleases them.)
1 red onion.
1 bell pepper.
1 cucumber.
1 cup of cherry tomatoes.
2 garlic cloves.
Salt to taste.
Black pepper.
Parsley for garnish.
For the dressing;
2 table spoons of olive oil.
2 table spoons mustard.
1 lemon.
1 garlic clove.
Salt and pepper to taste.
Instructions:
Season your steak on both sides using salt, mashed garlic and black pepper.
Heat a frying pan over medium heat, add your steak and cook for about 10 – 15 minutes depending on the thickness of the cut and personal preferences. Do not forget to flip both sides ensuring both of them are well done.
Once cooked, remove the steak and let it rest for a few minutes. (This allows the juices to redistribute and make a juicer, tastier steak.)
In a small bowl prepare the dressing by adding olive oil, minced garlic clove, mustard, salt, pepper and a squeeze of lemon juice. Mix well and refrigerate for a while.
Prepare your cherry tomatoes, cucumber, onion and bell pepper for the salad by dicing them.
Chop your salad greens according to preference. In a large bowl add in all your prepared vegetables and mix well. Cut your steak into thin slices against the grain.
Add the sliced steak onto the salad, drizzle the dressing over the salad and using tongs toss the salad to ensure all ingredients are properly coated with it.
Garnish with finely chopped parsley. Serve the salad in bowls and enjoy!
Related Topics