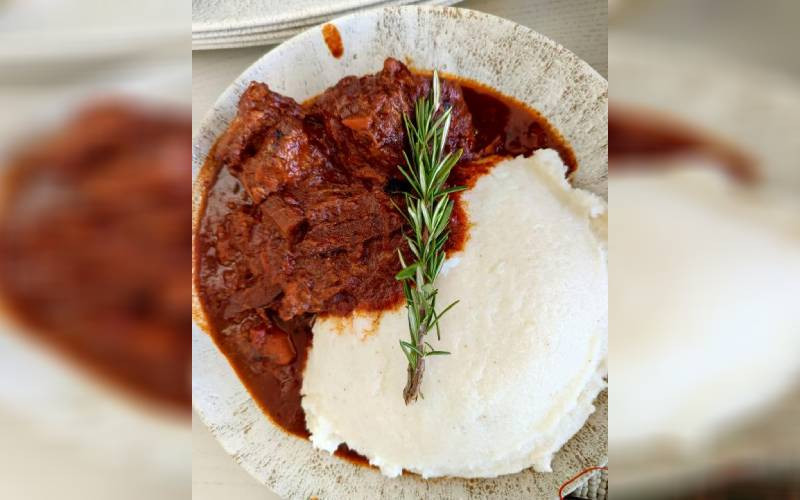 Happy World Cup watching! Today is perfect for making delicious oxtail stew. This authentic dish has lots of flavours that represent Africa.
WHAT YOU WILL NEED:
1.8 kg of fresh oxtail
¼ cup cooking oil
2 tablespoons cooking oil
1 large red onion
4 cloves of finely chopped garlic
2 teaspoons freshly crushed ginger
4 large ripe tomatoes, chopped
2 tablespoons tomato paste
10 large potatoes, cut into slices
1 spring thyme
4 cinnamon sticks
1 teaspoon dried thyme
1 teaspoon curry powder
1 green capsicum, julienned (cut into short, thin strips)
2 scallions (green onions)
2 beef bouillon cubes
1 teaspoon paprika
1 habanero chilli (optional)
1 teaspoon ground black pepper (optional)
1 bunch of fresh coriander
Rosemary
Salt to taste
WHAT TO DO:
Clean the oxtail under running water and cut it into pieces. Place the oxtail pieces in a medium-sized pot and add water until it covers them.
Add the garlic, scallion, salt, and ginger. The ginger and garlic soften the oxtail and add flavour. Boil, then simmer under medium/low heat for 1 hour and 30 minutes (minimum).
Alternatively, cook the oxtail in a pressure cooker for 40 minutes to save energy and time. Strain the stock from the meat and reserve it for later use.
If you want, skim off the fatty layer on the stew.
Heat cooking oil in another pot under medium-high heat. Once hot, fry the pre-boiled oxtail pieces in batches to avoid crowding the pot.
Allow them to turn brown on each side for about five minutes, and set them aside in a bowl.
Add the red onions to the cooking oil and fry till golden brown. Add crushed garlic and ginger, then fry for about two minutes.
Add the browned oxtail, fresh tomatoes, tomato paste, and spices (fresh/dried thyme, cinnamon sticks, black pepper, paprika, curry powder, habanero chilli, and bouillon cubes).
Stir well to prevent them from sticking to the pan.
Cover for about five minutes to let the spices release flavours and aroma. You can add a few more minutes if the tomatoes are not tender.
Once the sauce is well cooked, add the stock and boil over high heat. Reduce the heat, add your sliced potatoes, and let the oxtail stew.
Simmer for 30 to 40 minutes for the flavours to blend, and add water if the potatoes need more time to cook.
Add the chopped scallions and green capsicum, and adjust the seasoning accordingly.
Turn off the heat when the soup is thick and saucy.
Garnish with Rosemary and fresh coriander. Enjoy this tasty dish with hot ugali.
Related Topics