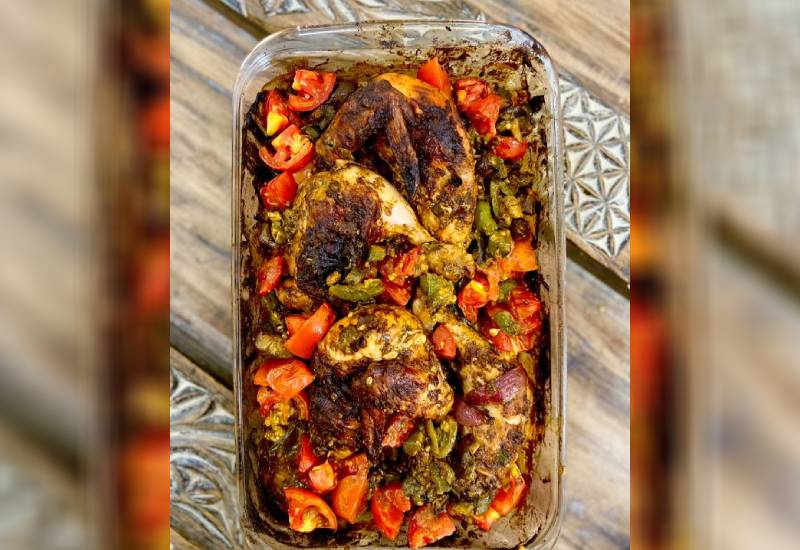 Are you tired of preparing your chicken the same way? Everyday? Today, we'll show you how to make this delicious vegetable and chicken casserole for a change.
What you will need:
1 whole chicken, cut into quarters
1 teaspoon garlic powder
1 teaspoon cumin powder
1 teaspoon ginger powder
1 teaspoon black pepper
1 teaspoon oregano
Salt to taste
70g tomato paste
Juice of 1 lime
250g okra, halved
4 tomatoes, diced
4 sweet peppers
1 onion, cubed
1 teaspoon olive oil
1/4 cup tamarind sauce
1 chicken bouillon cube
What to do:
Marinate the chicken with garlic, cumin, ginger, black pepper, oregano, salt, tomato paste and lime juice.
Massage the marinade over the chicken. Let the chicken stay in the marinade for about an hour. Roast in the oven at 200°C for 45 minutes.
Sauté the okra in a pan over medium heat. Pour in the oil, put in the rest of the veggies and add the tamarind sauce and chicken bouillon cube.
Cook for about five minutes, then spread the veggies over the chicken.
Add extra diced tomatoes and roast in the oven for another 15 minutes. Serve as a meal on its own. Enjoy!
Related Topics