Home
/
Living
My leg was amputated after I was denied medical attention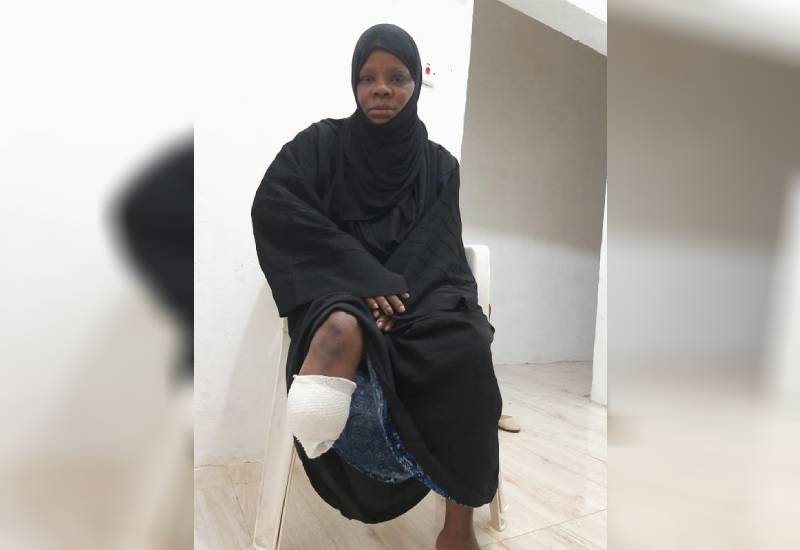 Halima Kadzo Ziro, 35, left Kaloleni, Malindi County for another sweet-turned-sour deal, but her right leg was amputated earlier in February and she is now under the care of a compatriot Lilian Zawadi in Riyadh.
Ms Ziro says that one day in November last year, her leg started swelling after she was pricked by an object while undertaking her normal chores.
She says she didn't get permission from her employer to seek treatment and the leg started turning dark.
Ziro who is still stuck in Saudi Arabia is worried that she may not provide for her children in Malindi when she returns to the country.
"I sought treatment at King Saud Medical City and I was told I was diabetic and that the leg had to be amputated. The procedure was done and I was discharged. But I was kicked out by the employer and now being hosted by my fellow Kenyan. I can't do anything for myself because I have no crutches and I am still healing. I don't know what to tell my children when I return to Kenya one day," Ms Ziro said in a virtual interview.
"If I was in Kenya, I would have the freedom to walk into a health facility and seek treatment early. I couldn't be a disabled woman today."
Ziro says she never knew she was diabetic until the day doctors recommended amputation of her leg.
A medical report seen by The Standard, issued by a Dr Ayman Alswayeh indicates that she was diagnosed with diabetic food.
Related Topics