Tomato and basil chicken with fries
Food By
Mirror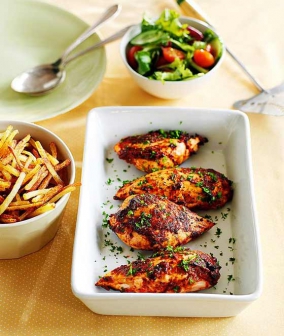 Many of us jump on the health bandwagon post-Christmas but how can you make sure it's a complete lifestyle change and not just a faddy diet?
Forget shakes and juicing, these are delicious, low-fat recipes, which will leave you feeling satisfied for longer.
Breakfast
Fruit and yoghurt
Layer fresh fruit salad in a glass with a fruit-flavoured Mullerlight yogurt.
Lunch
ALSO READ: How to use beer in cooking
Houmous sarnie
Whizz drained canned chickpeas with fat-free natural yoghurt, crushed garlic, lemon juice and salt and pepper to taste. Spread on to 2 slices of wholemeal bread (from a small 400g loaf) and add salad leaves and cooked beetroot. Follow with a bowl of mixed berries.
Dinner
Tomato and basil chicken with fries
Serves 4
Ready in 25 minutes
For the fries:
ALSO READ: Seven foods you can make with chapati dough
600g floury potatoes peeled and cut into very thin fries
Low-calorie cooking spray
Salt and freshly ground black pepper
For the chicken:
3 tbsp tomato purée
Juice of 1 lemon
2 tsp garlic granules
1 tbsp dried basil
4 skinless chicken breast fillets
2 tbsp balsamic vinegar
A handful of fresh flat-leaf parsley, finely chopped
Preheat your oven to 200°C/Fan 180°C/Gas 6. Boil the fries for 1-2 minutes, then drain and spread out on a baking tray. Spray with low-calorie cooking spray and season well. Bake for 12-15 minutes or until lightly golden.
Preheat your grill to medium-hot. Mix together the tomato purée, lemon juice, garlic granules and dried basil. Put the chicken in a shallow, ovenproof dish, then spoon over the tomato mixture and toss to coat well.
Spray the chicken with low-calorie cooking spray, season and grill for 6-8 minutes. Drizzle over the balsamic vinegar, then turn the breasts over and grill for another 6-8 minutes, or until cooked through.
Divide the chicken between four plates, garnish with the parsley and serve with the fries and salad.