Sylvia Wakhisi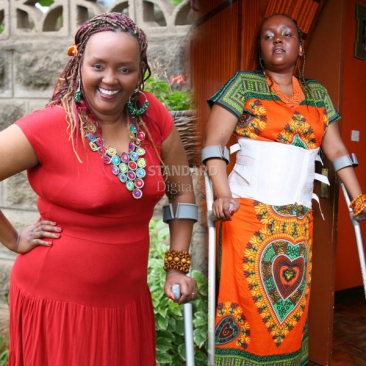 Tabitha Ciiku Gitonga was busy trying to make the best of motherhood and her career when she was diagnosed with one illness after another. Ten surgeries and many more diagnoses later, her optimism persists. She shares her journey of courage and perseverance with Sylvia Wakhisi
In life, they say, you must always strive to turn a lemon that is handed to you into lemonade.
While many people groan and moan about how unfair life is whenever faced with challenges, others not only turn those challenges into opportunities but choose to offer a ray of hope to others who are walking a painful path.
One such person is Tabitha (Tabi) Ciiku Gitonga. There is nothing about her that hints at the traumatic experience she has had to endure over the years.
As she takes those simple steps with the aid of crutches, the mother of two girls, Angela and Stephanie, is a picture of happiness and contentment. Hers is an extraordinary, inspiring story of resilience and courage in the face of physical, emotional and spiritual pain.
Tabitha grew up as any normal and healthy child. She would have been a first born of six siblings but her sister Christine, passed on when she was young so now she is a sister to four.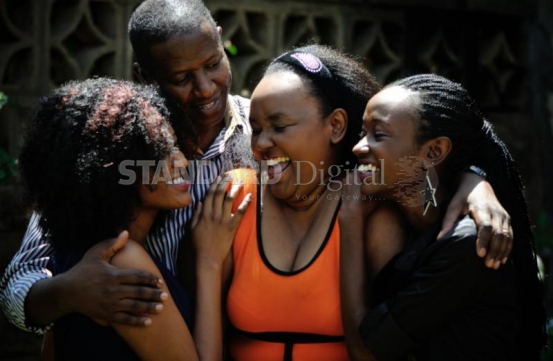 She has been viewed as the string that holds the family though she says, that really scares her as it's a lot to carry.
"From the day I was born, my parents had huge plans for me. My mother is an awesome mum; at one point of my illness, I had to go back to my parent's to get 24-hour nursing and she slept for three months on a couch just to make sure I was breathing," she says.
Tabi loved taking part in sports from her days in primary to her high school years. Though she can't take part in any sport now, she is an ardent fan of Kenya's rugby team.
"I was in the hockey, football, basketball and swimming teams. God made sure I excelled in everything I did. While in high school at Kenya High, I used to get enough punishment because I was all over. There is a reason God decided to make me so overly active," she says.
While still in high school, Tabi experienced severe painful menses that affected her academic performance.
"I believe that was the start of a life that would show the immense love from God," she says.
Due to that, she had to sit for her final exams in the school sanatorium. But she still managed to get an entry to join university.
Unfortunately, that was the beginning of her rough years with her father. He said the only way he would pay her fees was if she agreed to go study abroad.
Tabi loves Kenya. "I was lucky enough to travel various countries in the world courtesy of my being brought up as an expatriate child. I studied in Kenya and during school holidays, we would go wherever dad was posted. But I can tell you there is no greater country like Kenya. As a compromise of me not interested in studying abroad, my mother suggested I enroll for a secretarial course."
Hence in 1992, she enrolled at Queensway Secretarial College and after working hard and being the top student of her year, she secured her first job and a six months scholarship for computer studies.
Says Tabi: "I always say God has His own ways. I started working at an early age and at the same time I was dating my husband. We got married in 1994 and looked forward to a blissful life ahead."
Even though her future certainly looked bright, her world started caving in at around 2000."Prior to end of 2000, people were in panic about computers or anything with a computer crashing – even mobile phones. I got the bug though," she says as she lets out a laugh.
Ironically, that year marked the start of her medical journey. It's the year that Tabitha's life changed for good. After taking a breather, we get down to business. Tabi gives Eve Woman a detailed account of her medical journey, one that has seen her in and out of hospitals.
In 2000, she had her appendix removed.
In 2001, she underwent her first haemorrhoid surgery and the second in 2002.
In 2003, Tabi was diagnosed with Protein C deficiency leading to two blood clots in her leg.
"Every Sunday, I had to go for a blood sample test prior to eating lunch and to make it less sad for us, we used to have pizza at a petrol station a walk away from the hospital. That would ensure that I did not get clots and eventually, it was cleared," she says.
That same year, she was diagnosed with diverticular disease, a digestive condition that affects the colon.
"I had so many pouches in my colon that made it collapse. I was given two options; surgery or painful therapy. I chose the second. Now I am doing really well with the medication my doctor prescribed," she says.
In 2004, while taking a shower, Tabi felt a lump on her neck. She was totally caught off guard as every cancer forum she had attended delved more on breast cancer, colon cancer or other cancers, but there was no mention of thyroid cancer. She went to the company clinic where she was referred to an oncologist.
"I had a biopsy done. I had no idea that it was to be so painful! I had to wait for a week for the results and they came back positive for suspicious cancer-like cells. The deceased thyroid needed to be removed," says Tabi.
She offers: "I was in the dilemma of telling my husband since I was holding onto hope that it wasn't something serious as he had just buried his sister who died of colon cancer. He was so upset that I hid it from him and from then on, I learnt an important lesson; not to hide any medical issues from my husband."
According to Tabi, as she went through all this, her menses kept on getting painful and would last for even three weeks. In 2005, she was diagnosed with endometriosis.
She says: "As I began treatment, two pap smears revealed suspicious pre-cancerous cells on the cervix, which led to cervix removal and hysterectomy (an operation to remove a woman's uterus. I just didn't want to lose my womanhood and as such, I was a hostile patient and my doctors and husband made sure I was admitted, with my husband giving consent for the surgery to be done. I recall him saying he married me; not my organs. That was the longest surgery as it lasted for ten hours."
By 2005, Tabi had undergone five surgeries, but that didn't dampen her spirits. She still had the will to live and kept working. Her surgeries were done during her annual leave days.
In 2006, she underwent a spinal discectomy due to spondylosis. Basically, her spine was straight yet it's supposed to be curved towards the end. This saw her go through surgery to remove a disc but, unfortunately, she was left paralysed for six months. Coupled with that, she suffered from severe nerve pain and this saw her lose her job.
"At this point, my husband was told by one doctor to take me to Nairobi Hospice where they would make me comfortable and help me deal with the pain as I die. In short, they had given up on me. But I am so proud of my husband because he is determined to walk this journey with me so that I will be alive to grow old with him," she says.
In 2007, she suffered from peripheral nerve damage after spinal discectomy and inability to process Vitamin B12. This saw her go to India for treatment of partial seizures and peripheral nerve disorder as well as intense back physiotherapy to help with mobility.
"I had injections that needed to be injected in me once every week to subdue the pain and I thank God for good neighbours as one of them, a retired nurse, spared some of her time to check on me and administered the injection with no fee," she says.
In 2010, Tabi was diagnosed with pleurisy as a result of a failing immune system and severe pneumonia.
"Unfortunately, I had severe pneumonia but because the doctors were focused on another medical issue, they sort of missed it. By the time it was diagnosed, I was in such a mess that my left lung was not functioning properly and up to now, it is weaker than the right lung. Pleuritis is very painful and one has to make sure that your fashion statements are taken care of to keep your lungs warm," she says.
In 2011, her colon failed due to a really bad infection in the digestive system and her doctor was determined he would not subject her to another operation hence she underwent therapy.
In 2014, she was diagnosed with bronchial hyperactivity.
"I had a constant cough that sounded really scary. I can't tell you how many times I was checked for tuberculosis but finally, the doctors were able to find out the problem," she says.
That same year, she was also diagnosed with an unstable spinal cord and this saw her undergo another operation. Half of her spine is held by titanium plates and screws.
Tabi's medical woes still haunt her to date. This year, she was diagnosed with sleep apnea (a sleep disorder characterised by pauses in breathing or instances of shallow or infrequent breathing during sleep) and carbon-dioxide poisoning. This forced her to purchase a Cpap -a ventilator, which helps her breathe properly when asleep.
"I had been diagnosed some years back as having simple partial seizures. My windpipe would collapse when I was asleep and I would struggle to breathe. I now look at my ventilator as a miracle from God as it is very expensive. Thanks to one of our neighbours who assisted us in getting a pocket friendly one from Dubai at a cost of Sh150,000, I now can afford to take a nap comfortably," she says.
I still hope for a miracle!