Home
/
Achieving Woman
Taking off: I took off a leap of faith and it paid off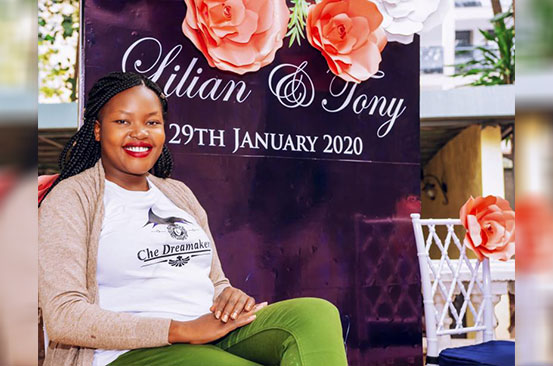 Charyl-Anne Aseno Otung, 31, runs Che Dreamakers Limited, a company that specialises in all things events; planning, furniture, styling, ushering and decor services. She speaks about her struggle in starting the business, her breakthrough and how she has kept going during the pandemic.
My background
I was born in Kericho County but mostly raised in Homabay. I am the first born in a family of five siblings; four girls and one boy. I am married and blessed with two beautiful baby girls.
Besides running Che Dreammakers Limited, I am also a flight crew attendant with a Kenyan-based airline and a Seventh Day Adventist gospel artist. I love serving God and helping the less fortunate in the society. Both my parents were teachers, farmers and business people. They were very strict on us and moulded us to think of getting into self-employment even as we pursued different courses. This has greatly shaped and influenced the people we are becoming, with God behind the wheel.
The idea
While growing up, I loved how my mum always had some form of business running. It's through such hard work that they raised and educated us. To me, my mum has always been the Proverbs 31 woman I really look up to.
I've always had an eye for detail and a love for beautiful spaces. It's probably what drew me to study tourism and hospitality. I took note of the events planning core unit and decided I would run a business in this field, bearing in mind that I had gathered so much knowledge about it both at the diploma and degree level.
The first event I organised was my husband's graduation party. This was an eye opener that I could actually follow that path. I thank God for enabling me to take that step.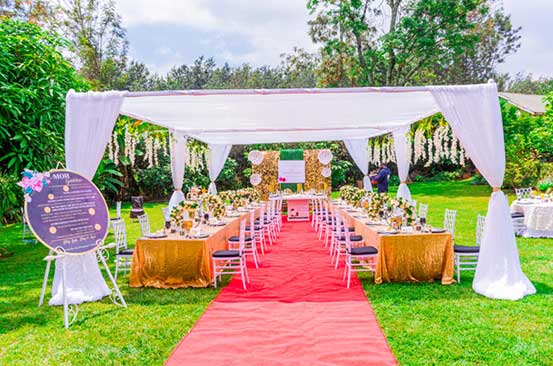 What happened next
The next thing I did was an act of faith. I have always been a risk taker who goes for what I want. I also believe in God's guidance so I went to China with only Sh150,000 to source for some products. However, when I got to the events stores, I was shocked. My capital was too little to even import seats. I had to think very fast so I decided to only buy accessories.
Since the money wasn't even enough to cater for the shipping fees, I bought accessories that could fit in my suitcases and talked to a few colleagues to help me carry some things.
Back at home, I hired furniture as I looked for money to purchase my own. All along, my motto was, 'being the best in all that I do so that I can get more clients through referrals.'
I thank God for the first two weddings I planned. We executed these weddings well, posted them on social media, boosted the posts and, from then on, we got clients for more and more events.
Running a startup
When the first case of Covid-19 was reported in the country, it was a major setback for the events planning industry as events were banned.
But after the country was opened up and some activities started again, we have had a few clients. I thank God for this and hope that things will soon go back to normal.
Running my business hasn't been so easy, majorly because I am also employed and my work involves being out of the country. Many are the times I push myself hard and go the extra mile to satisfy my clients. I thank God for the energy to juggle between work, family and business.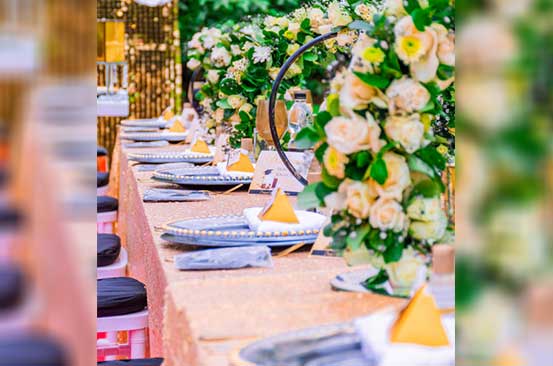 Events styling is the thing I enjoy doing most because it brings out the most creative part of me. I love thinking of the best ways to put the seats, tents, centerpieces and decor items together with the end vision of transforming spaces and turning dreams to reality.
I must thank God that I've not had bad moments with my clients. The most challenging season was the end of last year pre-delivery of my baby. I worked up to the last day. I literally came from a wedding set up straight into the labour ward.
Also, post-delivery through ceasarean section, I still had to work since it was a peak season. But I thank God I pulled through and my clients were happy.
Where I am now
With time, I have been able to buy tents, chairs and decor items. I have also started an ushering unit and we are now looking forward to opening up one or two more branches by next year so as to ease our operations and widen our network.
God has been faithful because we have been able to plan high-end functions including weddings, traditional ceremonies, burial ceremonies and functions for renowned business people and corporate firms, among other events.
My tip
If you have the desire to start something, don't postpone or procrastinate. Don't wait to have millions as start-up capital. Start with whatever you have. Be consistent and strive to be the best. Aim for customer satisfaction because referrals play the biggest part in expansion and increasing clientele.
International Literacy Day is coming up. When was the last time you read a book?
Related Topics