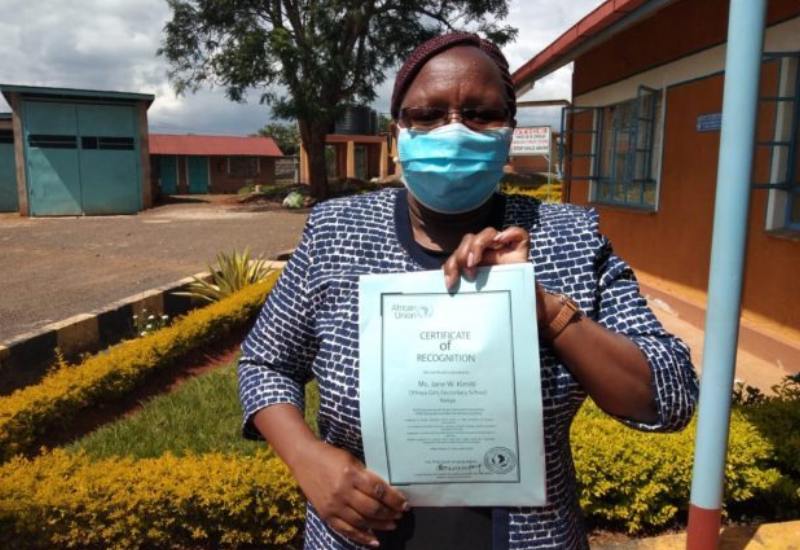 The Principal Jane Kimiti of Othaya Girls School has been crowned the winner of the 2020 African Union Continental Teacher of the Year Award at an event held on December 21 in Addis Ababa, Ethiopia.
Kimiti was recognized for her contributions to the education sector including nurturing good behavior among students.
Kimiti, who teaches History and Christian Religious Education, became a finalist alongside six other teachers from around the continent before emerging the overall winner after submitting her final presentation.
While acknowledging the award, Kimiti expressed gratitude and thanked the Teachers Service Commission (TSC) for standing with her in the journey that started in March when the commission nominated her for the prize.
Every AU member state is expected to submit two names of teachers, male and female, to be considered for the award.
"I am very happy with the recognition I have received from the African Union because it highlights my commitment to improve learning, community relations and teacher empowerment.
"I give God the glory. I am not any better than any teacher in the continent but they chose me to carry the baton," an ecstatic Kimiti said.
READ MORE
Dr Nancy Macharia, TSC secretary, congratulated Kimiti for the achievement adding that she was promoted in line with the commission's Rewards and Sanctions Policy.
Kimiti, who was named the 2019 Principal of the Year for her outstanding innovation in the school which entailed the integration of Information and Communication Technology (ICT) in the daily operations of the school, particularly E-learning, identifies herself more with girl-child empowerment. She has a belief that education one child is educating a nation.
In a statement, Macharia said that the win by Kimiti was a confirmation that Kenya is home to the best teachers.
In the past two years, Kenya has had at least two other teachers receive international recognition for their exemplary work in helping students achieve their dreams.
In 2019, Peter Tabichi, a teacher at Keriko Mixed Day Secondary School in Nakuru County, was awarded the 2019 Global Teacher Prize – the first African to win the coveted award. Later that year Erick Ademba, a mathematics teacher at Asumbi Girls, was named among the three winners of the Continental Teacher Prize.