Home
/
Mental Health
The lonely top: Many sportsmen battling depression silently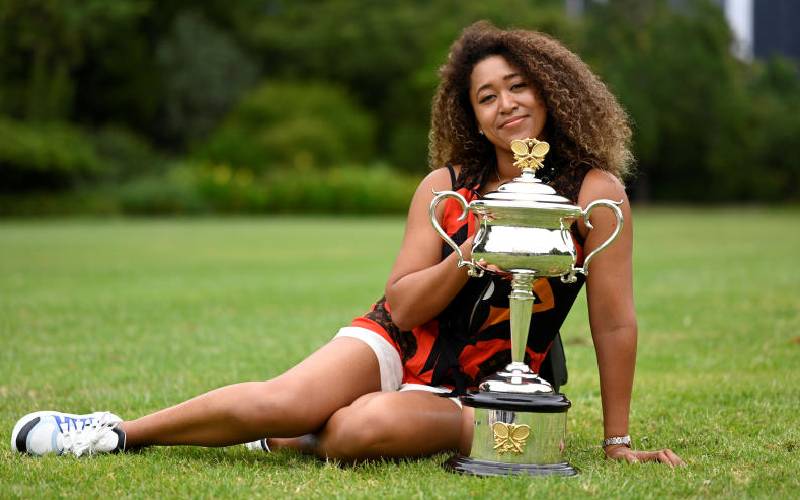 Being in the limelight can be tough, especially when family, friends, fans and the world expect you to be perfect and not have days under the weather.
Everyone is fighting battles that those placing high expectations on them may never know anything about.
Japanese tennis player Naomi Osaka trended after she withdrew from the 2021 French Open held at Stade Roland Garros in Paris from May 30 to June 13.
In a post on her social media, Osaka said she had been struggling with anxiety and depression, thus she was not able to attend press briefings on the tournament as per the contract.
"I've often felt that people have no regard for athletes' mental health, and this rings very true whenever I see a press conference or partake in one, "she said.
After facing backlash, she later explained her struggle with depression and anxiety. "The truth is I have suffered long bouts of depression since the US Open in 2018 and I have had a really hard time coping with that."
On May 30, Kenyan rugby player Dennis Ombachi opened up about being bi-polar and struggling with depression.
"I am Dennis Ombachi, kind of an international rugby player and a guy who's passionate about cooking. What many people don't know is that I am medically diagnosed with bi-polar disorder," he said on his twitter account.
Ombachi said he could miss flights and was always blamed, yet he was struggling. "For many years, I have struggled with this and depression. I would usually disappear from social media and occasionally miss flights when I had made the national team. This behaviour was always blamed on me "just being Dennis". What my coaches and teammates didn't know was the kind of pain I was in," Ombachi said.
He said he chose to share his story because many people are not willing to discuss mental health. "I advise those with a similar problem as mine to seek professional help."
He added: "I've had spells with therapists, psychiatrists and spent time at mental health wellness centres. Thank God for my friends. They, too, can sigh with relief and now answer truthfully when people ask them; "where's Dennis?" In 2013, sportsman Daniel Adongo, 23, became the first Kenyan to ever play in the National Football League (NFL) in US. This was after signing a lucrative deal for Indianapolis Colts.
But last year, Kenyans were shocked when Adongo shared videos of himself smoking what appeared to be marijuana and holding a bottle. Adongo's health was not looking good in the videos.
Things started going south for Adongo in 2015 when he was suspended from the NFL following accusations of domestic violence. Reports had it that Adongo assaulted a woman whose identity was not immediately revealed.
The family of the former Sharks, Vodacom Bulls and Kings player, who looked set to take the world by storm, called for calm saying they were taking care of him after viral videos showed him in a disturbing state.
Former 800 metres Olympics gold medalist Winfred Bungei also had his experience with depression and addiction. In 2019, Bungei told the Olympic Channel podcast that alcoholism almost ended his life. Bungei, who has since recovered, said the addiction escalated after retiring.
"There are only three destinations for an alcoholic: You may end up in an institution which offers treatment. You may also go to jail for doing something stupid, or you will die. As Wilfred Bungei, I've gone through the institution. I am not interested in the other two - jail and death. And no one wants to go that direction anyway," he said during an interview with a local media.
Bungei said the luxurious lifestyles many sportspeople live contribute to their downfall, especially for those who are not careful and who are unguided.
"There is a lot of loneliness up there when an athlete is winning and success has filled their lives. They are easily lured into alcoholism, promiscuity and other destructive habits just to hide from reality," Bungei said.
Celebrated swimmer Michael Phelps shocked many when he shared his struggle with depression saying; "Really, after every Olympics, I think I fell into a major state of depression; I didn't want to be in the sport anymore."
Speaking at Kennedy Forum's annual mental health conference in Chicago in April, Phelps said he contemplated suicide.
"I didn't want to be alive anymore. I'll never forget being in my bedroom at home, literally sitting in there for three to five days just not wanting to be alive."
Things may get worse when fame and the big money wanes. Marathoner Jemimah Sumgong, in 2019, called on Athletics Kenya (AK) to offer counselling to athletes, some of whom, she said, were facing tough times.
Sumgong, who was banned for doping, said she was almost falling into depression as she had no one to turn to.
Later, AK organised counselling workshops for athletes, especially the young ones, who were taught how to manage fame and expectations that came with their success. Some of them, especially from poor families, were struggling to manage the big money that comes with their wins. AK's seminars were meant to train the runners on investment so as not to struggle after retirement.
There was no comprehensive framework or model of care to support and respond to the mental health needs of athletes.
Related Topics