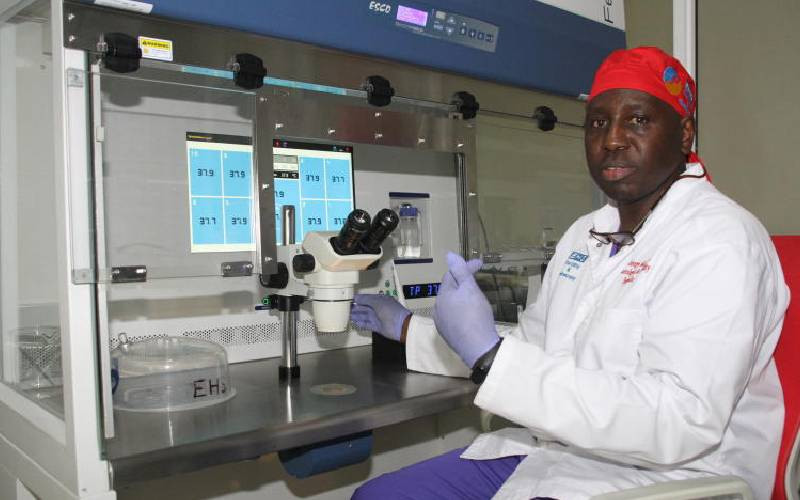 Preservation of fertility after being diagnosed with cancer did not ring a bell to Brigit, whose main goal was treatment.
Brigit was diagnosed with urethra cancer in February 2016. The disease presented with abdominal pain, backache, heavy and prolonged menstrual cycle, and fatigue forcing her to travel to India for treatment.
Doctors who assessed her advised her to have a section of her uterus removed, a procedure she was hesitant to undertake, as she yearned to have babies in the future.
"Removal of the uterus was the most depressing part. Yes, I wanted to be treated, and also enjoy quality life as a woman," she said.
She rather opted for chemotherapy and radiotherapy, and with adherence to medication, she has been put into remission.
Brigit, a professional banker and a Nairobi-based farmer did not know that some cancer treatments contribute to infertility.
Prior to her treatment, a gynecologist had advised having her eggs harvested, for reproduction later, after her treatment.
"My gynecologist mentioned cancer treatment affecting my reproductive health, but I was much worried about cancer, and did not think of anything else.
This is now the time I am realising there is life after cancer. You want to start a family, and now realise freezing of eggs is important," says the anxious survivor.
She adds, "I am longing to give birth to three children. I already have their names".
Bridgit's case is not in isolation, with an increased number of cancer survivors, experts have raised a concern on the growing number of infertility (oncofertility), a condition attributed to cancer treatment.
Dr Gladwell Kiarie, a medical oncologist and a physician said oncofertility is an area of concern because the majority of cancer patients in Kenya are in their reproductive age.
Previously, she said more emphasis was put on the survival of patients, but doctors currently observing a trend of younger patients being diagnosed early, treated, and cured, patients who need to have their fertility addressed.
"Fertility takes a primary focus because if a woman is going to survive her cancer, and get cured, later on, she will want to have children," said Dr Kiarie.
As expected, Bridgit, altthough she has not gone for fertility tests, she is anxious after the treatment.
Triggers of infertility in cancer patients according to Dr Kiarie include the site of cancer, for example, if it is on the ovary and breast, organs that contribute to reproduction.
Cancer of the brain also risks infertility.
Modalities of treatment can also cause infertility, namely surgery, use of chemotherapy, radiotherapy, and targeted therapies.
Additionally, in some of the approaches to cancer treatment for example in prepubertal (boys and girls who are not yet fertile), children who get certain ovarian malignancies, part of the treatment trhat involves doing surgery, or oophorectomy (removal of the ovaries, procedures that affect fertility.
Other contributors to infertility include certain growths in young people's uteruses, which may involve hysterectomies (removal of the uterus).
In some instances, treatments done using chemotherapy also affect ovarian functions, even if not surgically touched.
"Some of the interventions and some of the types of cancer may affect the future fertility, of young patients who are not yet fertile, while those in their reproductive age, may also have their fertility affected," said the medical oncologist.
A number of the targeted drugs administered to men are likely to affect a woman, through sex.
Additionally, Dr George Moses Ogweno, a fertility and IVF specialist, and the director of Esis Health Services (EHS-Fertility and Endoscopy), in Nairobi said radiation and surgery in cancer treatment also cause infertility.
Among cancer treatments that predispose patients to infertility include cervical, ovarian, and blood cancers, due to more use of chemotherapy.
Dr Ogweno said some chemotherapy medicines are also toxic to gonads (sex glands).
"Fertility is a concern among cancer patients, majority who undergo successful treatment, but end up not being able to conceive, because of the kind of treatment they are put on," said Ogweno.
Treatment risks
Dr Kiarie added that certain treatment like radiation tends to give permanent effects.
"Women with rectal cancer who gets radiated, and those who undergo ovarian radiation, may experience permanent infertility and certain chemotherapy drugs once the treatment is over,"
Further, she said a number of treatments have hazardous effects on developing fetuses and embryos.
"It is advisable for experts to determine whether it is medically fit to carry the pregnancy, because some of the effects of chemotherapy, radiation and some of the drugs may have a negative impact on the embryo, and the growing baby, even if conception is achieved," explained Dr Kiarie.
Kiarie said some of the treatments may not have been exposed to pregnant women in a clinical trial to be able to know the full effects.
In some instances, if a pregnant woman is put on treatment, she may lose the pregnancy, and if they carry to full term, the effects of treatment on the unborn baby are not clearly known.
"All we know is that chemotherapy, radiotherapy and some of the targeted drugs are very hazardous and teratogenic to the growing fetus," said the medical oncologist.
Dr Kiarie gave an example of a famous drug that was administered to pregnant women in 197t0s, to manage nausea and vomiting, especially in the first trimester, which was effective, especially in women who had hyperemesis.
The drug became effective in treating certain cancers like multiple myeloma.
But it would later be discovered that it was teratogenic and would lead to children being born without limbs, arms, and lower limbs.
Kiarie emphasized that some of the medicines are disastrous in pregnancy. A number of women are advised to terminate pregnancies because the effects of chemotherapy, radiotherapy, and some drugs administered have side effects.
Other cancer treatment complications like learning inabilities may be noticed when the baby is much older.
"A woman may carry pregnancy to term, but the baby is born without arms and legs. You may carry pregnancy to term but they have certain cardiac and other abnormalities that even medical science may not be able to document because it is not ethical to carry out a clinical trial in pregnant women to see the effects of drugs on a pregnancy," she said.
Hope for patients
It is however not all gloomy for cancer patients in their reproductive age, with the adoption of modern fertility preservation technology.
Among the interventions include harvesting and preserving the oocytes (embryos) and the sperms.
Tissue preservation is advisable, more so in young adults whose gonads (sex glands) are likely to be affected.
Women can also undergo ovarian tissue preservation, where part of the tissue from the ovary, or the entire ovary is removed for preservation.
In men, testicular tissue preservation is done.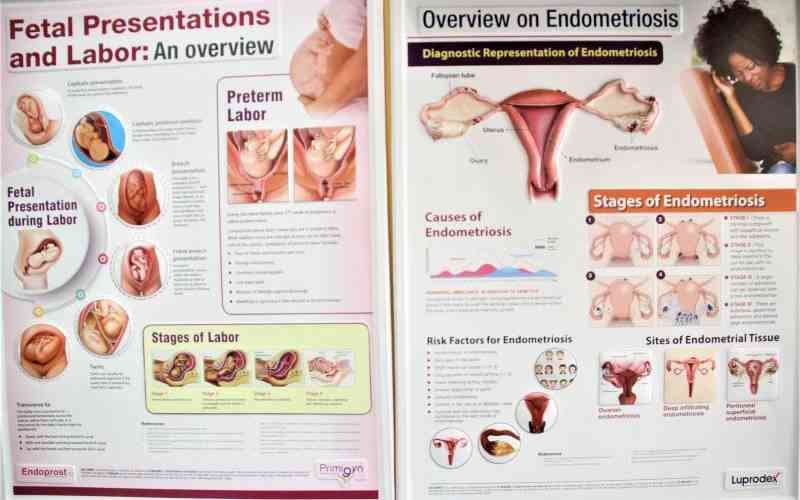 "Fertility preservation is done before a patient is put on treatment. Patients are therefore expected to consult with experts on the best way of protecting their fertility," said Dr Ogweno.
But the uptake of fertility preservation in Kenya is low according to Ogweno due to lack of awareness, among the general population and health practitioners.
Bridgit is among patients who did not know much about egg harvesting, and when her gynecologist mentioned about, her goal was to treat cancer first.
"I learned about egg harvesting from my gynecologist, but it was too late, having undergone all the treatment," recalled Brigit. "Not many patients know about the freezing of their eggs,".
High cost is also a barrier to uptake, for example, harvested eggs are fertilized through In Vitro Fertilisation (IVF) procedure, whose cost ranges between Sh450,000 and Sh700,000 depending on the hospital performing it.
Sperm harvesting is estimated at Sh40,000, and the annual fee for embryo/sperm storage ranges between Sh30,000 to Sh50,000.
Preserved embryo and eggs can be kept for more than 20 years, depending on their handling.
Extraction of ovaries is also costly. In some instances, doctors may have a section of the ovary removed, and have it patched back after treatment, while in some, the stimulation for the growth of eggs is conducted in the laboratory.
First consultation for tissue fertility preservation is at about Sh4,000 and Sh3,000, for a return consultation visit.
"Fertility preservation is an intensive, and costly procedure which majority of patients are not able to afford, as their primary goal is to have cancer treated.
Insurance covers should therefore consider enrolling patients within their scheme for quality care," observed Dr Ogweno.
A number of infertility are also temporary, for example, the ovarian suppression from chemotherapy and certain drugs is temporary, which preserves ovarian function.
Dr Kiarie added that after full recovery, patients are expected to consult with specialists to determine on when they can carry a pregnancy, or use IVF.
In circumstances where patients need to be put on treatment immediately, experts balance the risks and benefits of fertility issues.
Discussion related to fertility is therefore done prior to treatment, with individual patients, parents, and partners, for psycho-social support and counseling, more so, among women who have had their breasts removed.
"In the field of oncofertility, we try to maximize by doing certain interventions at the beginning, to maximize ability to retain fertility and yet treat optimally," added the medical oncologist.
Related Topics