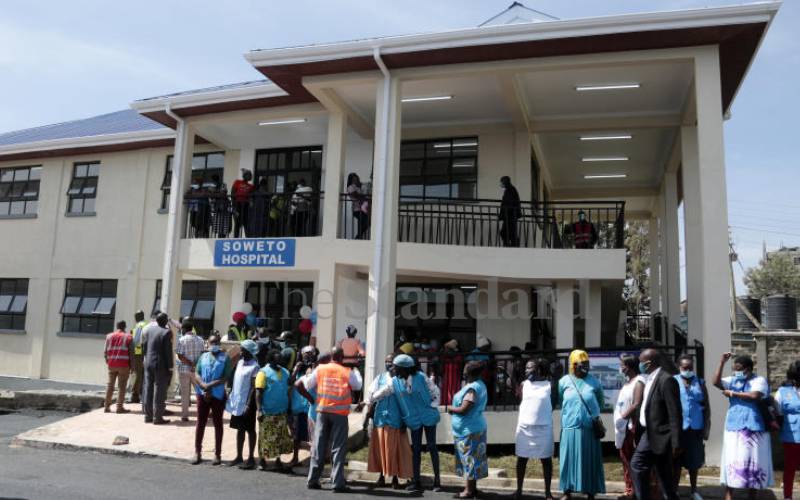 Janet Nafoyo rushed her teenage daughter who developed acute abdominal pain in the wee hours of the morning to Soweto Hospital.
The hospital is 500 metres away at the heart of a sprawling slum.
When they arrived, a nurse-led her to one of the consultation rooms.
Previously, she would have spent Sh200 on transport to seek services at Embakasi Hospital about four kilometres away.
Due to congestion, and with Kenyatta National Hospital (KNH) being a no-go zone due to the long queues, it would have taken about eight hours before receiving treatment.
"Even though my daughter is unwell, I am happy because she is being attended to. Previously, I would have been forced to travel to far off facilities," said Nafoyo.
Though the Soweto Hospital has brought services closer to the people, it lacks essential medicines and does not offer diagnostic tests, an issue Nafoyo says should be looked at.
Her daughter's tests cost Sh500 a private facility, while medicines at a pharmacy cost Sh2,700 a dose.
Nafoyo has had similar experiences with her two children - three and six years who developed a cough and medicines had to be sourced at a private pharmacy.
"We are happy that the facility has eased access to healthcare, but they should be equipped with diagnostic devices and drugs," observes the slum dweller adding "It very expensive to do tests in private hospitals and drugs are also double the normal prices in private chemists."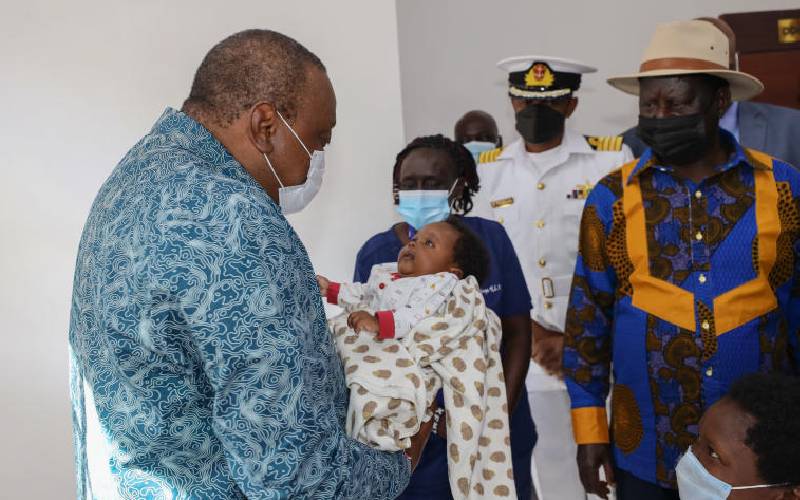 The Soweto Hospital operates 24 hours and offers maternity, among other medical services, which locals were previously forced to seek at KNH where "fear of being put on waiting," was real "but the new hospital is much more accessible," says Nafoyo.
The Soweto Hospital is among 24 health facilities commissioned by President Uhuru Kenyatta in July 2020 to bring services closer to Kenyans in informal settlements in Nairobi.
The hospitals constructed by Nairobi Metropolitan Service (NMS) were also part of plans to decongest KNH, Mbagathi, Mama Lucy and Pumwani hospitals.
"Instead of someone using money to go and seek medical services at KNH, they need to access these services at the facilities near them," noted Uhuru.
The hospitals are two-level two hospitals at Gichagi in Kangemi and Gatina in Kawangware, including level three hospitals in Mukuru Kwa Reuben, Tassia Kwa Ndege and Our Lady of Nazareth in Mukuru Kwa Njenga.
These facilities come in handy for the over four million people living in Nairobi's slums, according to the 2019 Census, considering NMS decreed that KNH would not provide walk-in services apart from referral cases.
The decision was based on a resolution of transforming Nairobi county healthcare system while retaining KNH as a referral hospital.
A review of the entire referral system, however, might take longer to stop walk-ins at the national referral hospital due to lack of adequate human resource and equipment at low cadre facilities in Nairobi and across the country.
Jenifer Nyawira Kinyanjui, a nurse health economist (PhD), argues that the country records cases of self-referral due to lack of a functioning referral system.
"Patients seek services at their preferred hospitals due to lack of equipment and specialised medics at their reach," said Dr Kinyanjui calling for counties to provide healthcare workers alongside medical supplies.
"Some patients will travel to KNH or high-end hospitals, if they cannot get drugs and treatment at their nearby facilities," she says. "This is what counties should address."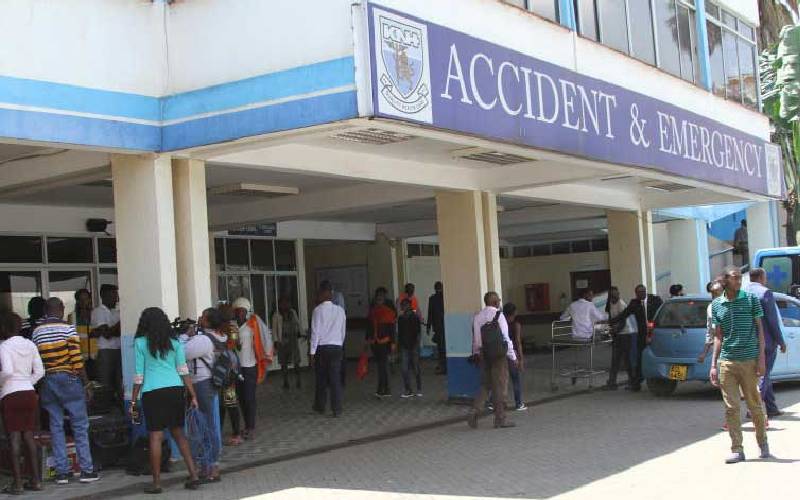 According to the Kenya Health Sector Referral implementation guidelines, Kenya's referral system divides service delivery into six levels, based on scope and complexity of services offered.
Dispensaries and health centres provide minor surgical services, basic laboratory services, maternity care, and limited inpatient facilities.
Level four and five offer curative services while level six offers specialised care and training. Level six hospitals are managed by the national government.
The Moi Teaching and Referral Hospital (MTRH) in Eldoret, a referral facility alongside KNH, reports at least 200 walk-in patients daily.
MTRH offers highly specialised curative services, including surgical services like kidney transplants, corneal transplantation, open-heart surgery, total hip and knee joint replacements.
Dr Wilson Aruasa, the CEO at MTRH said though referrals are accompanied by a nurse, the facility cannot send away patients in need of care.
Kenya Medical Practitioners, Pharmacists and Dentists Union (KMPDU), Secretary-General Dr Davji Atellah noted that county hospitals lack human resource, which contributes to congestion at level six hospitals.
"If the aim of closing services for walk-ins is to decongest national hospitals, then employment of specialists to run county hospitals should also be considered,"he noted.
He adds that governors concentrate on structures, which remain non-functional, for political reasons.
Related Topics