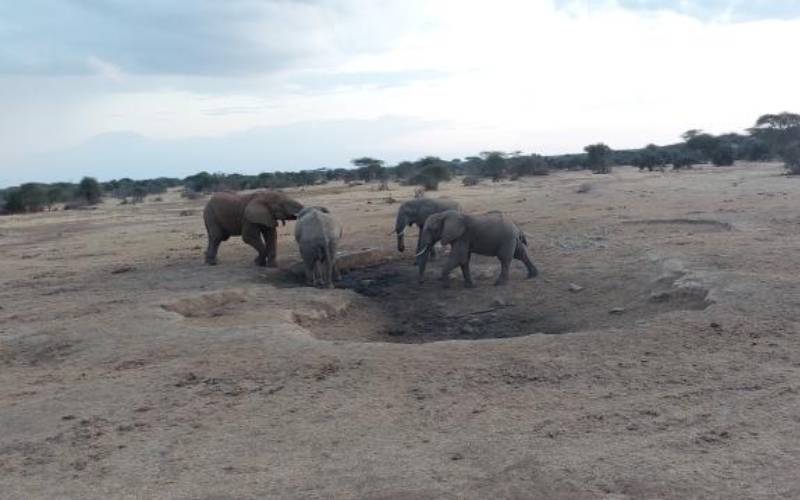 The African elephant does not walk alone. Standing metres from the water point, huge, with giant columnar legs, gigantic head with flat ears and temporal glands, she flaps them allowing her body to cool.
See, the weather is demanding and so is their water demand, which can be over 200 litres a day: Each trunk capacity quenching is between four and eight litres.
Other animals wait in line allowing the herd and their babies to finish first. The giraffe, gerenuk, roan gazelle, zebra, and the warthog watch from a distance inside Selenkay Conservancy in Kajiado County where more than 200 elephants and other animals including lions, call home.
The population has been increasing due to availability of pasture and water. However, water levels have been dwindling over the years. The vegetation is not as green, nature is changing so fast, and the animals can feel it.
The African elephant is tagging along the sisters, her calf all facing Mt Kilimanjaro, whose glaciers, which could be over in 30 years have significantly reduced. Blame it on global surface temperatures, which have been increasing in the last 2,000 years.
The global average temperature is about 14.3°C compared to 13.7°C a century ago. The global average sea level has also increased by between 10 and 20 cm over the same period.
Human society, through its emission of greenhouse gases, contributes largely to climate change, which affects human beings. In February 2017, drought affected 3.4 million Kenyans and 500,000 lacked access to water.
Recently, drought has hit the northern counties. Here, a lurid parade of cattle carcasses line paths. Wildlife has also faced the brunt of the scorching sun and the dried rivers and taps. There is loss of biodiversity among wildlife, changes in species distribution, reduced population sizes, even extinction of some species.
The National Climate Change Action Plan: 2018-2022 report shows that the long rainy season has become shorter and drier, and the short rainy season has become longer and wetter, with overall annual rainfall remaining low.
The long rains have been declining continuously in recent decades, and drought has become longer and more intense.
For wildlife, climate change means a threat to their ability to reproduce, hunt, migrate and survive. It also means increased health risks from diseases, pests, and new predators.
Research shows that natural climate solutions such as the conservation of our planet's forests, wetlands, and grasslands, can reduce global temperature rise.
At Selenkay Conservancy, game watchers joined by members of the Maasai community, have an interesting model of conservation. Nearly 200,000 acres of Eselenkei Group Ranch was leased from the community to protect wildlife and encourage conservation as an alternative to farming.
"A long time ago, this place was famous for very big elephants. It was an area for hunting since the community had not seen the benefit of elephants; they just killed them," recalls Mohanjeet Brar of Gamewatchers Safaris.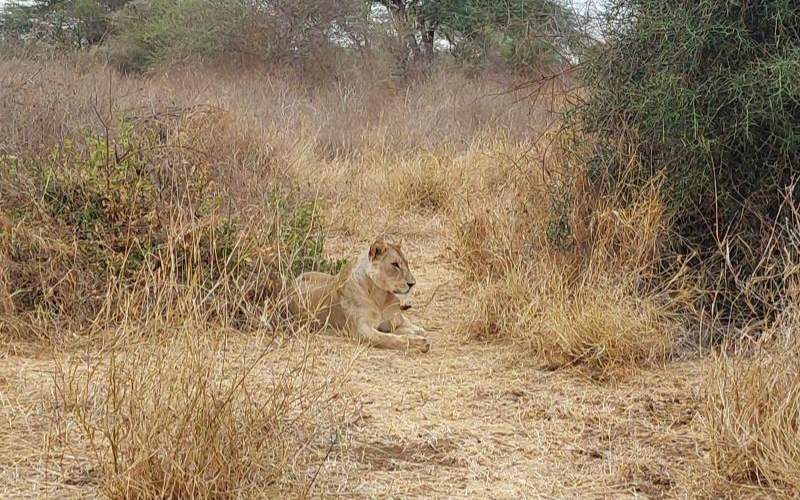 To avoid human-wildlife conflict in water scarce Kajiado, boreholes were dug for both.
"Elephant numbers have increased since 2005. Then, there were only two elephants, now we have about 300. The other species that have increased is the lesser known kudu. The animals come here not just because of water, but also because we have protected the habitats," shares Daniel Mamai, manager at Selenkay Conservancy.
He goes on to add: "We are seeing a big impact from climate change. The rains are more erratic and with other human interactions like overgrazing, it is quite challenging."
Daniel shares the situation has worsened because of sand harvesting to build houses in Nairobi.
"When it rains, instead of the water peculating down into the water table, we have massive floods, which have a huge impact on our operations."
The community in Selenkay benefit from leasing the land and in return, the wildlife benefit from living comfortably in an environment that has not been disturbed by human activities.
Agriculture accounts for the highest greenhouse gas emission with activities like soil cultivation, rice cultivation, and methane emission from livestock making about 40 per cent of the emissions in Kenya, according to the National Climate Change Action Plan.
The energy sector falls in second place due to activities such as burning of fossil fuels.
"One thing that Covid-19 has done make people realize the importance of habitat or biodiversity and also carbon. Many countries are making commitments or the consumers are now forcing companies to make commitments and the only way they can continue with their business is to buy carbon credits," shares Dr Brar.
According to the World Meteorological Organization (WMO), the year 2020 was ranked as the third-warmest year ever recorded in Africa. Estimates suggest the temperature could rise by up to 2.5 degree Celsius by 2050 and the community around the conservancy have felt the vagaries of the changes.
While previously some community members earned a living educating visitors about Maa culture from the cultural centre, today, only a handful are available. The rest have decamped to other areas in search of food and water.
Naiguana Matura, the female head of the surrounding village says they fetch water about 10 kilometres away.
"We are forced to carry jerrycans on our backs or hire boda doda riders. Our goats too are emaciated due to lack of food and water," she said.
Thomas Kasaine, a village elder, said the harsh weather makes it difficult to practice farming, instead they rely on wildlife and livestock farming. However, times are changing as the water table in our boreholes has gone down, also our livestock do not survive for long."
This year's Conference of the Parties (COP26) meeting in Glasgow, Scotland saw stakeholders deliberate to advance their climate commitments and actions to limit global warming to below 2 degrees Celsius, but more preferably to 1.5 degrees Celsius.
"I call on leaders of wealthy nations to take into consideration the special needs and circumstances of Africa in the fight against climate change," said Kasaine adding that scarcity of water leads to human-wildlife conflict and life also becomes expensive because we are forced to buy drinking water for our families and the livestock."
[email protected]
Related Topics