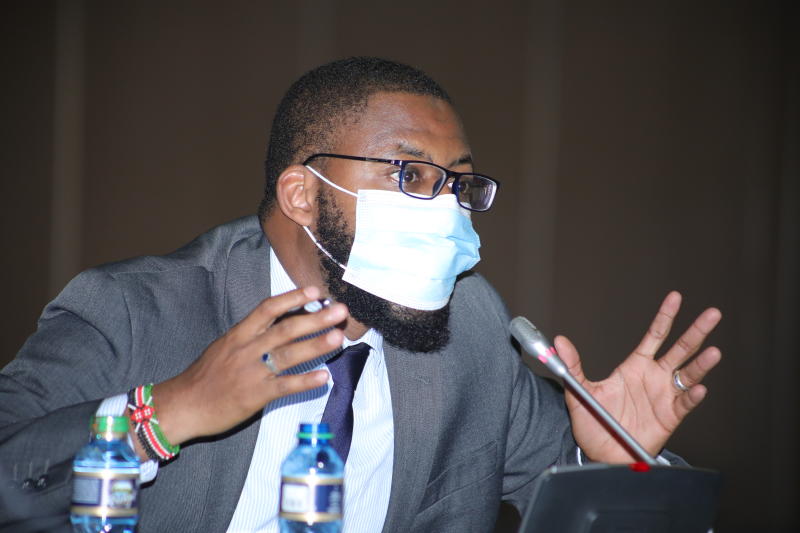 The Kenya Medical Practitioners Pharmacists and Dentists Union (KMPDU) has dismissed claims that doctors are getting Covid-19 out of hospitals.
The frontline workers have suffered a big blow during the second wave of Covid-19 pandemic with the union calling upon the government to look into their plight.
So far, 30 healthcare workers have succumbed to the virus. Of the number, 10 are specialist doctors.
While addressing the press on Tuesday, KMPDU Secretary General Chibanzi Mwachonda said the claims of doctors contracting the diseases in bars should stop as it was an insult to the profession.
"This narrative that doctors are getting Covid-19 out of hospital must stop. Doctors spend up to 12 and 19 hours in hospitals, the Health CS (Mutahi Kagwe) cannot come and insult us that doctors are getting Covid-19 in bars," he said.
Dr Mwachonda was making reference claims made by Health CS Kagwe that medics are part of the community and "you cannot tell whether a healthcare worker got infected in hospital or in society. "
A fiery Mwachonda, while reiterating on December 6, they will proceed on a strike, blamed the government for failing to resolve their issues even with the increasing deaths of health workers countrywide.
"When the government resolves our issues, we will ensure members are back to work. But if they decide to play games and throw blames, we will watch," he said, adding that a significant number of doctors who teach undergraduates and post-graduates had died while in the line of work.
KMPDU also called for the employment of more doctors in counties and the payment of salaries for the 188 doctors employed in August who they claim are yet to be paid.
"They (doctors) are yet to be paid until now. They were employed on a 6-month contract; they do not have medical cover," Mwachonda said.
Further, he claimed that the much-publicised compressive medical cover for doctors had excluded their colleagues in counties, in parastatals as well as those working in universities.
"What was unveiled is still not addressing the concerns we raised," he said.
Earlier this month, the union issued a 21-day notice, moments after it announced losing 10 senior doctors to Covid-19.
Among the 10 doctors who have succumbed include; Dr Hudson Alumera (Periodontal Surgeon), Dr Faith Mbuba (Pharmacist), Dr Jackline Njoroge, (Physician)Dr Emarah Asharaf- (Plastic Surgeon), Dr Adisa Lugaliki (Obstetrician Gynaecologist), Dr Ndambuki Mboloi (Pulmonologist), Dr Daniel Alushula (Orthopedic Surgeon), Dr Vladimir Schuckin (Bariatric Specialist), Dr Hudson Inyangale (Public Health Specialist) and Dr Robert Ayisi (Pediatrician).
KMPDU accused the government of exposing them to injurious working conditions which exposed them to coronavirus vulnerability.
They said they will only call off the strike after the government meets their demands. The practitioners demanded standard PPEs to all the healthcare workers, and among others.
National Assembly Health Committee last week scheduled a meeting for November 25, which will be attended by the Health CS, SRC, Council of Governors, National Treasury, vice-chancellors of Moi University, Kenyatta University and University of Nairobi to discuss doctors' grievances before the expiry of the strike notice.
Related Topics