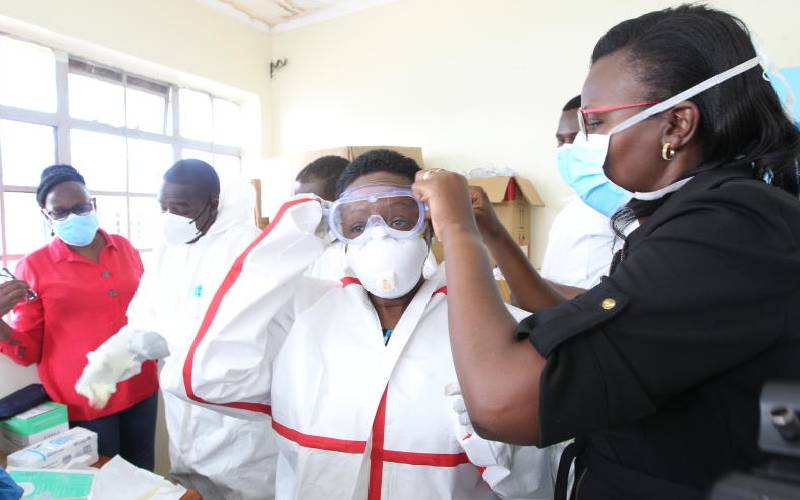 The number of Covid-19 hospital admissions across the country has drastically dropped in the past month, according to data from the Ministry of Health.
Yesterday, the ministry reported 384 patients were admitted in hospitals across the country.
Unlike in the past where the number of patients in need of specialised care was high, there were 39 patients in intensive care units (ICUs).
"... 15 of whom are on ventilatory support and 20 on supplementary oxygen. Four patients are under observation," the ministry said in a statement yesterday.
"Another 13 patients are separately on supplementary oxygen and all of them are in the general wards."
However, at least 1,333 patients are under home-based isolation and care.
Ministry analyses
Hospital admissions, as per the data in the past two weeks, has ranged between 384 and 545, lower numbers than November last year's when more than 1,000 patients were admitted.
Ministry analyses reveal the low admissions have been reported in the past two weeks, between January 24 and February 7.
The highest hospital admissions, according to the data, were on January 24, January 27, January 29 and January 31, with 545, 489, 477 and 481, respectively.
This month, the highest cases of admissions were reported on February 1 (464), February 2 (471), and February 4 (460).
The Ministry of Health's statistics indicate the positivity rate for the virus in the past two weeks has ranged between 2 per cent and 4.8 per cent. However, yesterday, 125 people tested positive from a sample of 1,953 tests, registering a positivity rate of 6.4 per cent.
Unfortunately, seven people succumbed to the virus, bringing the death toll to 1,786.
The new infections push the national tally to 101,944, while cumulative tests stand at 1,216,695, for an overall positivity rate of 8.4 per cent.
Dr Ahmed Kalebi, the CEO and chief consultant pathologist at Lancet Group Laboratories - East Africa, attributed the low hospital admissions to low numbers of symptomatic patients in the country.
In an interview with The Standard, he said more than 93 per cent of Kenyans are asymptomatic.
"Covid-19 causes hypoxia in a patient in that they cannot breathe and, therefore, cannot sit at home. The reduced hospital admission is real, and not fiction," he said.
Health officials in the counties have linked the low hospital admissions to adaption of home-based care protocols and low testing capacity.
Turkana is among counties with no patients in a Covid-19 isolation centre.
Director of Medical Services Gilchrist Lokel said there are 21 asymptomatic patients being managed under home-based care protocols.
"We are reporting low admissions of patients, and numbers of tests done have gone down," said Lokel.
Cumulative tests done in the county since the pandemic was reported stand at 9,200, out of which 941 patients were positive.
Lokel said irrespective of low admissions, isolation centres will remain open until the pandemic is contained. He noted a worrying trend of a false sense of safety among residents and laxity in adhering to Covid-19 protocols.
"Coronavirus is still a public health concern. We need to continue wearing face masks and washing our hands," said the doctor.
Hot spots
Turkana County has adapted high breed testing in the fight against the pandemic. Surveillance teams are concentrating on hot spot areas like the airport and the porous border points of Uganda and Ethiopia.
In Nakuru, unlike in the past where almost 80 per cent of Covid-19 centres were grappling for oxygen and ICU beds, yesterday, there were only two admissions at the Rift Valley Provincial General Hospital and Valley Hospital.
"One patient is on supplemental oxygen and none in ICU," read the health report.
In Kericho, Dr Betty Lagat said Covid-19 isolation centres at Ainamoi and Kericho hospitals were closed after nurses and clinical officers downed their tools.
In Baringo, clinical officers' representative Philip Yator said contact tracing and surveillance was halted due to the the medics' strike.
Related Topics