Home
/
Reproductive Health
Poor girls sell sex to get money for sanitary products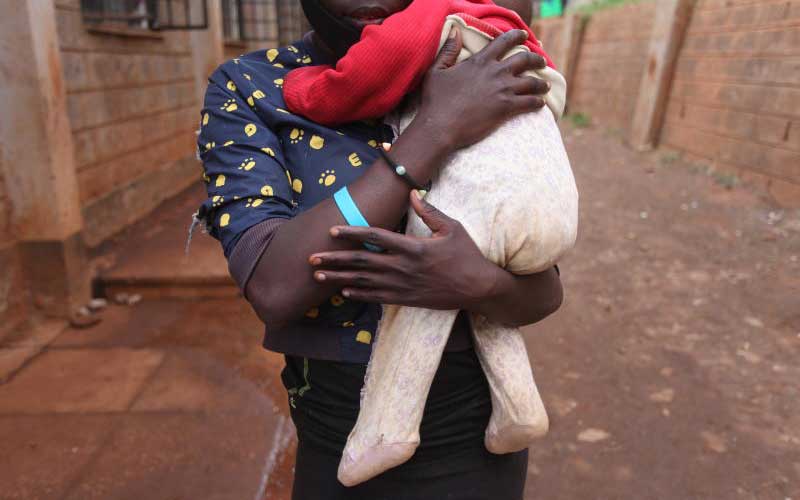 Every dawn a teenage girl wakes up to find her bed wet. It is that time of the month; her period is here.
Today, she only has Sh20 for bus fare to school, and she will be forced to beg for money on her way to school in order to buy sanitary towels. Otherwise, she may have to forget about school and stay home. This teenage girl's story is played out in hundreds of impoverished households.
Sylvia is only 17 and a single parent to a one-year-old; she neither has a stable job, nor does she attend school. The Standard caught up with the teenager, who hails from Silanga, Kibera and her peers during a sanitary pads donation drive in the slum, a highly anticipated initiative by girls in the community.
"I am an orphan and have lived with friends since my parents died. My life has been a struggle. To survive, I do casual jobs," says Sylvia.
The teenager says that a non-profit organisation paid her primary school fees but stopped for unknown reasons when she reached Class Eight. When her period nears, she often looks around for events like the one we met her in, or opts for a re-usable pad that was donated by well-wishers years ago.
The young mother says she has friends who exchange sexual favours for money to buy hygiene products. During a financial rut, she went out to a nightclub with some experienced friends and it was there where she found someone that would pay for her menstrual needs after a sexual encounter.
"I will never do it again. At the time I had no choice, my baby was sick and cried persistently, and I needed money to take her to hospital for a check-up. The whole experience made me feel very bad," she says.
Michelle, who is 20 years old, did not get to complete her high school education, and would like to join college someday. "I was raised by a poor single mother, who has since died. My mom never had money to buy me pads. I attempted wearing a cloth but that was risky and eventually it became too much trouble to go to school," she says.
The youth, who dropped out in Form Three, says her need for sanitary wear led her to a sexual relationship that led to an unwanted pregnancy.
"I moved in with my aunt who is a casual labourer and her two sons. Together with my own child, I have five mouths to feed," says the youth.
"Every time I hear there is a pads donation in the neighbourhood, I rush over. I appeal to the government to give more donations to stop the desperation," says Michelle.
Stephanie, who is in Class Eight, says she opts to use a cloth when she is on her period because she understands the dire situation at home. She does not go to school when she is menstruating.
"Men in the neighbourhood flirt with us all the time, promising to help. They know the struggles we are going through. But I would rather wear a cloth than have sex in exchange for money to buy pads," says the pupil.
"The cloth is not stable. It stains easily and can easily fall off. Imagine the shame of boys at school seeing such an accident!"
According to Isaac Lumwachi, founder Kibera Reformation and Transformation Centre that donates pads in Kibera monthly, the NGO is financially strained.
"The girls need a safe place to discuss social issues, to access general information about their health, and risks involved in selling their bodies," says Lumwachi, urging other organisations to join in the initiative.
According to United Nations International Children's Emergency Fund, menstruation and its management and society's response to it is linked to human rights.
"Women and girls encounter difficulties in managing hygiene during menstruation. When they have difficulty exercising their rights to water, sanitation and education, they will likely have difficulty managing their menstruation," reads part of a 2019 UN document on menstrual health.
Related Topics