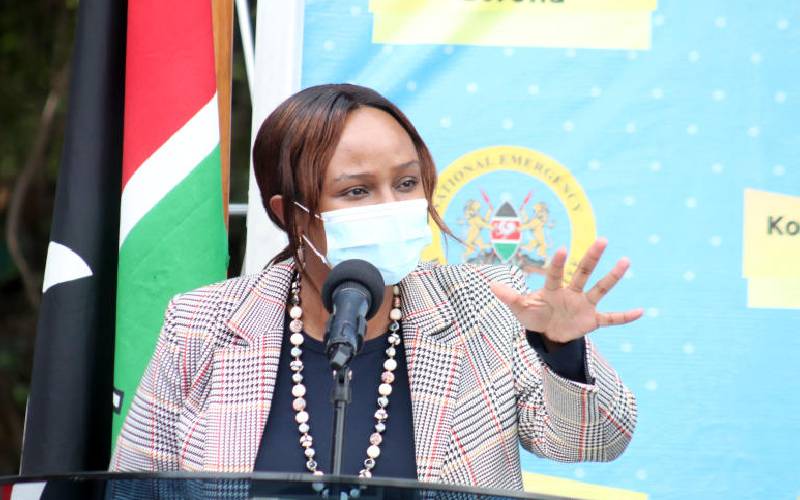 The Health ministry has raised concern over cross infection cases in healthcare facilities, saying both public and private institutions need to be alert. Speaking at Afya House where she gave the daily briefing on the Covid-19 situation in Kenya, Health CAS Mercy Mwangangi (pictured) said the success of measures put in place to stop the spread of coronavirus is pegged on everyone's input, not just the Health Ministry.
As the country recorded 278 new cases, Kenya's positive Covid-19 tally now stands at 5,811.
Dr Mwangangi said hospitals and health workers not observing proper procedures to stop infections will lead to overburdening the facilities and hamper efforts to flatten the curve.
On the matter of Shalom Hospital, the CAS insisted that the hospital is not closed.
However, it will not be taking in new patients.
Admitting that there was a case of cross infection, the Health Ministry stated that the 122 admitted at Shalom shall be attended to and placed in quarantine until the facility is declared safe.
Previously, Health Ag Director-General Patrick Amoth urged all hospitals to check for coronavirus-like symptoms for all patients.
He cautioned that the measures should be adhered to by both patients and healthcare workers as they move from one patient to the next.
"Though not all patients will be tested, there needs to be a rational approach to roll out the strategy," Dr Mwangangi said.
She added that the relevant authorities will ensure medical facilities scale up efforts on inspection.
The Health Ministry also asked diabetes patients to observe guidelines to keep their health in check, admitting that the majority of fatalities aged between 40 and 78 had diabetes.
The CAS advised this vulnerable group to seek help early enough.
Further, the Health Ministry has taken up the community-based approach, which is globally recognised as an effective tool to curb coronavirus spread.
The practice is guided by strengthening community structures and improving data access at all levels. Dr Mwangangi added that the workforce will be beefed up through identifying more community health volunteers in all the 47 counties. In the latest figures, 181 men and 97 women tested positive for Covid-19, with 171 being in Nairobi. All except two were Kenyans. Westlands recorded 34, the highest in the Nairobi area. Out of the 37 who tested positive in Mombasa, Mvita led with 14 new cases. Thirty-one patients were discharged as the fatalities hit 141. Dr Mwangangi further raised concern on the increasing number of infants contracting Covid-19. She reiterated the World Health Organisation's stand on breastfeeding, saying breast milk is still the best in keeping the baby free of infections. The Health CAS attributed the infant infections to household practices which put them at risk. Contact tracing in such cases has shown that the infants were exposed from a previously infected adult. Dr Mwangangi said the only way to protect the infants is to practice containment measures to block household transmissions.
Related Topics