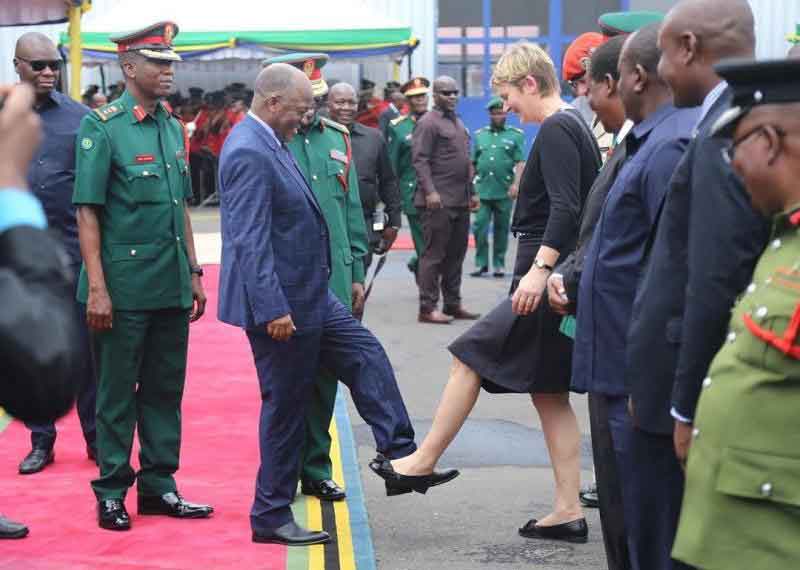 Tanzania's Opposition Chief Freeman Mbowe has taken a dim view of President John Magufuli's handling of the Covid-19 pandemic. In a lengthy video on Youtube, the Chadema party leader concludes the president is not serious in the fight against the scourge and therefore a liability to the country. Mr Mbowe therefore, announces the formation, by his Chadema party, of Covid-19 Task Forces across the country and a WhatsApp number for people to post Corona-related data and observations.
In the video, Mbowe says he is ready to go to prison for his concern wondering why President Magufuli has fired top health officials after contradicting their figures and was recently addressing top security officers on the pandemic instead of health officers and professionals.
SEE ALSO: Family yet to hear from Kenyan scribe a week after arrest in Ethiopia
He even warns that the president's handling of the matter could have face the international justice system.
Certainly, Tanzania's President John Pombe Magufuli is a man of his own devices. In Tanzania, things are done differently.
Recently he accused donors of supplying faulty testing kits calling that a deliberate ploy to sabotage the country because of the resultant faulty numbers that would come from faulty testing.
"We extracted a sample from a goat which turned positive. This tells you that something is not adding up. Are we now supposed to quarantine goats and fruits?" President Magufuli posed.
The President also said that pawpaw, oil, and goat specimen were disguised as human samples and taken to the laboratories. Some of them reportedly tested positive for Covid-19.
This, raising eye-brows as to the credibility of testing kits, said Magufuli.
"Something is happening. I said before we should not accept that every aid is meant to be good for this nation," said President Magufuli.
Magufuli says he smelt something sinister with the donors of the kits. He has, however, not disowned the presence of the disease in his country.
Magufuli's criticism of Covid-19 tests comes barely a month after the Spanish government withdrew 58,000 Chinese-made Coronavirus testing kits from its labs after cases of inaccurate detection rates of up to 30 per cent were detected.
President Magufuli's remarks come as cases of coronavirus continue to rise in Tanzania. Currently, the country is the most affected in the East African region.
Some Tanzanians have accused their government of throwing spanner in the works, but for the Magufuli, originality is key. No copycats.
"In Tanzania, we won't copy and paste what everyone else is doing. Let's keep working, observe the precautions and ignore the naysayers," says President Magufuli.
In efforts to contain the coronavirus, the World Health Organization has recommended a raft of self-hygiene measures.
They include wearing of masks, washing hands with soap and running water, or using alcohol-based sanitisers and maintaining social distance.
These guidelines, according to WHO, are the only sure shields against the spread of Covid-19 but in Tanzania, the testing kits have been blamed for the recent surge in Coronavirus cases in the country.
Despite the over 480 positive Coronavirus cases and 16 deaths including those of two legislators, Magufuli is unfazed.
While there are no conventional drugs or vaccines to contain the deadly virus, WHO has recommended some measures to treat the symptoms of Covid-19.
Currently, the researchers are holed up in their labs, scratching their heads, looking for the treatment of Covid-19.
It is reported that they are already making strides in the race against time to find the cure.
In the US, a drug by the name Remdesivir has already been given an emergency clearance after it drastically reduced the recovery time of the infected patients.
Other initiatives to treat the coronavirus are also gaining traction globally. Over 100 vaccines are currently under development. Further, boosting one's immunity by eating nutritious foods also helps in curbing the disease.
Nonetheless, President Magufuli has downplayed the use of medical drugs and the vaccines used to contain the pandemic. Conversely, he has chosen to look the other way. The herbal way.
President Magufuli has talked of dispatching a cargo plane to Madagascar to fly in the Coronavirus "medicine" that has been touted as a cure for the disease.
"I have communicated with Madagascar and they already have written a letter saying they have Covid-19 treatment. We will send a plane to bring the drugs so that Tanzanians can also benefit," he added.
Madagascar has been making headlines recently after it claimed to have found the most sought after coronavirus "cure".
Its president Andry Rajoelina, had on April 20, 2020, officially launched the local herbal tea, saying it has the supplements to cure the lethal virus.
"Tests have been carried out… two people have now been cured by this treatment this herbal tea gives results in seven days," said President Rajoelina.
The leader also said he would be the first one to drink it to dispel any fears as to the safety and effectiveness of the herb.
The drink, known as Covid-Organics, is derived from Artemisia which is a plant with proven efficacy in malaria treatment and other indigenous herbs, according to the Malagasy Institute of Applied Research (IMRA).
However, the WHO has refuted claims of any cure in the herbal tea. Similarly, scientists have warned of potential dangers in consuming untested herbal concoctions.
Despite that, President Magufuli has vowed to use homegrown solutions to the crisis, saying his country will work day and night, by all means, to protect its citizens.
Social Distancing
Among the guidelines proposed by the WHO is social distancing. Maintaining a distance of at least one meter between yourself and others.
This, the world health body says, prevents droplets from an infected person from reaching you. When someone coughs, sneezes, or speaks they spray small liquid droplets from their nose or mouth which may contain the virus.
But, in Tanzania, the complete opposite is happening. Borders are still open. Churches and other places of worship, which attract millions of congregants are open with President Magufuli controversially claiming that coronavirus cannot survive in the church.
"These Holy places are where God is. My fellow Tanzanians, let us not be afraid of going to praise Him. Corona cannot survive in the body of Christ, it will burn. That is exactly why I did not panic while taking the Holy Communion," he said.
The President had also issued three days of national prayer and fasting. Saying, the coronavirus is a satanic condition.
"We are not closing places of worship. That's where there is true healing. Corona is the devil and it cannot survive in the body of Jesus".
In an online post attributed to an unnamed Ugandan academic, it is observed that: "The gold-standard test for SARS-CoV-2, the virus that causes COVID-19, is reverse transcription-polymerase chain reaction (RT-PCR). The SARS-CoV-2 RT-PCR test detects COVID-19 genes (envelope or RNA-dependent RNA polymerase).
These specific genes are not present in goats, sheep or fruits. Engine oil is not a living organism and does not contain DNA or RNA. Thus, it is not possible for such samples to provide valid results for SARS-CoV-2."