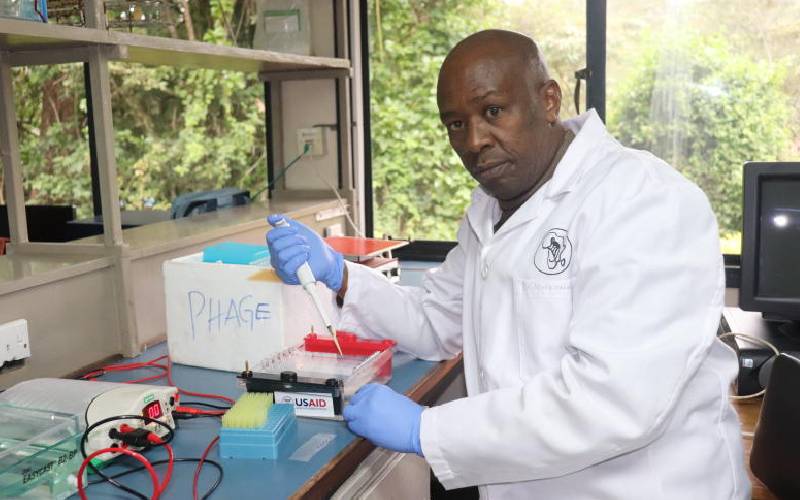 A Kenyan scientist who developed an HIV killing gel, winning global recognition and a Head of State Commendation, says the country can develop more vaccines considering most patents have expired.
Dr Peter Gichuhi Mwethera was appointed head of the Karen-based Institute of Primate Research (IPR) to speed up development of medical drugs, human vaccines, besides making it the national centre for biomedical and preclinical research for development of health products.
To manufacture vaccines for use in Kenya and the continent, Dr Gichuhi says there is no need for reinventing the wheel as "most patents have expired and we hope the proposed hub will speed up bio-replication. This will be a basis for launching own vaccines."
The institute, a department within the National Museums of Kenya has been earmarked for semi-autonomy and renaming to the Kenya Primate Research Institute (KIPRE)
The institute has already commercialized two medical products with advanced plans to have the world's first anti-HIV microbicide in the market.
"We have presented a Sh25 billion work plan to the government for the establishment of a health products development hub," said Dr Mwethera, previously the institute's head of Reproductive Research.
The institute will be seeking about Sh1.7 billion from the government with the rest expected from the private sector and donors.
Dr Gichuhi first came to the limelight 16 years ago when he published a study showing his locally developed gel could kill HIV and protect women against infection.
The gel, patented in 2007, under the brand name Unipron, is awaiting final human clinical trials which have been paused due to the Covid-19 outbreak.
"We have been held back by the Covid-19 pandemic but preparations for clinical trials are still on course," said Dr Kavoo Linge, a consultant gynaecologist at Nairobi Hospital and the project clinical adviser.
However, two by-products from the gel; Smugel and Smuscan, a viginal lubricant and an ultrasound scanning balm, are already in the market.
Data shows the project is selling about 30,000 units of lubricants annually through Kemsa. It employs about 100 people directly with plans to engage about 3,000 by 2030.
Related Topics