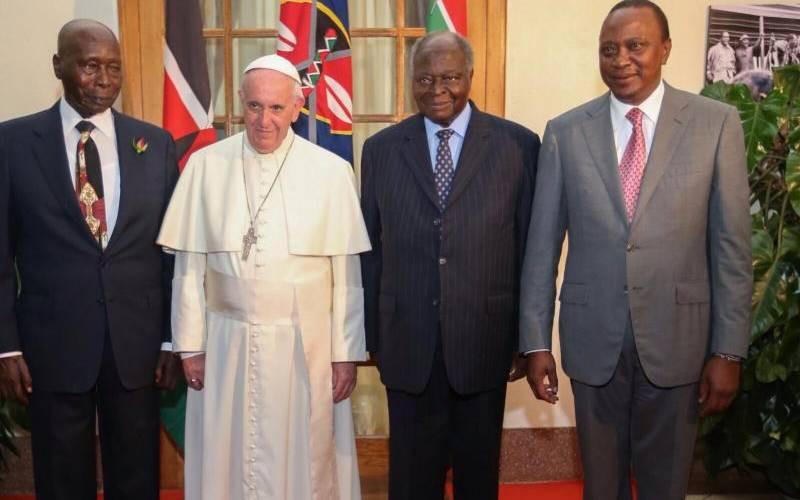 The heat was stifling. Huge columns of dust swept through the multitude speeding towards Lake Nakuru which peacefully sat by, barely a kilometre away. The crowds surged. In the sweltering afternoon, people pushed, pulled and shoved. They struggled to get a vantage point, close enough to the dais where the father of the Nation, Mzee Jomo Kenyatta would sit. In my tiny and agile frame, I managed to sneak to the front row just as the policemen restored order. The excitement was palpable.
The policemen stood still. Their freshly ironed khaki shorts and shirts matched with their socks which stretched to the knees. With batons in hand, they keenly observed the restless crowd. At last, Mzee arrived.
When he stood up to speak, he roared in his powerful voice three Harambees. We all shouted back; Heeee. Then he posed; "Mngependa kunyang'anywa mashamba yenu na kutawaliwa tena na mkoloni?" (Would you like to lose your land and be ruled once more by the colonialists?" The crowds shouted a vehement No!
Mzee took a deep breath then suddenly pulled a sword from a scabbard on his left hip and swung it above the head of a mzungu sitting on his right-hand side. The poor guy scampered to the ground with his chair tumbling over. "Mumeona hiyo? Si niliwaambia Mzungu ni muoga! Semeni mzungu ni Kihii" (Have you seen it? I told you a mzungu is an uncircumcised coward?"
Shaken to the core
The crowd went wild, clapping, shouting and stomping the ground. With the sword back in its sheath, the mzungu, shaken to the core and turning purple, returned to his former sitting position.
That was Mzee Jomo Kenyatta at his dramatic best. Nakuru being his favourite resting destination, I attended many of his public rallies. Decades later, in 2013, his son Uhuru Muigai Kenyatta, was elected the fourth president of Kenya. Uhuru had served under two elder presidents; Daniel arap Moi and Mwai Kibaki, both who were his political and leadership fathers and mentors.
And just like his biological dad, Uhuru would appear at public rallies with red-shot eyes and excite the crowds with powerful English, Kiswahili or Kikuyu oratory. There were times he fumed and trembled in anger. There were moments he would burst into laughter and joyfully join the crowds for a dance. He even did what no other president had done, he would hug, hold hands, exchange high fives with the young and the elderly and pose for photos and selfies with wananchi. At other times, he would be caried shoulder high by sportsmen and women visiting State House before major international events.
While Jomo rallied the Kenya Armed Forces, now Kenya Defence Forces (KDF), to parade their weaponry when Uganda's Idi Amin Dada threatened to raid Kenya in the mid-70s, Uhuru loved to put on his full military uniform. He's probably the only Commander-in-Chief to have behaved like a real soldier. He publicly showed his pride in the disciplined forces. Some even joked that while growing up, his dream was to be a soldier. He loved visiting soldiers in their trenches and giving them moral support during their war on terror in Somalia. Indeed, he invested heavily in modernising the KDF, and appointed senior officers to top civilian positions.
Kenyans remember the time Uhuru Kenyatta threw his hands in the air in despair saying he was unable to tame corruption. He later said that over sh2 billion is stolen every day by cartels. However, what most Kenyans don't know is that his government also saved billions of shillings by handing over key projects to the military. Kenya is now among key ship makers in Africa. It has joined Egypt and Morocco, after the KDF took over the renovation and management of the Kisumu Port and put-up ship making facilities in Kisumu and Mombasa. KDF has also revamped the Kenya Meat Commission.
Solomonic wisdom
Jomo, because of his age and ill health ruled the country through a cabal of ruthless Kiambu mafia. He instilled the fear of God in the citizenry and trampled upon any form of opposition. He used the colonial detention without trial laws to keep his opponents in dungeons. He spent his afternoons and evenings dozing off or sleeping as troops of traditional dancers sweated it out to entertain him. He loved visiting Nakuru and the coastal city of Mombasa. Uhuru retained his father's love for Mombasa. Every new year, during his early days in power, Uhuru would mark the New Year's Eve from State House Mombasa.
Jomo ruled with terror. His sword spared no opposition. However, many are the times though that he applied Solomonic wisdom especially when dealing with those close to him. At one time Isaiah Mwai Mathenge, a powerful and feared administrator, during his time, returned to his office from leave. He was then the Rift Valley Provincial Commissioner. While on leave, there was an acting PC, the tall, dark muscular man from Ugenya, Josiah Onyango. Josiah refused to vacate the office. When Isaiah confronted him, a fight broke out. Mathenge received the beating of his life. Limping and wounded, he went to report to Mzee who was resting at State House Nakuru.
Josiah was to later recount the happenings long into his retirement; "We were summoned to State House, Isaiah and I. Mzee listened to the crying and whining Mathenge then asked him," "You said the man beat you up and told you he won't leave the office?"
"Yes, your Excellency" Isaiah replied looking at Mzee sympathetically. "Mzee went quite for a moment then looked at both of us. "I am sorry I can't help you. If the man is stronger than you and was acting in your seat then he is the rightful owner." There and then the matter was settled," Josiah would tell me years later when I interviewed him for a feature in the Daily Nation.
Flames of anger
I'm sure Jomo looks at his son from his grave and smiles. I'm sure he sometimes shudders and wants to cry. I'm sure he wishes his son would have treated his deputy William Ruto differently. For just like his son, Jomo had altercations with his first Vice President Jaramogi Oginga Odinga. Their differences burst into flames of anger and violence during the official opening of the New Nyanza General Hospital, now called the Jramogi Oginga Odinga Referral Hospital, in 1969. One of his brilliant and youthful ministers Thomas Mboya had earlier been assassinated. Jomo defied advice from the intelligence not to visit Kisumu - it almost cost him his life.
The crowds started shouting "Dume! Dume!", when Mzee Kenyatta was speaking. In anger, Mzee hurled insults at the crowd and at Jaramogi telling him that all he does is teach his people how to throw stones. Suddenly, stones started raining on the dais and Mzee's security men opened fire directly into the crowd. What followed was bloody violence in the lakeside city. Dozens of citizens were killed and Jaramogi was placed under house arrest.
When Uhuru started engaging in a war of words with Ruto, I squirmed, trying to imagine the tongue lashing he would have received from his father who defended his long-term deputy Moi. In the mid-70s, a group of leaders from the Kikuyu community started a campaign to change the Constitution to stop Moi from ascending to power in the event that the president died in office. Led by Nakuru politician Kihika Kimani and Kiambu politician Njenga Karume, they traversed the country spewing venom and warning Moi and his supporters that they were ready to kill and even die in their effort to protect the presidency from leaving Kiambu. When their campaigns threatened to tear the country apart, Mzee warned them to stop the nonsense.
Jomo's son, on the other hand, publicly differed with his deputy. After facing the International Criminal Court (ICC) charges together, the duo launched a joint campaign for the country's leadership clinching the 2013 presidency. It's on record that Uhuru made several public pronouncements including one in Eldoret town; wasubiri yangu kumi na ya Ruto kumi (Let them wait I do my 10 years and Ruto's 10 years).
Along the way, however, Uhuru and his supporters suddenly started campaigning against Ruto terming him corrupt and a thief. He threw his support behind opposition leader Raila Odinga as his preferred successor. Uhuru is on record unleashing insults and combative statements at his deputy. He told a rally once how his deputy was busy going around the country; akitangatanga, na kuzururazurura. Ruto, too, hit back, sometimes directly, dismissing his boss and blaming him for Jubilee failures. Moi belittled his vice presidents but he wouldn't do it directly.
Moi the King
Moi, ruled like a mighty king. A king wields ultimate power and his word is law. Moi had his eyes and ears on the ground and in every corner of the Republic of Kenya. Senate Speaker Ken Lusaka says in his forthcoming autobiography that; "one had to tread carefully around Moi and treat all civil servants, even the most junior with utmost respect because any of them could be Moi's eye."
Moi, a diligent church goer, allowed various individuals to wield power on his behalf. Once he trusted you, he would give you certain assignments even if it meant overlooking your seniors. Moi, always smartly dressed in suit and tie and in later days in flowing Mandela shirts. He traversed the country planting trees and erecting gabions to fight soil erosion. He built his leadership around the Nyayo philosophy of peace, love and unity. He, however, made use of the dreaded Special Branch to stifle opposition politics and turned the ruling party, Kanu, into a powerful and fearful entity.
He, however, had his own moments of humour. At one time, he told a cheering crowd at the Nyayo stadium how girls get misled by boys who tell them: "I love you so much. I can do anything for you. I can't even eat or sleep without you" then the boy ends up saying; See you if it doesn't rain." "Hiyo ni mapenzi kweli? (Is that really love?)." The crowd burst into laughter.
Moi had an intimidating style. On August 1, 1982, a section of Kenya Air Force officers staged a coup against his administration. It failed. On the evening of the failed coup, David Musila, then Provincial Commissioner, Central, took Mwai Kibaki to the PC's residence. He had hidden Kibaki inside a dusty and dark storehouse at the Nyeri Club.
At his house, he put a call through to Moi to brief him on the security situation in Central Province. Moi sounded nervous and quite agitated. "Vice President Mwai Kibaki was curiously listening as I spoke to the President. Before I hung up, he asked me to speak to his boss. I informed the President of the VP's request to speak to him. Kibaki was actually standing next to me as he waited for me to hand him the receiver, but alas! The president retorted rather sharply that he did not want to speak to the VP," says Musila in his memoir, Seasons of Hope.
Uhuru and his deputy started off well. They were like conjoined twins. They would appear in public together dressed in similar outfits. They hugged and laughed calling each other brother. Their public display of political romance became infectious. During these great days of their political marriage, they both had one common nemesis; Raila Amolo Odinga. Raila became the hurling board for Uhuru's insults. At every turn and corner, Uhuru would remind Kenyans of how dangerous Raila was. A monster who no one could trust with power. They both termed him; yule jamaa wa vitendawili. It was, therefore, shocking to many when the two 'lovers' suddenly fell apart and Raila took over Ruto's space with all the love it entailed.
Political affection
No Kenyan President had ever shown so much political affection to his deputy before. And no Kenyan President poured so much venom on his deputy's head like Uhuru has done.
Would they approve of their son's leadership?
To tame their deputies, Moi and Kibaki would not have employed Uhuru's abrasive tactics. They would have unleashed their dogs of war to spew propaganda that would eventually force him out of office. Dr Josephat Karanja was brought down by two men David Mwenje, MP for Embakasi and Kuria Kanyingi, an inspector of motor vehicles. The two created a narrative that portrayed Karanja as a leader demanding to be worshiped. They claimed that he wanted leaders to kneel down before him. They eventually pushed the former university don out of the Vice President's office through a motion of no confidence in Parliament.
In the public eye, Kibaki had a hands-off approach to leadership but in reality, he had a very firm grip on issues. Kalonzo Musyoka says that while chairing Cabinet meetings, Kibaki was a totally different man from the tired and sickly-looking man in public sphere. He delegated power and placed the civil service under a seasoned administrator, Ambassador Francis Muthaura who introduced performance contracting for all government ministries and parastatals. Kibaki was emotionally stiff. He rarely smiled or laughed.
He, however, transformed State House into a stately presidential residence for receiving foreign delegates and conducting international events.
Kibaki, however, had his own moments of outbursts. He is known to have been fond of referring to people as mavi ya kuku, or bure kabisa. At one time, he held a live television conference to tell the world that he was married to only one wife, Lucy. Then, there was a time while addressing a rally, his trouser fell off. Luckily, he was standing behind the podium and his handlers quickly helped him put it on.
Neither Moi, Kibaki nor Jomo Kenyatta would have imagined doing some abominable acts in public like Uhuru did. In September 2017, after the Supreme Court threw out his election victory, the President at a impromptu meet-up with the people at Burma market appeared on top of his vehicle swinging from side to side then dug his hand in his trousers and scratched his buttocks. While still scratching, he told a bewildered crowd; Maraga ajue anacheza na rais amekalia kiti!...Si hiyo ni mahakama ya wakora?" Earlier at a State House meeting with Jubilee Party elected MPs, he had threatened to revisit the issue. His critics have said he behaved like a spoilt prince.
In the early years of his term, Uhuru was unable to hide his disdain for the media or those who crossed his path. He, at one time, declared that; kazi ya gazeti ni kufunga nyama (The role of a newspaper is to wrap meat).
Thrown under the bus
His political craftiness is vividly captured in Kalonzo Musyoka's autobiography, Against All Odds. Kalonzo says: "Uhuru suddenly stood up, pushed his seat back and stepped out of the sliding glass door. He walked five steps to the waterfall, removed a packet from his jacket pocket and pulled out a cigarette and when he had finished smoking, he threw the smoldering stub on the ground, stumped on it with is left foot and ground it into the green grass.
When he walked back into the gazebo, he sat down then casually said; "My brother, in the spirit of transparency, I wish to inform you that tomorrow we are flying to Bujumbura to meet President Pierre Nkurunziza and our sister Charity Ngilu will accompany us". They decided to throw me under the bus. Now in effect, they were telling me; "if you do not take what you are being offered, Ngilu will take your place in our alliance."
Unlike his elders who have since joined their ancestors, Uhuru, the youngest to leave the office, has been actively campaigning for his preferred successor. Wisdom might have required he plays his cards differently.
Kenya has had an interesting mix of men at the helm of leadership. All the presidents, however, have shared one thing in common; the trait of betrayal.
Related Topics