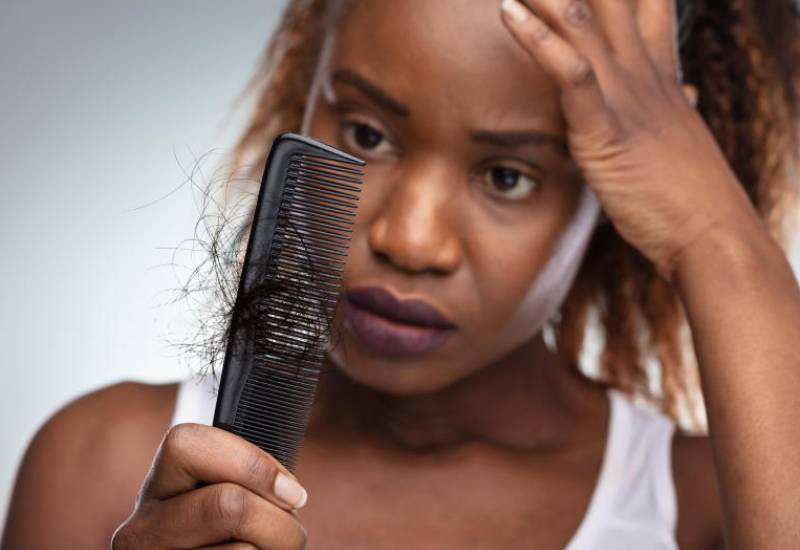 Pregnancy is a journey that comes with many wonderful surprises but not always. For those not lucky enough, you will lose a good chunk of your hair after childbirth.
And this hormonal change can push you into a state of despair thinking you will stay like that forever. But, you should know that this shedding is only temporary.
However, you need to make some changes to ensure your hair recovers in the best way possible. Here is what you can do:
Maintain a healthy diet
Don't get too excited about eating junk food because right now you need a lot of nutrients. The best vitamins and minerals can only be found in vegetables, fruits and other healthy foods and you should focus on getting enough.
You can also research and consult on the best foods for your hair health and include those in your diet often. This is important for not just during this period, but also your overall health long-term.
Don't excessively style your hair
Both you and your hair need to get enough rest because this really helps to enhance recovery. Your hair is in a very fragile state and it just needs to be left alone.
Don't constantly brush it and lay off on the heat styling for now. Also, don't go for any chemical treatments until your strands are properly restored.
Try a protective style
Simple protective styles can also help your hair get some time off. Plus, you will probably be busy adjusting to motherhood and you need a hairstyle that doesn't need a lot of maintenance.
You can try some light braids or cornrows that won't strain your hair while it's weak. It's also very crucial that they be installed gently with zero tension to avoid further damage.
Take your vitamins
Vitamins can also do a lot to restore your hair health so don't ignore them after you have your baby. They are essential for your entire body which means that they can contribute to strong hair too as you continue to eat healthily.
You can increase your intake through fruits or supplements but consult your doctor first before you start ingesting gummies.
Consult your doctor if the shedding is excess
Although postpartum shedding is normal, you still need to check for any unusual signs. Most of the time there's nothing to be worried about but it doesn't hurt to go for a checkup if you are concerned about the amount of hair you are shedding.
Normal hair shedding can last a little over a year but if it continues for a long time after that, there might be an underlying problem you need to have checked.
Related Topics