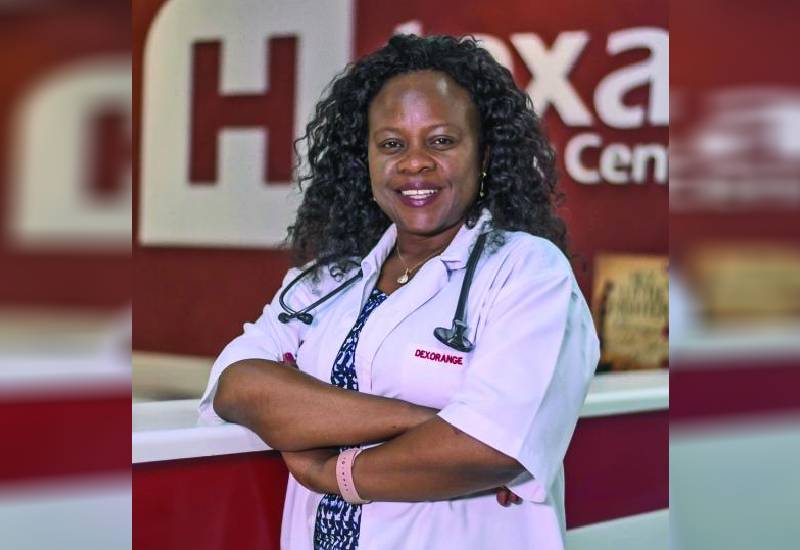 Dr Catherine Nyongesa – Watta is the senior oncologist at Texas Cancer Centre (TCC) – a specialist cancer facility off Mbagathi Road in Nairobi.
She says: "Breast cancer is the most common cancer in women but not the most deadly."
Indeed, statistics from the 2018 Globocan report by the World Health Organisation's International Agency for Research on Cancer revealed that breast cancer is the most prominent cancer among Kenyan women, accounting for about 21 per cent of cases, followed by cervical cancer (18.3 per cent).
However, cervical cancer, Dr Nyongesa says, has a higher mortality rate (causing 10 per cent of all cancer related deaths in Kenya) than breast cancer (causing 7.7 per cent of all cancer related deaths). Breast cancer, she says, causes death by spreading to vital organs like the lungs, the liver and the brain.
"Early stage breast cancer has not spread to other organs and is therefore treatable 100 per cent," the doctor says.
This, she explains, is mostly due to the fact that breast cancer risk factors are well understood. "Most of these risks are modifiable," she says.
Here are the critical ones:
READ MORE
Motherhood
Dr. Nyongesa pointed to studies showing that women who breastfeed for long in their lives are at a lower risk of developing breast cancer.
One such study, published in the journal Lancet, found that the relative risk of breast cancer decreased by 4.3 per cent for every 12 months of breastfeeding in addition to a decrease of 7.0 per cent for each birth.
Age at first birth
According to the doctor, the older a woman is when she is having her first child the higher the chances of developing breast cancer.
"Typically, women who have their first children after age 30 tend to be more predisposed to developing breast cancer," she points out.
Lack of childbirth
"Various studies have shown that women who have many babies and women who breastfeed more are at a lower risk of developing and dying from breast cancer," Dr Nyongesa says.
Being childless means no breastfeeding – which has been shown to be beneficial against breast cancer.
Prolonged use of contraception
Data, the doctor says, show that women who use oral contraception over many years are at a higher risk of developing breast cancer.
Family History
If women in your genealogical line have suffered from breast cancer before, Dr Nyongesa says, you are at a higher risk of developing the disease.
Gene tests to identify mutations in any of the two breast cancer susceptibility genes — BRCA1 and BRCA2 – can be done. If the test turns positive, one is usually advised to undergo prophylactic mastectomy.
"If you have had your desired family size and you are at high risk you can undergo prophylactic mastectomy and removal of ovaries. The genes also cause ovarian cancer," the doctor says.
Other general cancer risk factors
"All the other common cancer risk factors can also lead to breast cancer," Dr Nyongesa says. These include obesity, unhealthy eating, lack of regular exercise, smoking, drinking alcohol, drug use and addictions, excessive sunbathing, and environmental pollution.
Breast cancer, the medic says, can be detected early through breast self-examination: circular palpation of breast tissue – beginning from the outer edges (under the armpit) and moving inwards towards the nipple.
"When you detect something unusual – a lump, a swelling, pain, any kind of unexpected discharge, dimpled breast or orange-skin presentation – visit a breast specialist for farther tests until cancer is ruled out," Dr. Nyongesa says.
Self-examination should be done at least once every month. Clinical breast examination (by a doctor) once a year.