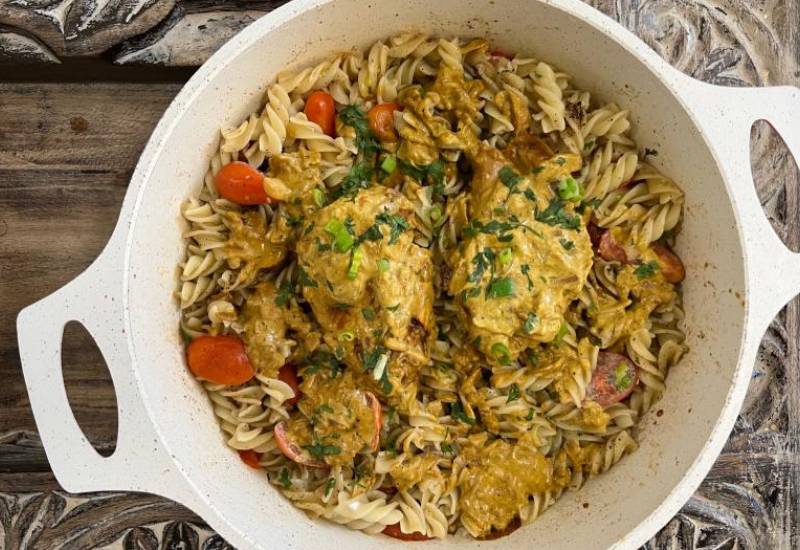 With Easter gone and dusted let's begin the week with an easy recipe. Something simple, quick and absolutely delicious.
So let us prepare an amazing dish of coconut chicken breast with pasta.
What you will need:
2 chicken breasts (boneless)
1 teaspoon black pepper
Garlic ginger, mince
Honey
Salt to taste
For the sauce
400ml coconut cream
1 teaspoon paprika
1/2 teaspoon turmeric
1 teaspoon garlic powder
1/2 teaspoon black pepper
1/2 lime (squeezed)
Salt to taste
Coriander for garnish
Pasta to serve (boiled)
1 packet cherry tomatoes
What to do:
Wash the chicken and score it, so that it cooks on the inside. Marinate the chicken with the black pepper, garlic ginger mince, honey and salt. Massage it well until the chicken is coated with the spices all over. Pan sear the chicken until golden brown on each side.
Using the same pan you seared the chicken, over medium heat add the coconut cream. Go in with garlic powder, turmeric, black pepper and bring to a boil.
Add salt to taste, go in with the lime juice and cook until thick. Cook until you see oil bubbles from the sauce bubbling up. Add the pan seared chicken into the coconut sauce and baste the coconut sauce over the chicken. Bring to a simmer.
Finish off with some chopped coriander and serve with the boiled pasta sautéed in cherry tomatoes. Enjoy!
Related Topics