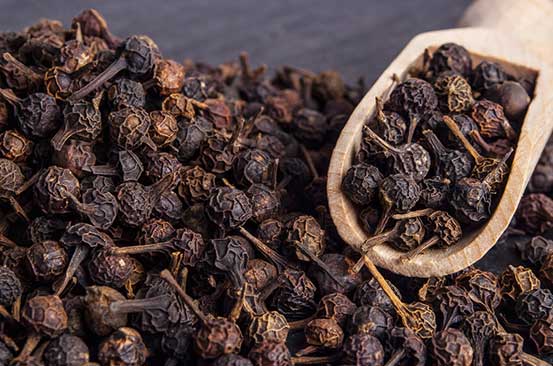 Now this little spice is the unripe fruit of a plant of the pepper family. The berries have a similar look to black peppercorns (ground to make black pepper) except they have a tail. Other names for this little spice are tailed pepper, tailed cubeb or java pepper.
Said to taste like allspice or clove, cubeb berries have an aroma and flavour that is pleasantly pungent and lightly peppery with a lingering spicy bitterness. As a culinary spice, cubeb berries are cultivated for their oil and fruit and one can use them in curries. They also blend well in meats and vegetables.
If you like trying out new stuff, get some cubeb berries and make yourself an alcoholic beverage. The pepper can also be added to spice blends, such as cardamom, cinnamon, bay, sage, rosemary, thyme and turmeric.
For health benefits, cubeb berries have been and still are used to relieve water retention by increasing urination, treating gonorrhea, loosening mucus and easing intestinal gas.
Cubeb berries can be used whole, crushed or dried, depending on flavour and aroma to be achieved in the recipe. Walk into any Indian shop that sells spices and herbs and grab yourself some cubeb berries.
Gin and Tonic recipe: Fill a tall glass with ice cubes, pour gin, tonic and lemon juice, add some cubeb berries (2-4 depending on the glass size). Stir and enjoy.
READ MORE