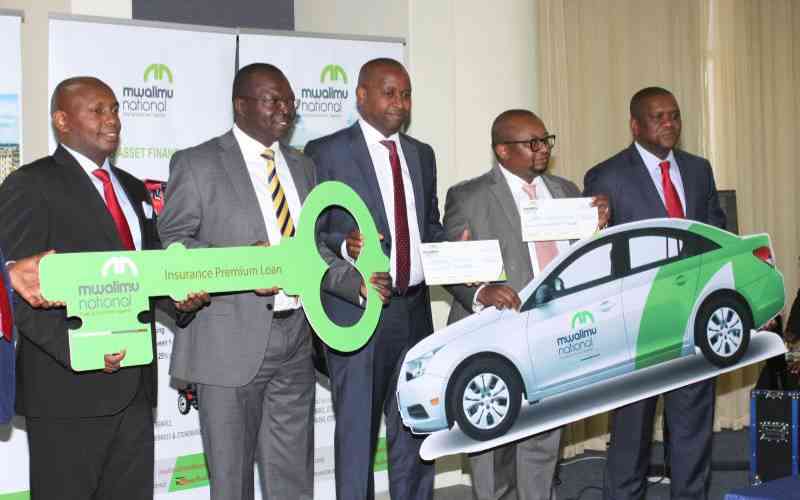 Mwalimu National Sacco has partnered with Kenya Mortgage Refinancing Company (KMRC) to launch three products among them a mortgage loan facility, to bolster affordable housing for its members.
The other products are asset financing and insurance premium financing loans to pay for insurance covers.
The affordable housing finance loan will be advanced to members across the country at a minimum amount of Sh500,000 and a maximum of Sh8 million at a nine per cent interest rate on reducing balance.
''This initiative is aimed at helping our Sacco members to construct or purchase an affordable house anywhere in the country in line with the government's desire for every Kenyan to enjoy equal opportunities and access affordable housing,'' said Joel Gachari, the Sacco's chairman.
Gachari said the membership of the Sacco, which was formed in 1974 has grown from a membership of teachers to including lecturers, officials from government ministries.
Cabinet Secretary Cooperatives and Micro, Small and Medium Enterprises Simon Chelugui lauded Mwalimu National Sacco for its commitment.
''I am happy that we are starting a journey as a country to mobilise resources and organisations towards a common national agenda and I laud Mwalimu National Sacco for leading the way in championing this national course,'' said Chelugui.
Principal Secretary for Housing Charles Hinga said the Sacco and KMRC loan mortgage facility will shield members who want to own houses from incurring expenses of buying land and paying for infrastructure development among other expenses if they choose to own houses through the AHP.
Under the affordable loan facility, members can either buy a house through Mwalimu Makao or construct a residential house anywhere in the country.
''The loan amount is up to Sh8 million at nine per cent and repayable from the range of one to 25 years, subject to a member's retirement age,'' said Gachari.
The Ujenzi Loan, whose disbursement depends on the Bill of Quantity, enables members to construct a residential house with the same features.
On asset finance loans, Gachari said Sacco members are required to save up to 20 or 40 per cent and the Sacco will settle the full purchase amount as indicated in the invoice.
''The percentage saved will be informed by the age of the asset being purchased with a repayment period of 60 months or five years,'' said Gachari.
The insurance premium financing facility allows loan financing for up to 10 months with flexible repayment arrangements and a repayment interest rate of 10 per cent.
Sacco's Chief Executive Officer Kenneth Odhiambo said with the expanding membership, these products will uplift lives by enabling members to acquire the three facilities at competitive rates and at single-digit pricing.
Odhiambo promised to lead the Sacco in supporting the government's Affordable Housing Programme (AHP).
Johnstone Olteita, KMRC Chief Executive Officer lauded the Sacco for the new products.
''We encourage you to launch the products, especially the mortgage products soon. The products are timely," said Olteita.
Currently, Olteita said the market interest rates are expensive to Kenyans and range between 12 and 15 per cent.
He revealed that so far, they have disbursed over Sh8 billion to banks, and also, to Saccos as home loans.
Related Topics