Anjellah N. Owino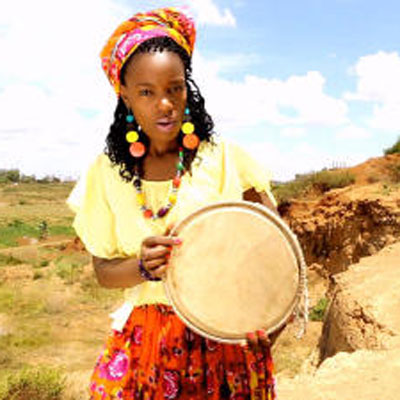 You look like fellow gospel musician, Gloria Muliro. How does it feel being likened to her?
I love her music and respect her so much. She is like my sister and we come from the same hometown. I am told that the video concept to my song Kibali is similar to her song, Kitanzi. I did not do it with the intention to copy her. I come from a humble background and wanted that portrayed in the video.
Where do you go when in search of inspiration?
I look at people around me and from the way they live. Angela Chibalonza continues to inspire me too. I used to listen to her songs way before I became a musician and got uplifted through her songs.
With your song, Kimbilio, was it the same case too?
The song is about God's healing. I once got sick for eight months and doctors would tell me that they found nothing wrong with me yet I experienced chest pains. Then I fasted and prayed for five days and God healed me. That was when I wanted to sing praises to Him.
Why singing?
Music is a calling. God chose me to sing and I want to glorify Him. I am not singing to get money but to pass His message. I would feel bad if I do not sing.
If not singing, what would you be doing?
I have always wanted to be a journalist but that never happened. God has His plans and He wanted me to stick to music.
Other than music....
I am a hairdresser, my other passion. I love styling and plaiting. I as well love applying make-up.
What is the ideal life of a gospel artiste?
Gospel artistes should lead a life that sets an example to others. The work we do is to give hope and win souls for the glory of God.
The gospel industry, how do you see it from within?
It is not what it used to be long ago; the industry has grown. We also have gospel singers who are in it for the money while there are those who want to reach out to people and spread God's word.
Pastors, these days, are said to live off the congregation in the name of sowing a seed...
There are such pastors in our midst and I cannot condemn them. Only God is allowed to do that. It is, however, sad that these days, the gospel has been abused and people see it as a way of making easy money. All in all, not all pastors are thieves.
What should a congregation do not to fall prey into stray pastors' lies?
They should pray to God to show them the right way and reveal the kind of a person the pastor is. When they see that the pastor is a good person, support him or her. If not, they should not allow themselves to continue being lied to.
Why are gospel musicians likely to get married to pastors?
Pastors are close to the church. When a singer gets married to one, they grow deep into the ministry. I think it also has to do with the love they have for each other. For some when they meet, they do not know the man is a pastor and they fall in love.
How do you plan to close the year?
I will go to the countryside and be with family and relatives. I will be resting at home. I am also coming close to releasing my album.