Kenyan female MPS march to parliament in white head scarfs
Achieving Woman By
Wanja Mbuthia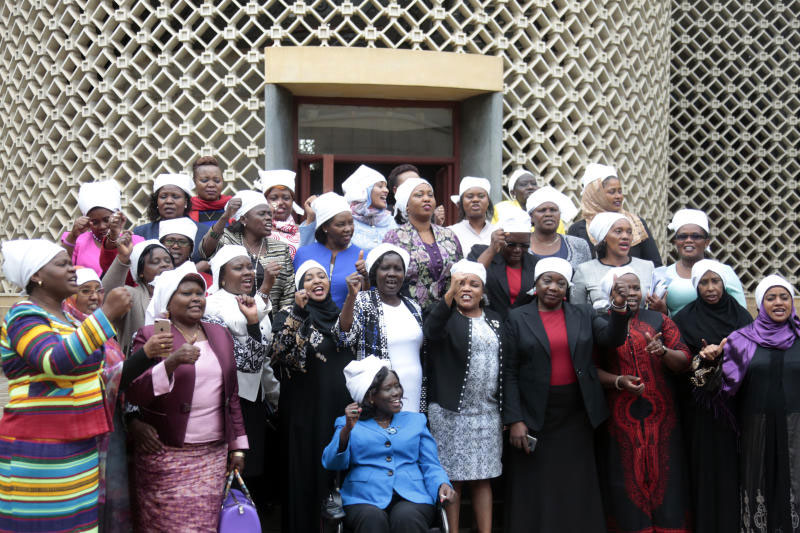 Over 40 female legislators walked into the parliament building wearing white head scarfs on Wednesday afternoon. The white headscarf is a new scheme that the female law-makers have adopted in a bid to push for the two-third gender rule. They intend to don the scarfs every Wednesday until the National Assembly passes the rule.
The move caught their male counterparts unawares with some of them asking for the Speaker, Justin Muturi to take action on them. Majority speaker Aden Duale felt intimidated claiming, "I have been in this house since 2008 and I have never seen what I am seeing today. Is it within the standing orders of dress code? "It is very intimidating and threatening. This can be a cult or a sect of a religion."
Justin Muturi however came to their defence and complimented them. "They look very smart. The dress code is descent, formal and we should congratulate them," he said.
The Kenya Women Parliamentary Association (Kewopa) Chairperson Wangui Ngirici, while addressing a conference in parliament sought to notify Kenyans that eight years after the new constitution was promulgated, it is only the two third gender rule which has not been implemented.
"We will be wearing the white head-scarfs every Wednesday until the law is passed," she went ahead and pleaded with President Uhuru and Opposition leader to support the cause.
The National Assembly Deputy Minority whip, Cecily Mbarire said that they are counting on support from their male counterparts. She said if the law is passed, then it will address issues of marginalization among women and youths.